8 days in Beijing, first impressions of China
If we start to think about it, the ideas we get of Beijing from Europe are quite blurry and/or completely cliché. We all remember from a boring old school lesson that the chinese Capital is home of a not-so-forbidden-anymore Forbidden City and that the Great Wall is not too far from it, and everyone have heard of the notorious Tian'Anmen Square and, more recently, of some sort of olympic craziness… But that's mostly all we know. So, what does Beijing really look like? How is the life there? Is it worth a stay ? To be honest, we had to spend some time in Beijing to get our last injections before going to explore China any further, and we had quite made up our mind that our stay in the chinese Capital would be nothing more than a real  chore… But what we've discovered in Beijing is way different than what we imagined it would be…
Ok, so, Beijing… How is it?
When we land on Beijing ground on this lovely tuesday afternoon, it's 33ºC. You will probably say it's hot but, you know, not crazy crazy hot, but hot enough for us considering that a few hours back we were leaving Christchurch, New Zealand, and its average 2ºC… First impression when we jump of the subway: we were expecting to be overwhelmed by powerful scents and noises, as it happened in Bangkok a few years ago, but, as a matter of fact, we find Beijing to be relatively quiet and modern. To be exact: modern and titanic! A city of contrasts, between luxury and poverty, occidentalism and tradition. We'll even dare to say the unspeakable truth: this city is cleaner, and more civilised, than our good old Paris!

The subway network is well developed, shiny new, air-conditioned and absolutely spotless. There are even TVs broadcasting cartoons and culinary shows in the trains! The only thing we can complain about is the mess occuring when the subway stops at each station: it seems unclear, even for chinese people, to know whom has to get up or down first, and as soon as the doors open, everybody rush and hustle in and out at the same time. But to be shoved seems to be a normal, even a cultural thing here and nobody would grumble or care at all about it.
On the ground floor above, shiny luxury cars rush on large avenues alongside quiet electric scooters. We were expecting to find a noisy, jammed and messy traffic but it's actually quite the opposite, at least on the main roads. Push-bikes are equally important on Beijing roads, and we also notice quite a lot of rickshaws around the tourist centre driving around fancy chinese ladies and their lace parasols. Despite the intensive use of push-bikes and home-made-electric scooters, Beijing suffers from its extensive population (22 million people… 3,5 more than in Paris, or the entire population of Australia!) and the streets are heavily polluted. A large disgusting brown cloud floats over the skyscrapers and the gigantic super-malls. Very healthy!
Nonetheless, strolling in Beijing streets is quite enjoyable, thanks to all the trees and green living stuff that grow everywhere. All this vegetation  offers, in addition to shade and cover against the sun and rain, a pleasant contrast with the unbridled urban planning, whose ugly concrete buildings tend to grow as fast as nefarious mushrooms!
What about the old Beijing, then?
If the main avenues are quite occidental, the small hutong (little streets) are definitely asian! Around 6pm, the animation there is unbelievable. That's the real old Beijing! As it's summer time, everybody get out in the streets in the evening to enjoy a little bit of fresher air: the old grannies take their doodles for a walk ( and yes, in China, dogs don't always end their days in kebab!), the young guys flirt with their girls, while other watch kung-fu series on their iPad, sitting directly on the pavement, or play cards or Ma-Jong with a rare intensity. The streets are crowded. Hundreds of little shops open on the sidewalk: butchery (unrefrigerated of course), sellers of fruits and veggies, fried frogs, trinkets, multicolored bras, kebabs, dumplings and other dishes that we won't dare to try yet, at least not until our stomachs are used to local flavours and the lack of hygiene.

Far from the boulevards also means far from modernity: there is anarchic power cables hanging everywhere and the houses look quite decrepit. But it's so lively! Our favourite quarter is definitely Xicheng, noth-west from the Forbidden City. We love hanging around there in the evening. It feels even more pleasant and relax thanks to the fact that nobody try to sell us useless stuff every five minutes… The only thing that disturbs our peaceful walks is the continual ballet of electric scooters winding their way through the crowd. They are so quite that we wouldn't hear them coming if they weren't horning their way through, making us jump everytime. We are very far from noisy Paris…

And what about tourism?
Since we have to stay in Beijing for a while until we get our last vaccins, we decide to spend our free days visiting a bit. Indeed, Beijing is an amazing historical city which doesn't lack of wonders to visit. We join the neverending crowd of chinese who, already known in our western countries to be some addicted and hopeless tourists, are even worse in their own country!! In short, if you are afraid of large crowds, China is probably not for you. We manage to make our way through the dozens of organized groups leaded by energic flags to the Tian'Anmen Square and its enormous portrait of Mao, but it's unfortunately closed this week. Bugger..!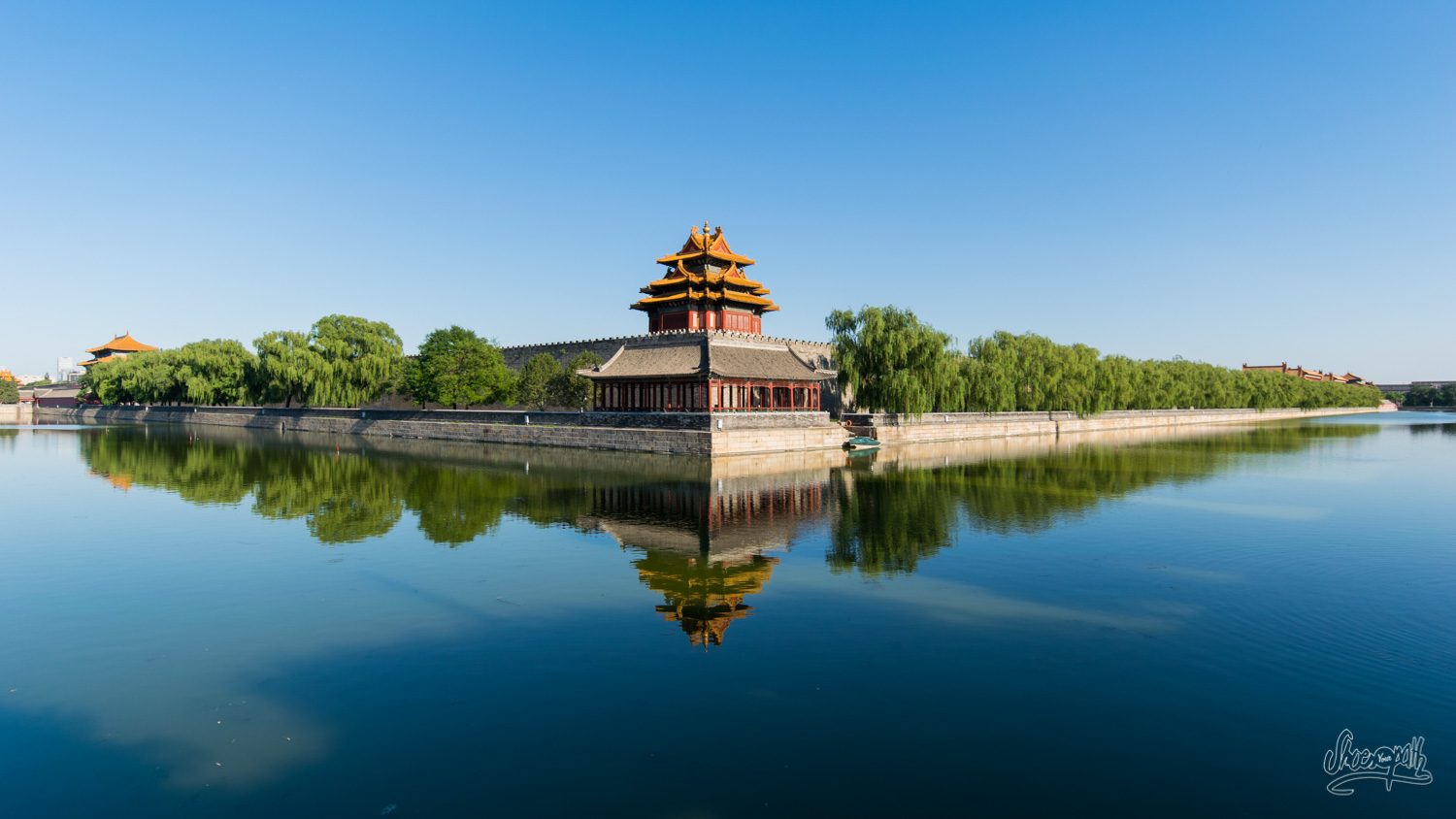 Instead we try to escape from the crowd in the nearby eastern gardens of the Forbidden City. Surprise, it's « nearly » empty! The organized groups, active supporters of fast tourism, visit only the Imperial Palace and forsake the outbuildings which are just as beautiful… As for western tourists, we don't meet a lot of them, except a few at the hostel of course.
Beijing also means heaps of temples, palaces, gardens, museums… And it's also a good base from where to go on a day trip to the the Great Wall. Careful though: in China culture is expensive. Around 15-20€ for a visit…
Chinese are small, noisy and they spit everywhere!
In fact, chinese people from Beijing are very far from those clichés. They are not as loud as people told us they will be considering how many they are. We assumed it would be noisier than the french capital but it's really not. Concerning their size, that wasn't shocking either, being pretty much the same than in Europe. On the other hand, the truth is they really are spitting everywhere and anytime. Expectorating noisily is here a kind of art, as is to burp in public. The Chinese are disgusting, like everyone else, but at least they assume it proudly!

Cleanliness is apparently not their favorite thing anyway and the  words environmental protection don't seem to exist in their vocabulary. Papers and trash are then thrown away directly on the ground, or in the rivers and lakes. A behaviour quite shocking for well-educated french travellers, but once again: this city is absolutely immaculate! How do they acheive that? Well, one should not forget the nº1 force of China : its  extensive number of people. The government employs a real army of cleaners who work day and night like crazy to keep Beijing shiny and dashing! And really, it's so clean we could eat on the ground!
Sens of direction in Beijing, a  real chinese puzzle?
Concerning the difficulty of finding our way in the Chinese capital, our 5years training in the parisian urban jungle gave us all we need to roam in the steets with perfect ease. Finding our way is made even more easy by the numerous signs and maps all translated in pinyin (chinese language transcripted in latin letters). Numbers are written in those good old arabic symbols so in those conditions no way to get lost! The real challenge starts when you have to ask for informations. Chinese have generally some wee troubles to speak english… Pretty much like us with chinese finally…

See you soon