Angkor… A legendary century old myth haunting the dreams of many photographers, archeologists and travellers around the world… us included! We wouldn't have miss it for anything on Earth!
Siem Reap
Darkness has already settled on Siem Reap when we arrive. It's late afternoon, and we are a bit weary after two bus and one taxi ride from Ubon Ratchattani, Thailand, that took us through Prasat and the border point of Osmach.
Siem Reap is busy. Modern. And very, very touristic. We could nearly believe we are back in a western super-town but for the tuk-tuks buzzing by, the street vendors and the fair amount of electric cables hanging around everywhere. Needless to say, the heat is also 100% asian : heavy, sticky, clammy. Even mister Night can't make the thermometer drop down. Still, the atmosphere is quite enjoyable and relax, and we follow mechanically a flow of happy tourists to the night market, where we heard one can find nice local products and plenty of food stalls. Sounded like a good plan, since we love Asian markets generally, but this one will simply be a disappointment. This joke of a market is nothing more than a pale copy of a Christmas market on the Champs Elysees: shitty and expensive!
As we run away on a parallel street, a restaurant sign makes us slow down. Bugs Cafe, we read… We meet Davy, the french owner, who gives us a few explanations on the menu: the Khmer chef running the kitchen is actually a specialist of gastronomic insect cuisine! Ok, now we need to try! Finally we will enjoy a delightful meal of scorpions, tarantulas and worms. A unique and uncanny experience not to be forgotten anytime soon… Yet everything was fabulously tasty, subtle and delicious! It was definitely well worth a try.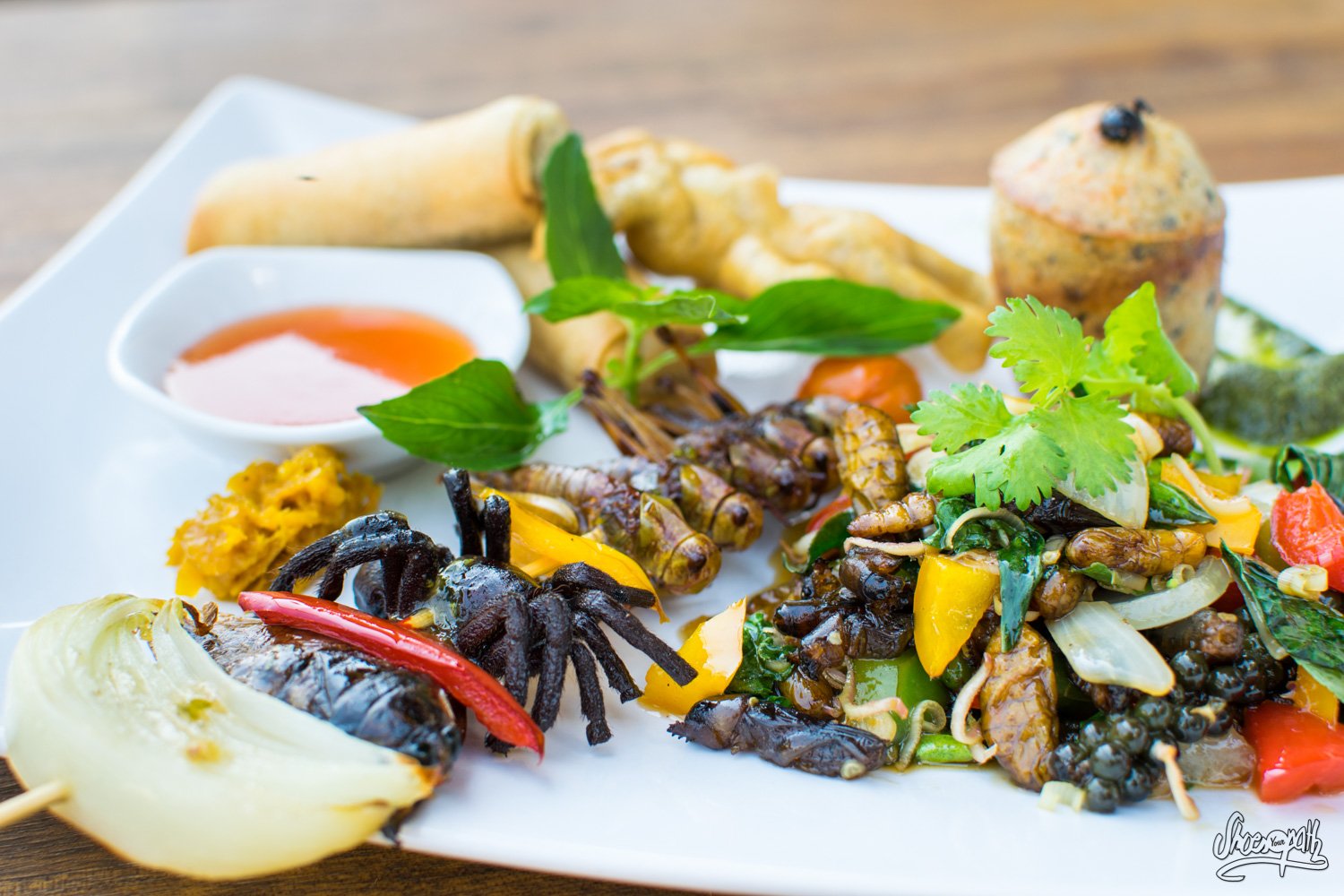 We also meet Peter, an amazing character from NYC and great cave specialist. We are fascinated by his stories! He also highly recommends that we take a three days pass to explore the numerous temples of Angkor. Of course, we will follow this wise advice…
Temples of Angkor
We set off to explore the site early morning on a powerful little rental electric scooter. Its small wheels, similar to those you find on children's bikes, propels us on the road at the astounding speed of… 25km/h… Um. Yep, even bycicles are faster than we are. This supersonic one-person scooter has visibly much troubles to carry our two butts around. Well, at least we had a good laugh!
We first stop at Banteay Kdei. A high but narrow door welcomes us under the warm gaze of a peaceful Buddha head, perched on top. On the other side, we get our first proper look at the famous aesthetic of Angkor. The old ruined walls still stand high and proud, beautifully carved at chest height and guarded by fantastic figures and creatures. The roofs tend to reach the sky with style, in that typical ancient Khmer architecture so renowned around the world. It is just stunning!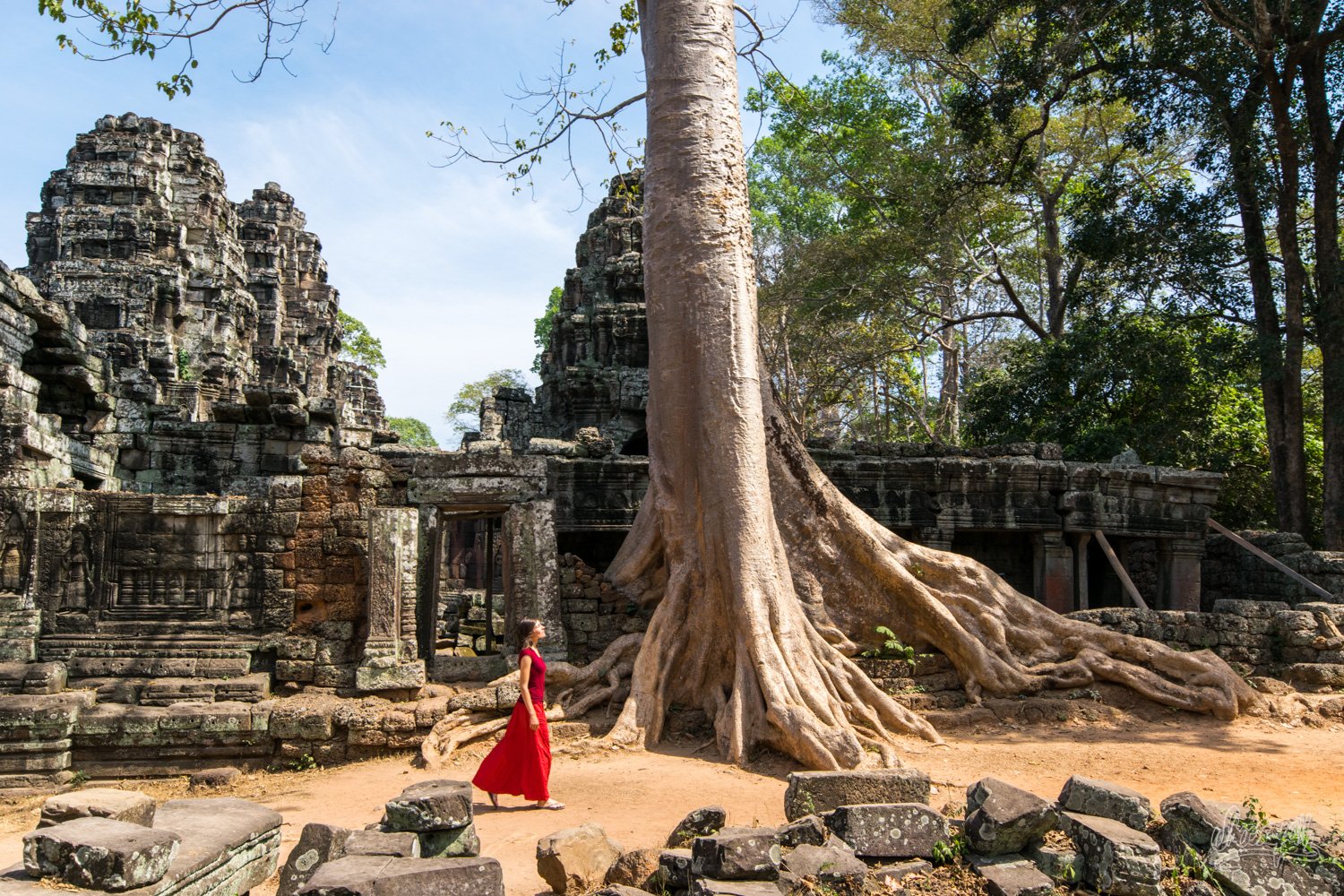 The next temple, Ta Prohm, just blows our minds a bit more. Nearly renamed Temple of Tomb Raider after the eponymous movie in which it appears briefly, it is also well known to be one of the most beautiful temples of the whole complex of Angkor. Gigantic ficus are growing on top of doors and roofs and rocks, their heavy roots reaching to the ground, hugging the buildings tightly, as to never let go, the whole thing looking like a dramatic set of king-size melted candles pointing to the sky trying to slowly engulf the century-old building. Hungry Nature would have totally taken back Angkor by now if it hadn't been rediscovered during the French protectorate and taken care of and restored since.
We ended this first discovery day by a disappointed "missed" sunset at Phnom Bakhen hill, supposedly offering one of the best view for sunset, but of a maximum capacity of 300 people. The queue to access this hill is simply unbelievable and we never made it in time for the show. We still managed to climb there just after sunset only to discover that the view is actually worth nothing… Except if you absolutely want to see Siem Reap airport glittering in the last lights of the day, which is not THAT impressive. Some things we will never understand…
Angkor forever
Next day, we enter Angkor on a decent scooter, at least two times faster than the previous one (whoo). It's 4:30 am. Why so early? Well we decided to correct our disappointing sunset experience from yesterday by having a sunrise on Angkor Wat, the most famous temple of the complex to which it gave its name. As you can imagine, this is the top-activity of what can be done in Cambodia, touristy speaking, and a hundred people are already packed at the sunrise spot when we arrive. We just manage to get the last little piece of unoccupied land in the foreground to pitch our tripod. At 4:50, 300 persons are gathered on the spot. At 5:00: now 500 people are waiting in the dark behind us. Craaaazy!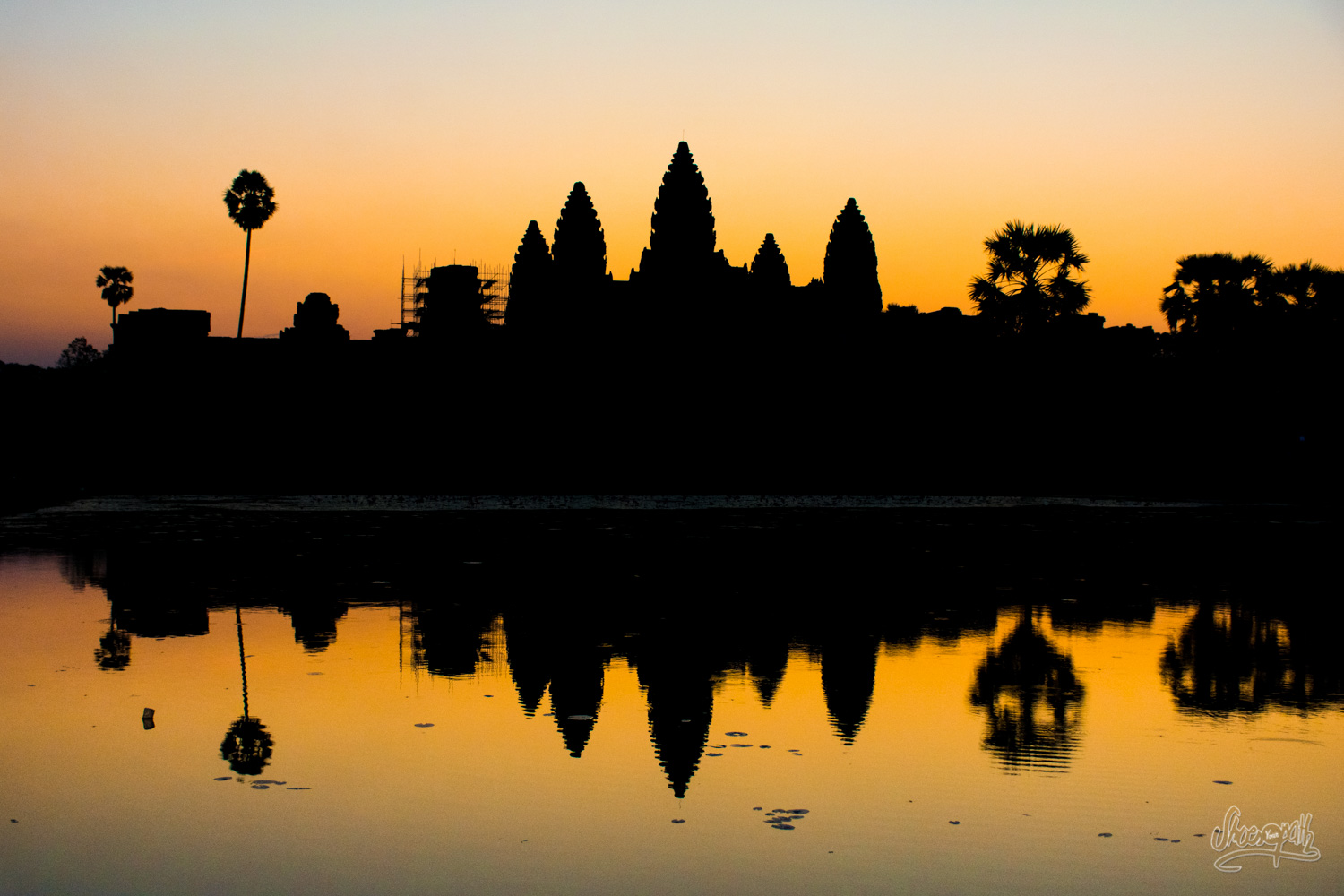 Finally it's time for the sun to grant us a visit. It timidly paints the horizon golden, providing a nice background for the magical temple. Quite beautiful and surreal, but nothing exceptional though, especially compared to what Bagan offered us a few weeks ago in Myanmar… As the sun gets higher, Angor Wat and its three lotus towers gradually stand out of the scenery. We leave the crowd and make our way to the temple. Stunning and majestic but less charming than the ones we saw yesterday, Angkor Wat is nonetheless extremely interesting to visit, thanks especially to the extraordinary bas-reliefs that adorn the covered galleries. We could spend the whole day in there and in the huge surrounding gardens but unfortunately we don't have that much time as the complex of temples is absolutely gigantic. Let's go and explore a bit more…
We lead our silent green scooter on the "big loop" touring the complex. We stop on the way to visit a few pretty little temples lost in the jungle, like the beautiful Ta Saom, then we take a quick look at Neak Pean, a temple sitting in the middle of a broad shallow lake which is actually the most interesting part of the visit since you have to walk on a narrow walkway while looking on both sides at a forest of white trees poking out of a spectacular mirror. Lilies and lotus flowers add a colourful touch to the scenery. Enchanting! We spend the next couple of hours in Preah Khan. This huge temple has been built around four long corridors following the cardinal axes leading the visitors through hundreds of doors. Visually striking! Beautiful bas-reliefs and intruding long-rooted trees can also be admired in this lovely temple.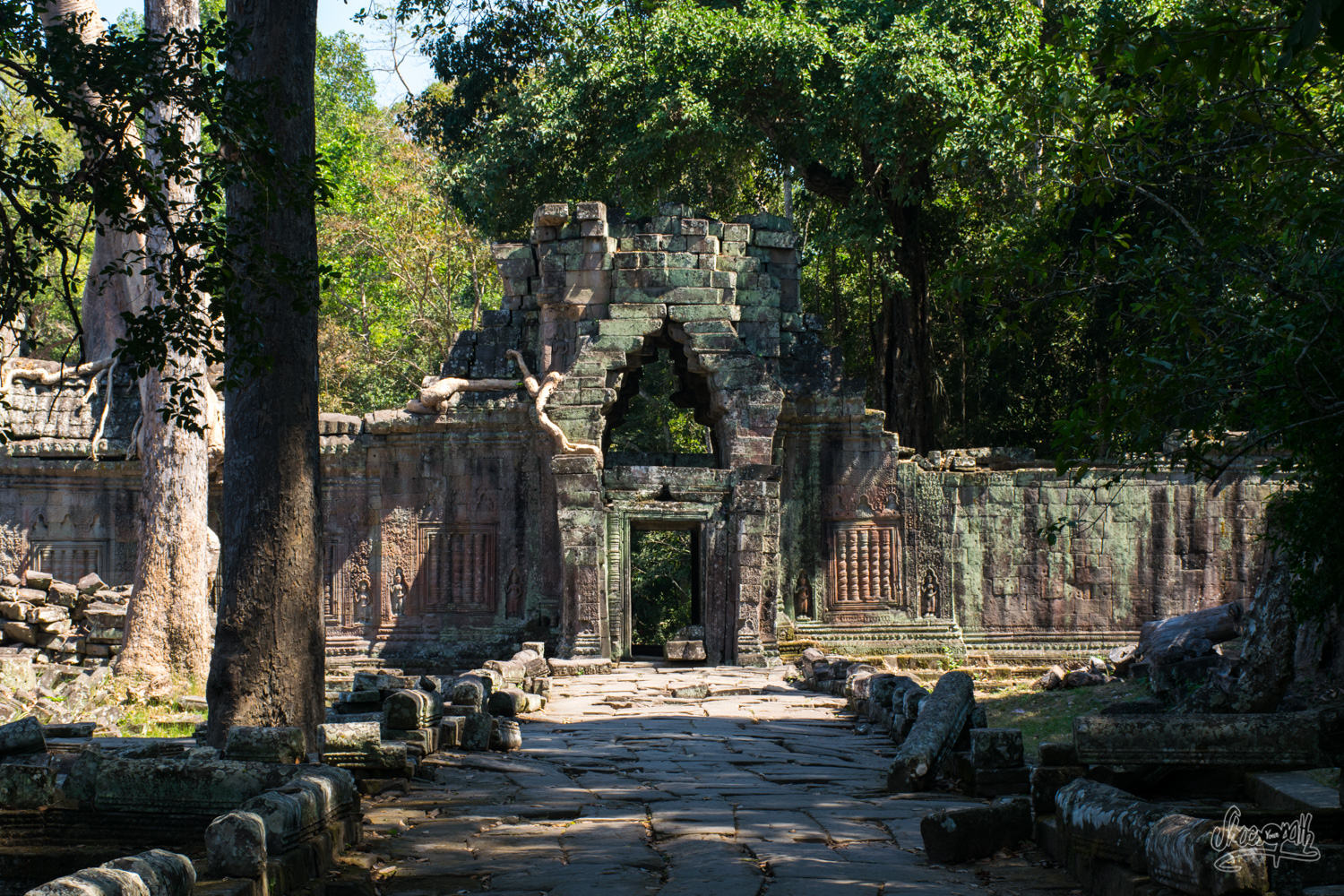 We finally end that long day at the Bayon, also known as the temple of smiles. Indeed, the Bayon is exceptionally adorned and displays 216 gigantic smiling carved faces, looking in every directions. Peaceful, impassive, frozen in time, those faces are as intimidating as they are bewitching. Some specialists think they are representing Buddha, while other pretend it could well be king Jayavarman VII, who ordered the construction of this amazing temple. We watch speechless as the late afternoon light plays its hypnotising show on the many faces of the Bayon, painting them skilfully in gold and shadows like long-lost mysterious gods. Is it our imagination or the soft rustling of the wind in the leaves or are we really hearing them whispering to each other?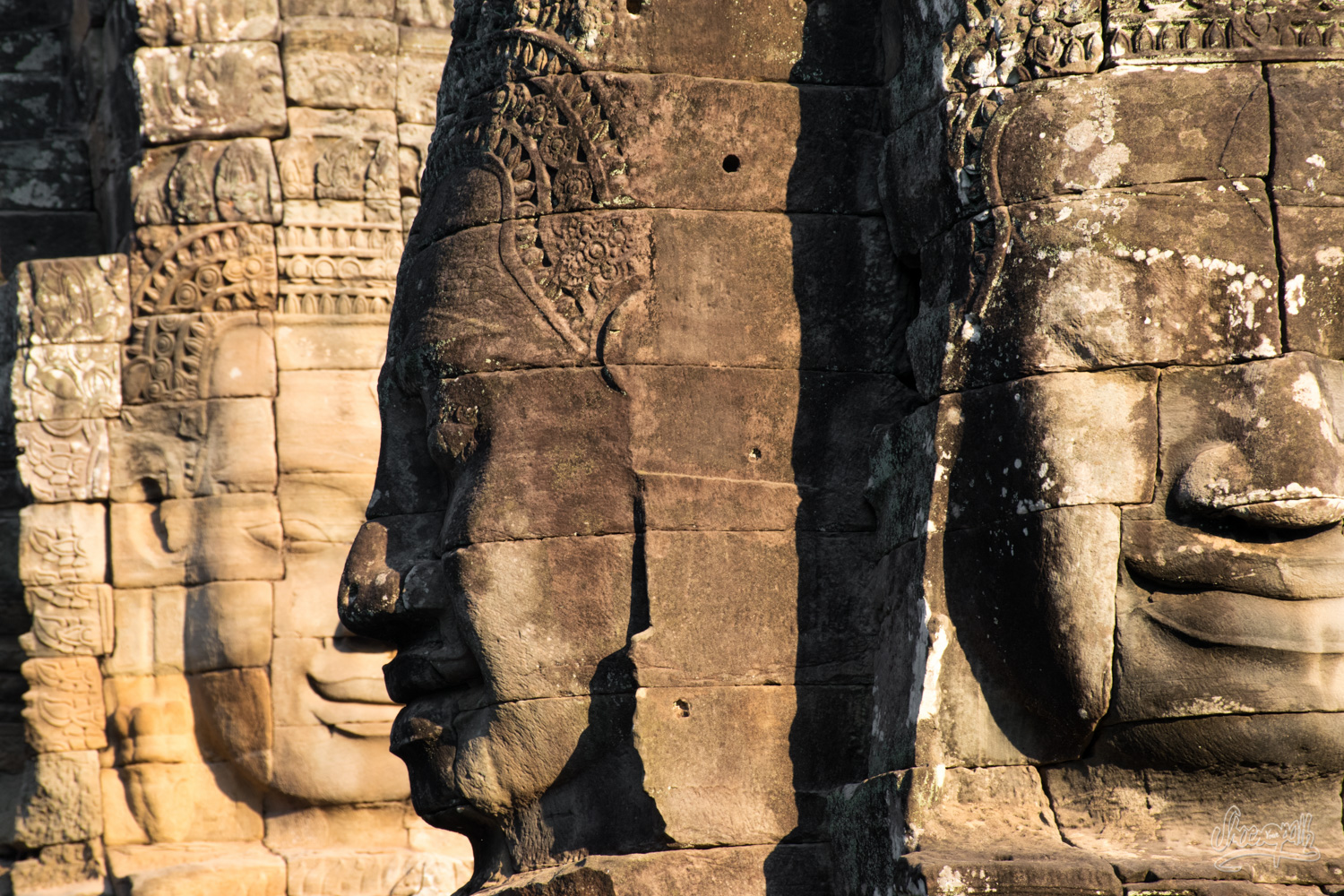 We spend half of the following day re-exploring our favourite spots, especially Ta Prohm (the Tomb Raider one, we looked everywhere but sadly no Angelina Jolie to be seen…). We are so engrossed by this temple that we totally forget the advice of one of our expat friends:
"Don't miss Ta Nei, a true wonder really and totally forgotten by tourists!"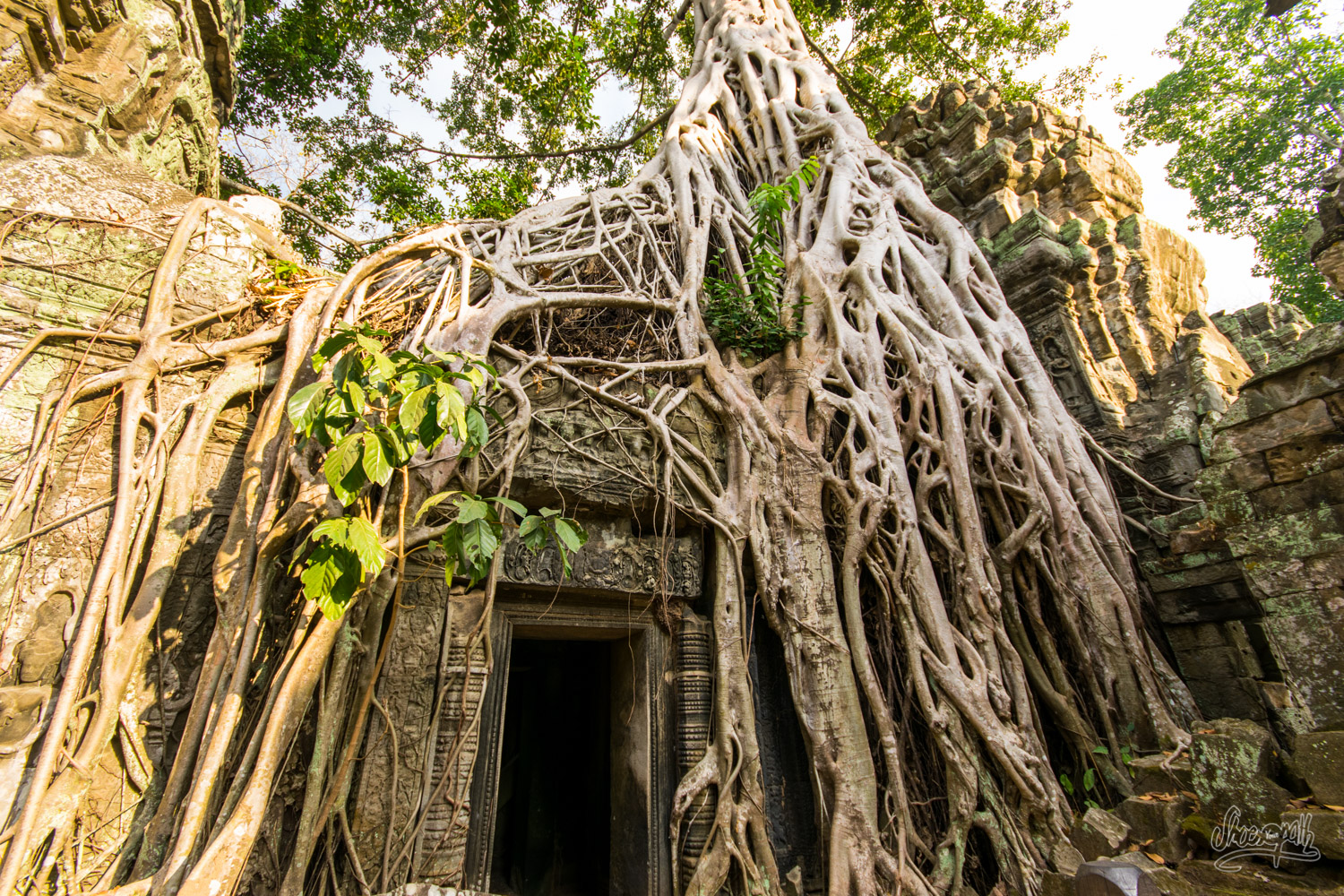 So yep we missed that, as we also missed the  apparently incredible Banteay Srei, a wonderful pink temple admirably carved which is not in the complex of Angkor but actually sitting 50km of Siem Reap, and as we probably missed so many things in that extraordinary place… Too bad, we will have to come back!
While waiting for the next episode of our adventures in Cambodia, we let you with the happy and gentle smile of the old lady of the temple…
Cheers!
M. & Mme Shoes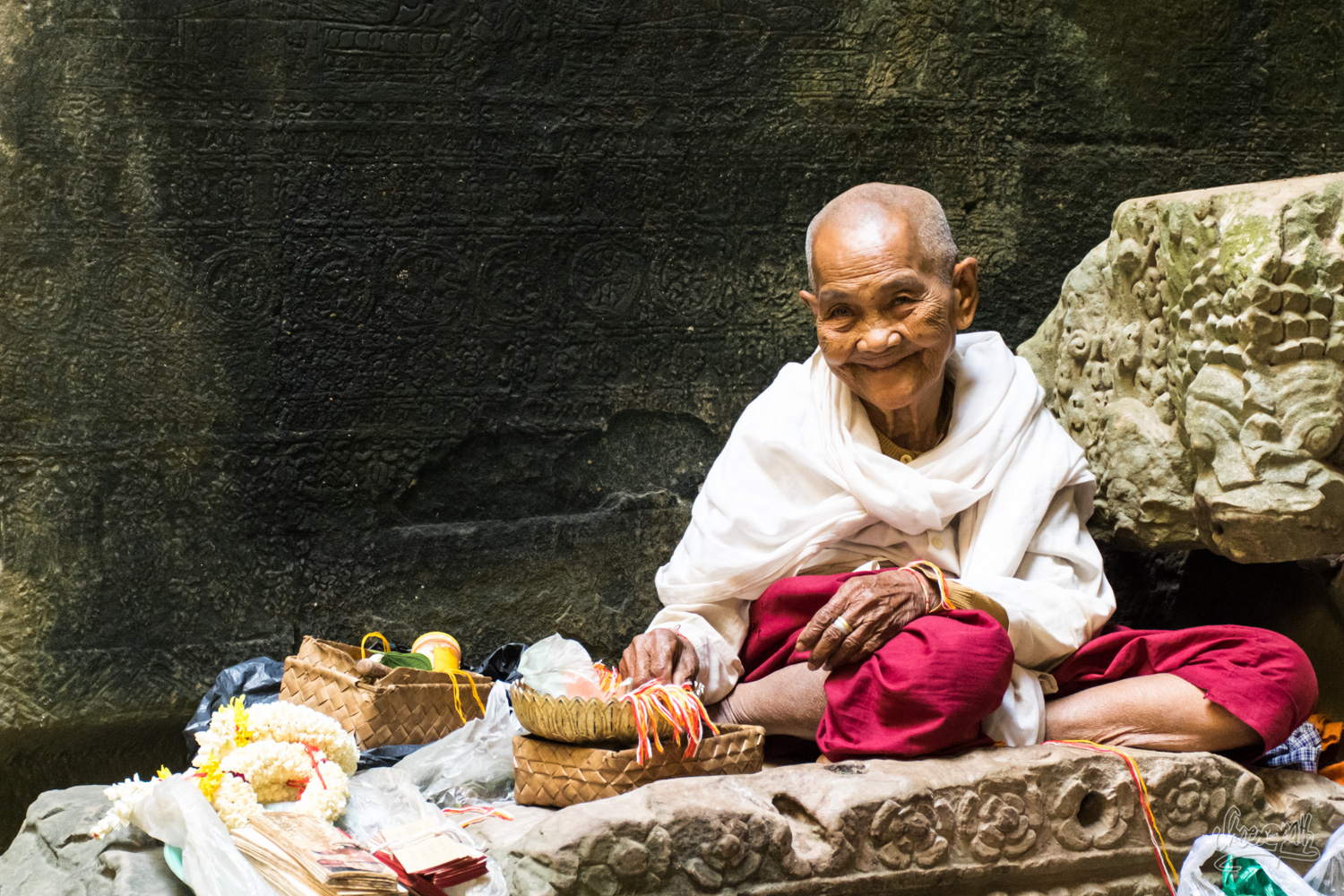 ---
Tips
Eat in Siem Reap :
The Bugs Cafe : Looking for different and unique experience ? Lokking for new flavors and new culinary adventures ? The Bugs Cafe is what you're looking for ! Its gastronomic menu propose only meal based on insects, snake and crocodile ! A must have tried !
– Open from 17:00 to 00:00
– 351 Thmey Village, Angkor Night Market Street, 351 Bugs St, Krong Siem Reap, Cambodia
– Tel : +855 17 764 560
– www.bugs-cafe.com
Atelier Sushi : A little and discreet place, owns by charming and sympathic Thyda a french-cambodian. L'Atelier Sushi propose a variety of excellent suhis and japanese cooking for very decent prices ! And do not miss the small crème brulée for desert !
– Open from 10:00 to 00:00
– Tel :

+855 783 031 42


– Taphul Road (behind Park Hyatt on Salai Bai road), Siem Reap Province
– lateliersushi.wix.com/lateliersushi
The Khmer Chef : an address for tourists, clean and pleasant, where for once, the food is good ! Nice price for nice quality. Their Amok is particulary good. The next door address (an indian restaurant) is owns by the same persons.
– Tel : 063 964 290
–

No. B06 Sivutha St.

,

Siem Reap,

Cambodia

The Paris Saigon : A classy and fancy place, in a quiet and romantic atmosphere. They propose an excellent french and vietnamese cuisine that will please all the gastronomy amateurs or the french who are missing home ! And all of these in a smart and refined musical ambiance. Beware, you're not anymore in the cheap backpacker place here, but prices are still affordable for the high quality food which is served.
– Tel : +855 12 605780
–

Samdech Tep Vong Street

,

Siem Reap 17000,

Cambodia



Hiring an electric scooter to visit the temples of Angkor
If you're alone, the Gree E-Bikes (or the orange ones) are an interresting option. Those tiny electric bikes have enough battery to explore the whole Angkor complex, and you'll have possibility to charge it along the way in several places inside the complex.
Price : 10$/day
If you're 2 people, forget about the E-bikes. We tried it. Don't do it, trust us… Pushbikes will overtake you ! The E-Bikes don't have enough power for 2 people. But, you can rent bigger electric scooters in front of the gaz station at the crossroad of Sivatha Rd. and Samdech Tec Vong St.
Prices : Before negociations : 10$/day. After negociations for 2 days : 9$/day without beeing too far in the negociations. It's probably possible to get them for 8$/day.
---