"What about going on a little adventure in South England ?" This was the silly idea of two young trek lovers living in Normandy. The point to prove was that you don't need to always go far to find some awesome tracks to walk on! Our dream was to close the tiny door of our small century-old countryside house near Rouen and walk up all the way to London! And that's exactly what offers the Vanguard Way. After a four-days walk through beautiful Normandy, we managed to reach Dieppe from where a pedestrian can easily (and quite cheaply too) cross the Channel, taking the ferry to Newhaven. Allons-y !
The Vanguard Way
The Vanguard Way is a great 106km long distance hiking track that is not well known, even by our British neighbours as we came to understand. And that's a shame, as this track would take you through very lovely yet quite remote parts of Sussex, Kent and Surrey that only demand to be explored. We are determined to fix this by sharing with you the details of our journey and this way convince you to put your hiking boots on for a few days! Let's discover the Vanguard Way!
First of all, let us tell you that as we arrived from France, we choose to walk it South to North, from the coast to the City. But most of english walkers will do it the other way around. It doesn't really matter, you're free to choose !
Five to seven days are necessary to reach London from Newhaven following the Vanguard Way. When we started planning this journey from France, we were thrilled to learn that this walk would cross a lot of beautiful and typical British landscapes and that it would be very recreational as it is not a very hard track and, more importantly, that it is lined with awesome pubs all along the way!
Here is a day to day account of this walking trip that will help you (we hope) in preparing your own journey.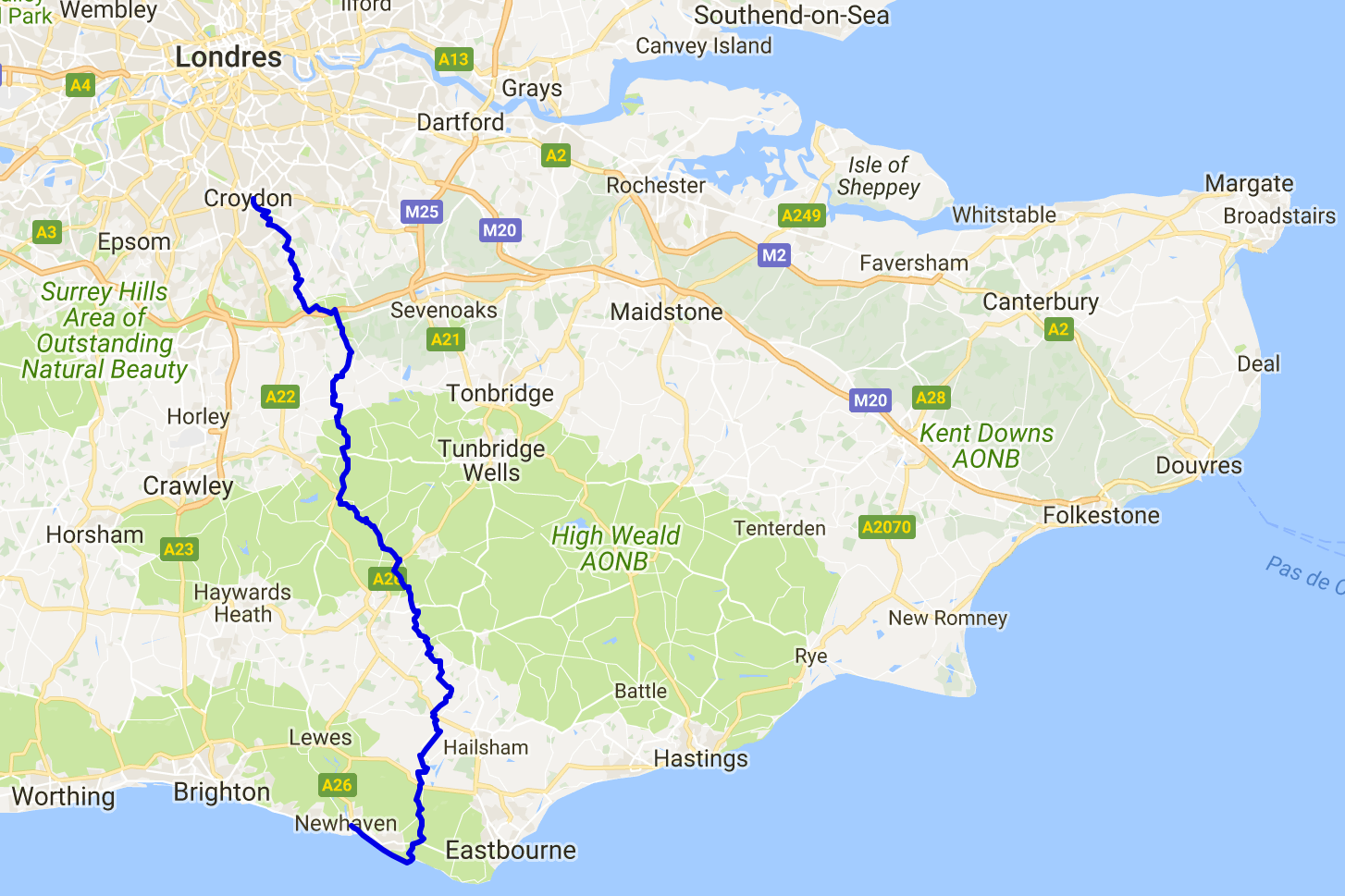 From New Haven to Beachy Head, the seven sisters – 25km, 15.5 miles.
Let's start this walk by a little detour. Et oui ! Today's track between Newhaven and Beachy Head is not completely on the Vanguard Way itself, but it has nonetheless the reputation to be of utter beauty. So it doesn't need much pondering on before we decide to add a day to our walking plan. Indeed this track follows the dramatic cliffs of the coastline, leading up to the famous Seven Sisters. Even if we got coastal views with similar impressive landscape on the other side of the channel, we must admit the Seven Sisters are quite a sight, which it must be very hard to get used to indeed (or to forget)!
Our DFDS ferry arrived at Newhaven at 4 o'clock a.m. No need to say that we finished our night at the boat terminal before going on our first walking day. After a solid English breakfast composed of fried eggs on toasts, hash browns and a tall mug of not-so-bad English coffee, we find the starting point of the Vanguard Way and start making our way along the sea. We walk across a peaceful swamp to the seafront of Seaford, a small town where lovely retired people try to get a bit of tan on (quite unsuccessfully as it seems to us). There we meet up with Graham, trek lover himself and route manager of the Vanguard Way, who we contacted from France beforehand. He's quite excited about having two young French people interested in walking this unknown track. This is apparently quite rare and what a pity! We agree we should do whatever we can to change this! Graham decides to walk with us today as the forecast looks just amazing.
We start walking up and down the cliffs already catching sight of the great Seven Sisters in the background, which we will have to climb later on. For now, we are getting to the mouth of the Cockmere river, which is a little bit too deep for us to cross. We have to follow the banks inland up to the village of Exceat where someone in the past had the clever move to build a bridge. There we have a lunch break in the garden of Salt Marsh Café, a very nice place that we highly recommend.
Feeling quite full (British people really are quite serious about food!), we definitely leave the Vanguard Way to start our way up and down the Seven Sisters. Their extraordinary natural beauty as well as the post-lunch exercise let us quite out of breath! A few kilometres onward, we finally reach Beachy Head lighthouse. From there, we cross straight through the moor overlooking Eastbourne to reach the closest YHA. Today's walk will be the hardest of the trip (so you see there is nothing to worry about).
Tips : We recommend taht you book your room in advance at Eastbourne YHA as it is quite small (+44 345 371 9316). You can also ask to camp in their garden if you feel like it or if they are short on rooms. There are no shops nearby but you can have pizzas or fish & chips delivered.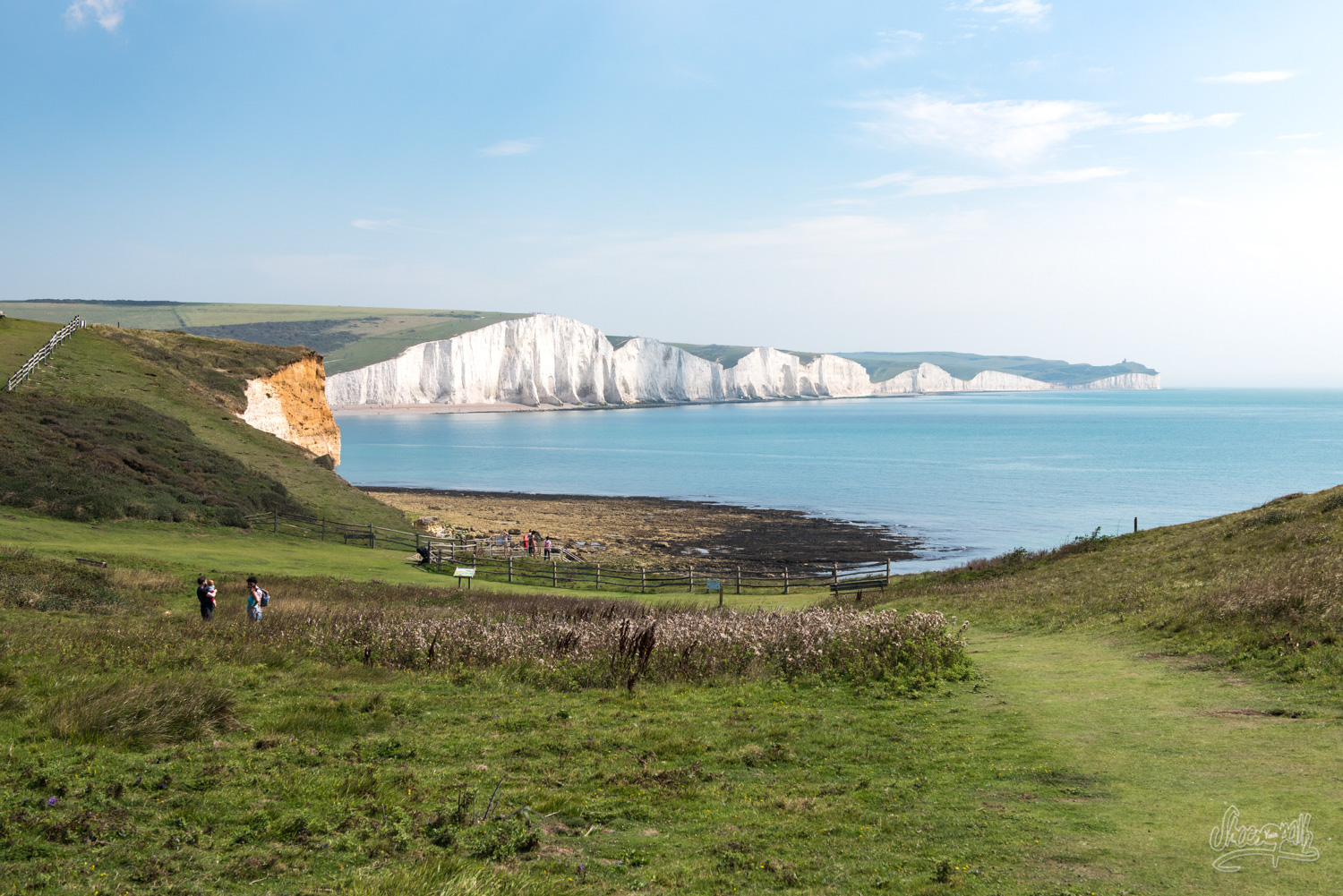 From Exceat to Alfriston – 10,9km, 6.8 miles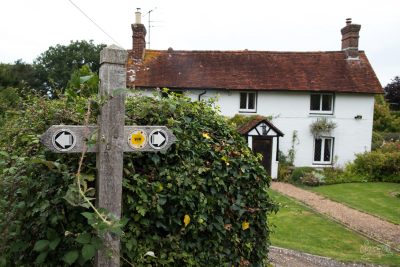 Today's a nice short day. Facing the YHA, there is a bus stop where we hop on bus n°12. A short trip brings us back to Exceat where we ate lunch yesterday. There we find back the Vanguard Way lead, marked with VGW yellow arrows. We take a last look on the meanders of beautiful Cockmere river before getting in the forest.
We soon reach Littlington. This small village seems very welcoming. We take a break at lovely pub Plough & Arrow just in time for the beginning of a Beer Festival! How awesome is that? We enjoy a crafted beer in their sunny garden while listening to some local group playing folk music.  La vie est belle, isn't it?
We take back the road, crossing the Friston forest and soon catch sight of Alfriston bell tower popping up from over the trees. We truly fall in love with this ancient town of smugglers. It is quite touristic but still very lovely and authentic, with its old cottages, tea houses and pubs, artist galleries and blooming flowers. We are very happy to spend the whole afternoon there!
We set our tent at Alfriston's campsite before going back to town and visiting the church and its romantic cemetery hidden between tall grasses and battalion of cats. And what a better way to end the day than by having a nice dinner at the "Star Inn"?
Tip : Alfriston's campsite costs 7£/night/pers (http://www.alfristoncamping.co.uk/). If you are in need of a bit more comfort, we recommend you book a room at Chestnut B&B which is good value and serves awesome breakfasts in the morning (http://chestnutsalfriston.co.uk/)!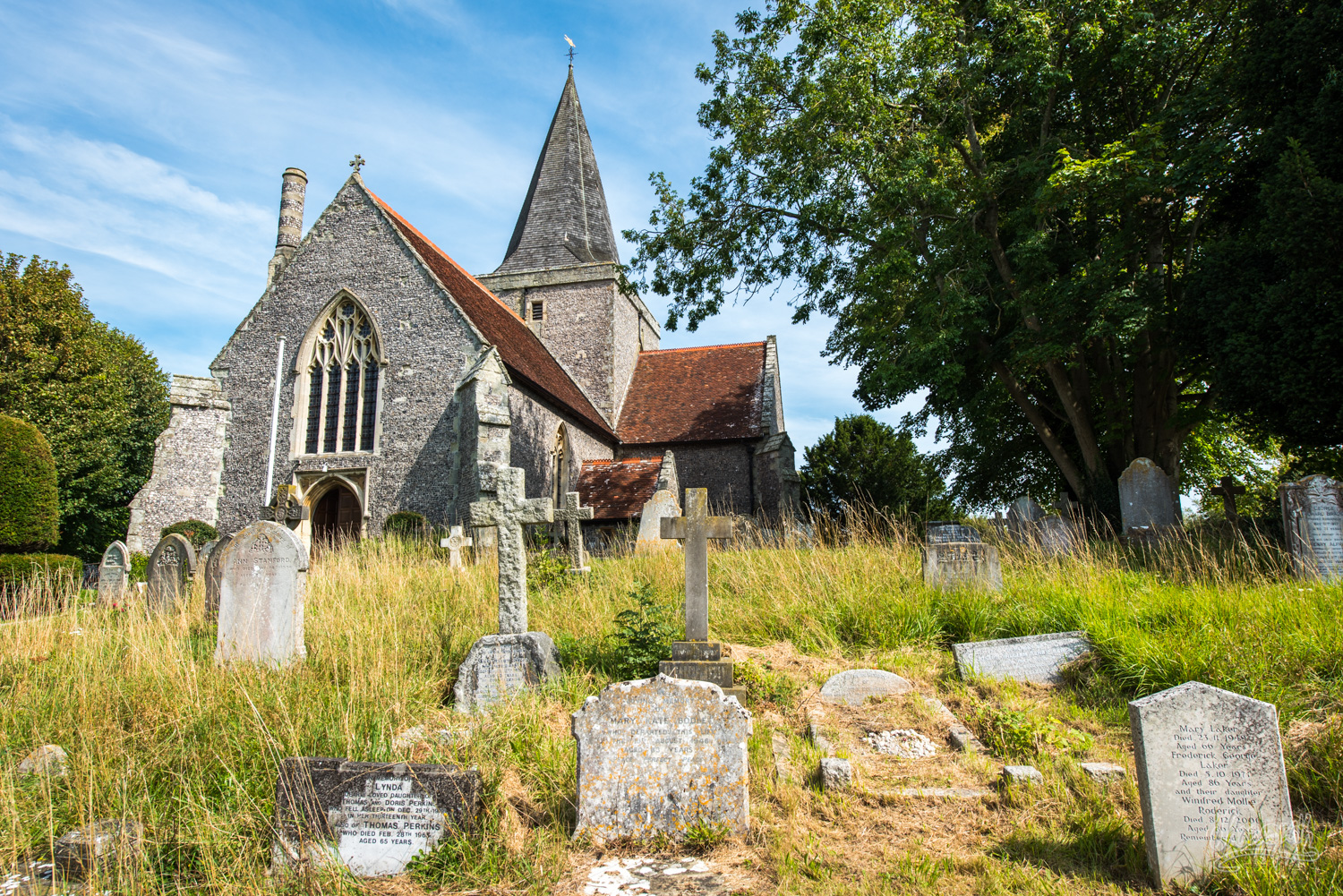 From Alfriston to Chiddingly – 15 km, 9.3 miles
Back on track this morning, sadly leaving beautiful Alfriston behind. Thankfully, the nature is magnificent and we are eager to discover it. Moreover, this is the blackberry season (September) and they are literally everywhere! Oak trees are also casting particularly impressive and dignified figures on the way, bringing a certain level of class to Sussex countryside which is certainly missing back home!
We walk through large fields, jumping over fences thanks to "stiles" or "kissing gates". Let us tell you, neither ones are easy to use with big backpacks on. But we still enjoy the ones involving kissing better, for obvious reasons!
We arrive to mini-town Chiddingly at 5 p.m. This is not early but we were quite late this morning to start with. We thought we would find a campground there but it doesn't exist anymore! Zut alors ! Where will we be sleeping tonight? That's when we meet a nice couple of residents who propose us to pitch the tent in their backyard. They are absolutely adorable and even prepare us an awesome english tea with biscuits in their blooming garden.
We spend the evening at the Six Bells Pub, which is quite animated for such a small town, but it is apparently quite renowned in the area. Burgers and beers are what we get to match with the ambiance!
Tips : If you are not willing to try your luck at camping, you could rent a room at a lovely B&B in Muddles Green village (http://www.netherwoodlodge.co.uk/). If you can afford a more expensive room, you could walk an hour more up to East Hoatly where you'll find wonderful B&B Old Whyly (http://www.oldwhyly.co.uk/).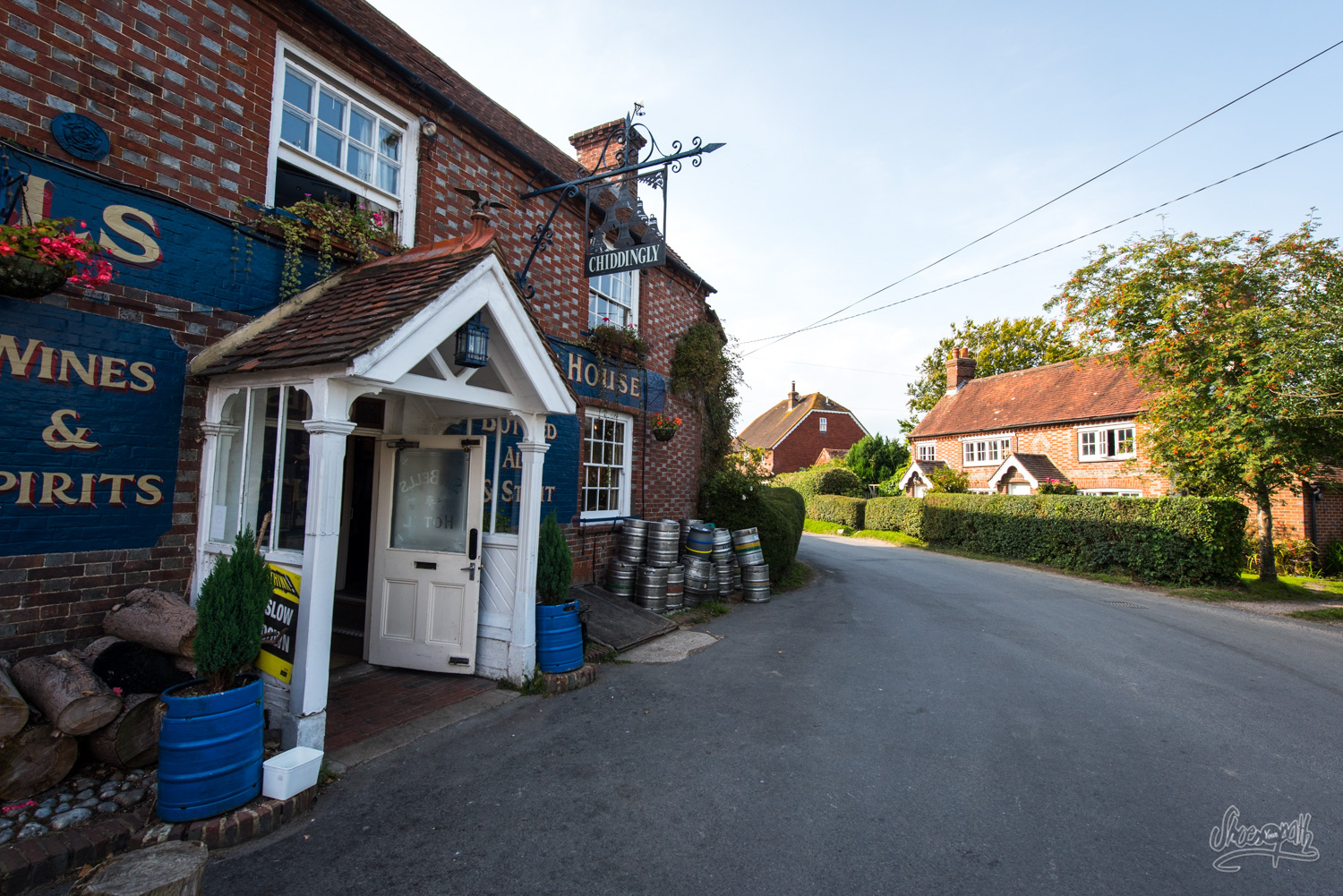 From Chiddingly to Poundgate – 20km, 12.4 miles
It's raining today. Of course England is similar to Normandy in this : without rain, it losts its soul! So we decide to take the weather as it is, put our rain gear on and go! Around noon, we arrive in Black Boys, an ancient village of coal miners. We head for the Black Boys Inn where we arrive soupy-like, dripping filthy water on the well-polished wood floor. Moreover, we are absolutely ravenous. And do you know who is there? Our friend Graham! Because of the terrible weather, he has taken pity on us and decided to assist us for today. He proposes to keep our backpacks so we could hike lighter this afternoon. What an awesome idea! This cheers us up instantly and we eat our delicious meal with earthy appetite, validating the Black Boys Inn as a very good address. We order a local beer to take this all down, and of course it is unsettlingly warm – but we are starting to get used to it. Graham playfully points out that if we are to continue like that, we might be able to write an essay on the Vanguard Way pubs at the end of the trip!
The landscape can only be described as… wet! It looks like an old watercolor. We are walking in dark hollows, muddy and full of brambles. We could believe we are actually crossing the forest of Sherwood. But we haven't met Robin Hood yet!
Thanks to Graham though, we are racing the track, crossing fields like little bulldozers, and we manage to reach a pub (what do you mean by again?) at exactly 5 p.m.  There we meet again with Graham who gives us back our bags and enjoys the second beer of the day with us.  This pub's called the Crow & Gate, in Poundgate. Its atmosphere is really comfy and welcoming, with candles, large fireplaces and eclectic decoration. We would love to spend the evening there in the warmth, if only there was a place nearby where we could camp. Out of other idea, we ask the owner if he'd knew a place where we could pitch the tent. To what he answers, in the most phlegmatic english tone we've heard so far : "Why, yeah, in my garden !" And here we are, wonderfully set for the night, sitting near the fire place in front of a big burger and a good book, waiting for our socks to dry. Doesn't it sound like a wet hiker's paradise?
Tip : For the amateurs of comfy beds, there are two places you could book in Chillies Lane facing the pub : Poudgate Park, which has a 4 persons cottage to rent (https://www.poundgatepark.co.uk/) and a small B&B, Chillies Granary Guesthouse (+44 1892 655560) a little further down the road (around 500m).
From Poundgate to Hammerwood, the Ashdown Forest – 15km, 9.3 miles
Today we enter the Ashdown Forest. As a matter of fact, and despite of its name, you shouldn't be expecting a forest there. It is actually a high hill covered with a wonderful moor where grow gorse and heather and lonely pine trees. From up there you will have a fantastic view over all the area!
This is such an enchanted place that it even inspired the father of Winnie the Poh and Co. We will meet no yellow bear nor any honeypot but a large number of horse riders and walkers enjoying the many tracks of the forest. This is by the way quite tricky and of course it doesn't take long before we get lost. Thankfully Quentin has an offline gps  on his phone (quite useful, you should download it there. Plus it's free!) and he manages to get us back on track. The Ashdown Forest is a sensitive natural reserve, so we have to respect the rules helping to maintain la douceur de vivre of this area, like "Do not litter", "Do not camp" or the more enigmatic "Do not disturb people who lawfully play golf".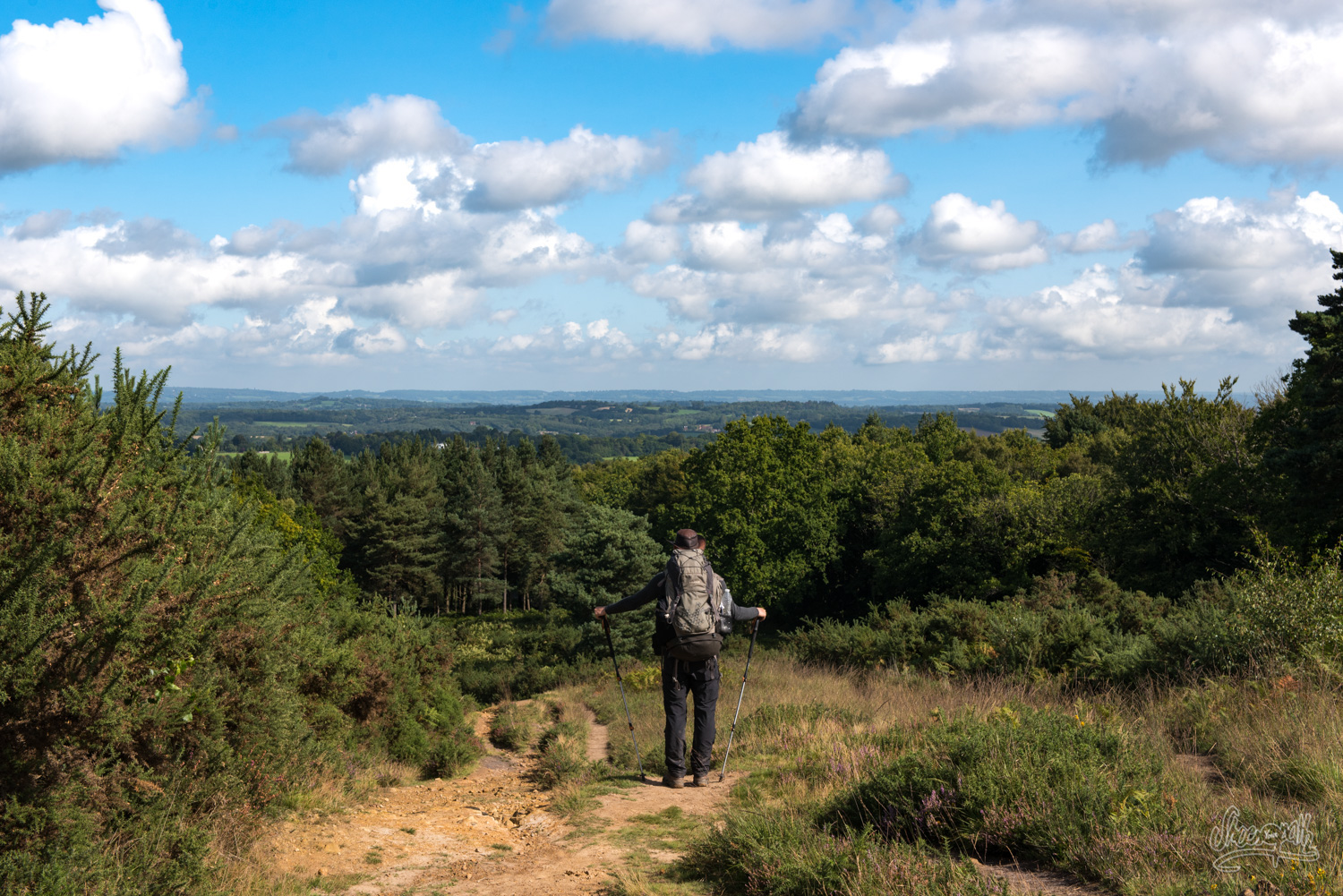 The Vanguard Way takes us down the slope and through the forest to a cricket ground where a dramatic shower starts pouring from the sky. In two minutes we manage to get fully anti-rain equipped, without realising the rain won't last and that we will soon be boiling like oysters in a hot summer day. The whole afternoon will be ruled by this utterly whimsical and unpredictable weather. It has the (only) advantage to offer particularly surprising lights on the very British landscape. Yup, after the visit to the cricket ground, the Vanguard Way now thinks it is very appropriate to take us through a whole golf course!
We take a break at cute little town Forest Row where we enjoy a nice cup of tea and a delicious warm scone (this day truly has been the full-English experience we were looking for!). Then we walk up to Hammerwood under a terrifying thunderstorm hardly but somewhat sheltered by the green leafy roof of the hollow track. We marked on our map that there is a large scout campsite along the Vanguard Way and we got the idea to ask them for a piece of field to pitch our tent tonight. As we can find no scouts on site, we finally decide to borrow them a bit of room for us to camp, pondering that it wouldn't annoy them much as they were not here anyway. An unknown yet sympathetic person had had the brilliant idea to mow the grass before our arrival, keeping us from wetting our shoes more than they already are. And cerise sur le gâteau, as soon as the tent is set, the clouds part to reveal a wonderfully hot sunset. Quentin tries quite unsuccessfully to warm up some lyophilised mash potatoes which ugly-looking consistency reminds us how better we would eat in a pub!
Tip : The scout campsite is easy to access yet it is devoid of facilities such as toilets or tap water. Please take all your litter with you if you happen to camp there like we did. Otherwise, you could choose to cut this one day walk in two and sleep at Forest Row which means a 11km walking day only and a 16km walk to Edenbridge the following day. Or you feel great and you choose to walk strait to Edenbridge for a total of 26km. B&B in Forest Row : Elms B&B (https://www.elmsbedandbreakfast.com/), the brambletye hotel (http://www.brambletyehotel.co.uk/), le Chequers Inn Hotel (https://www.elmsbedandbreakfast.com/).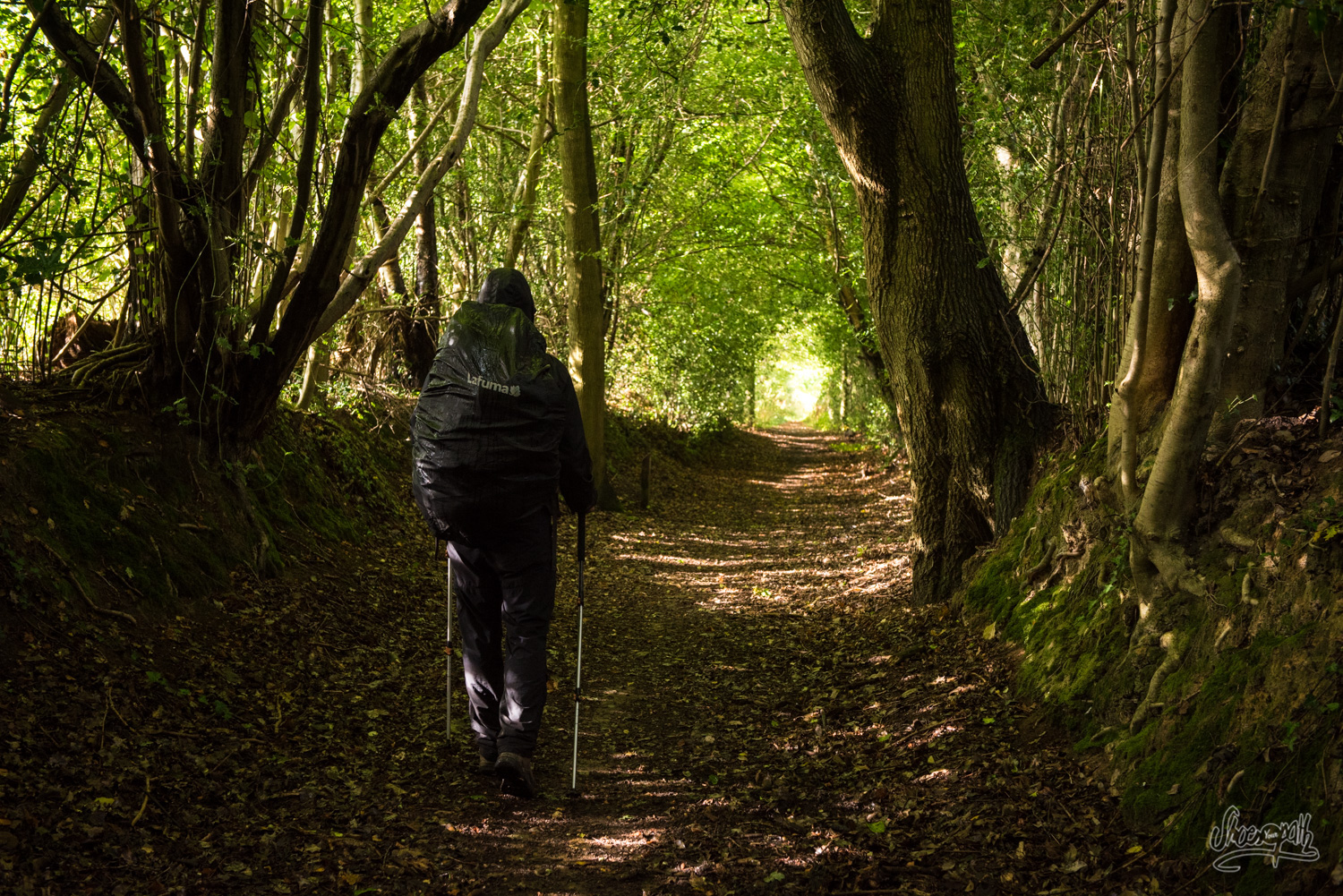 From Hammerwood to Edenbridge – 12km, 7.4 miles
At sunrise, the grass is steaming under a roasting sun. In less than two minutes the tent is dry, for the first (and only) time of our entire trip. At the end of the forest we are quite surprised to see Graham waiting for us! Awesome! He's got a free day and decided to spend some time with us and to assist us again by taking our backpacks in his car and giving us indications on the track. The Vanguard Way then takes us all day through nice pastures and pretty forests. The fields are inhabited most of the time and you shouldn't be scared to cross them under the not-so-clever stares of herds of curious cows. In a particularly large field, a somewhat too friendly horse wearing a coat and a hood (with holes for its ears of course … wait, what??) fell in love with Quentin and follows him close all the way! This segment of the Vanguard Way stops at Haxted Mill, but as it is quite a deserted place, Graham advises us to head for Edenbridge, sitting 4km to the east and where we will find all the commodities we need. For that, we have to take a shortcut called the Eden Valley Walk. You can find the start of this track on the right of the Vanguard Way shortly after Starborough Castle. You should locate the spot on the map that you can find on the official website of the Vanguard Way to make sure you don't miss it.
In Edenbridge, we find out that what we thought was a campsite wasn't… We finally pitched our tent at the far end of a private field, of course after its nice owner allowed us to. We spent the entire evening relaxing at the Old Eden Pub, face to face with a couple of beers and Rochelle, a dear friend of us that we met in New Zealand. Conclusion of the day : what is so nice with English beer is that you are never afraid for it to warm up!
Tip : Here are a few addresses to spend the night in Edenbridge : the Shoscombe B&B (http://www.shoscombe.com/), the Ye Old Crown pub in the city centre (http://www.yeoldcrown.com/Rooms/). These are only suggestions, as there are many other addresses you can try. There is also the possibility to spend the night in Lingfield village, situated 2km west of Haxted Mill where you could stay at the Star Inn (http://www.thestarlingfield.co.uk/). There is also a campground in Lingfield but it is quite a detour to get there for it is 6km from Haxted Mill (http://www.longacrescamping.co.uk/).
From Edenbridge to Chelsham – 19 km, 11.8 miles
Back on track early morning. We are crossing fields where sheep and cows are grazing peacefully and then tiny villages full of charming cottages. The track is starting to get quite steep all of a sudden! The reason is we have to jump over Trevereux Hill at the foot of which stand a huge mansion. Actually, all the houses here are large and classy… We can feel that we are getting closer to London. Living in a wonderful countryside place like this so close from the City must be priceless (well, it sure has a price, but probably not anyone can afford!). At the top of Trevereux Hill, you can find the village of Limpsfield Chart and its pub the Carpenter's Arms where we stop to get a little something to eat. Quite a nice place, really. Then we get down the slope, going through a few villages before we get to the Highway… So close from the City, it was necessary to step over one!
On the other side of the Highway, we arrive near Titsey Place, a tall manor displaying beautiful gardens and a tea house that it is possible to visit. Only, to get there we need to get through quite a few fields full of savannah-like high yellow grasses and bulls, cows and babies hidden in there. We vaguely see their horns showing from the sea of grass… This is quite unnerving…
Everything goes fine up to the last field. In this one, the grass had been cut short (or savagely eaten). The problem is, it is full of young bulls in heat! They run for us as soon as we set foot in the field! Impossible to cross ! We still have to find a solution to pass… We will finally jump over a barbed wire fence only to fall in an inextricable field of brambles, nettles and thorny acacia trees ! It takes us eternity to get through it. You can't imagine in what condition we finally arrive at Titsey Place!
After a well-earned cup of tea and a little bit of rest, we get back on track. The Vanguard Way is very nice here, taking us midway along a hill displaying amazing views on the entire valley. There are still a few hills to climb after that to get as close to Chelsham as possible. This is a vast area of green hilly farmlands, very pretty to the eye. One last hill to go… On top of it : one of the craziest views of this walk. In front of us is London, glorified by a wonderful sunset. Behind us stands the peaceful countryside of the valley of Titsey. Our hill is deserted, wild. Our neighbour is a horse. How is it possible that a place like that, with a view like that has stayed untouched by real estate?? Nearby neighbours tell us this land is owned by Lady Diana's family. We don't know if this is true, but this is indeed a royal camp spot we have found for tonight! We couldn't have dreamt better for our last night on the Vanguard Way!
Tip : If you don't want to illegally camp on royal ground, you will have to walk one more hour to Selsdon where you can book a place to stay, like the  Owlets B&B (http://owletsbedandbreakfast.co.uk/) or an Air'BnB. Otherwise, you can also walk to Warlingham where you can take bus 403 to Croydon train station from where you can take a train to the City.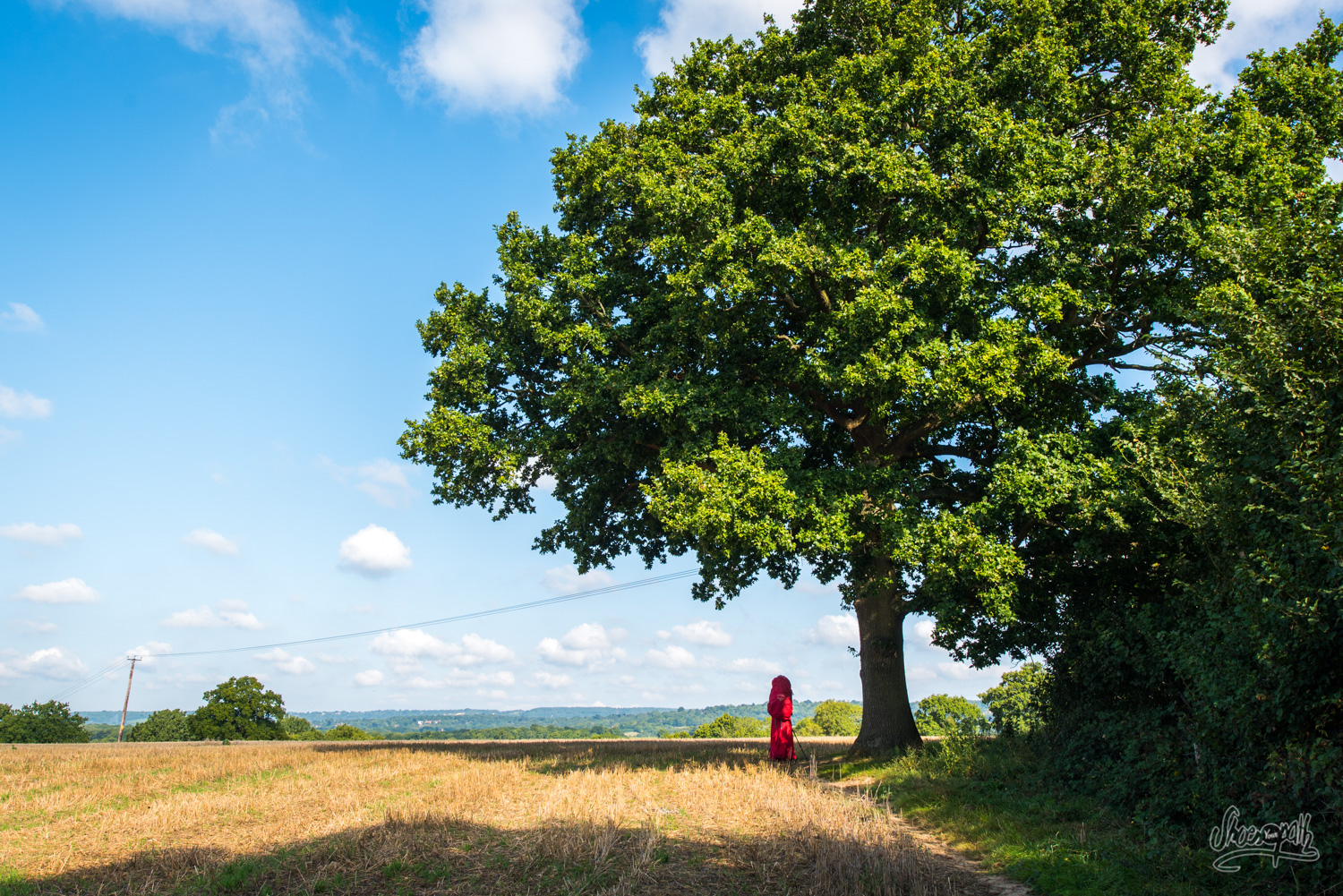 From Chelsham to Croydon – 11km, 6.8 miles
This half-day walk isn't very exciting because we are slowly starting to enter town. Fortunately, the route managers have made it smooth : you mainly make your way to the Suburb through parks and public gardens. We are soon arrived at Croydon Station where Graham is waiting to take us back to Newhaven, where we started. Our boat leaves tonight… Voilà ! We have completed the Vanguard Way!
Tips: Actually, we do recommend that you take the train to the City where you would have booked a lovely hotel room beforehand and enjoy a few days rest in this amazing capital. If, like us, you don't have time to drink a cup of tea with her Majesty, you can then take a train directly from Croydon to where ever you want to go. If you wish to go back to Newhaven, you will find there are trains every hours or half-hours… Or maybe you can just walk back 😉 !  
General information :
You will find all the information about the Vanguard Way you need and even more on the official Vanguard Way website, managed by the designers of the route themselves! We highly recommend that you study this excellent website thoroughly before you go. This is really a precious tool for preparing your trip as you will find everything concerning distances between each villages, places of cultural interests and their stories, as well as a list of facilities around the track and, more importantly, a complete description of every segments of the route, full of details and advices. The route managers truly did a remarkable job there and we really insist that you download this route description beforehand as well as their maps as it will be crucial for your orientation on site.
The choice of going from the sea to the City was truly our own, but you really can travel either sides. You also don't have to follow exactly our different steps. We just shared them with you as a matter of inspiring you but you will now have to adapt this route to your walking pace and habits!
Note that the part of the trail which connects Croydon to London is not opened yet. The management team is working on it to be open soon.
You also have to now that if you wish to extend this adventure on Frogs'land (like we did) you are very welcome to, as there are many tracks living from Dieppe. For example, you could walk a part of the GR21 following the French coast from north to south (you could actually walk down to Spain following this track if you had the motivation and time to do so!) or you could walk the GR210, also called Chasse-Marée, a 80 km track between Dieppe and Rouen through the countryside (the one we actually walked before linking it with the Vanguard Way), or you could pick the GR 212, a 63km track between Sainte-Marguerite-Sur-Mer (on the coast) and Duclair (near Rouen, on the Seine river). Those are all public tracks marked with the official red and white stripes.
You can find all the information concerning ferry crossings between Dieppe and Newhaven on the official website of the DFDS company.
Have a good walk guys! À bientôt !