From our point of view, this stage is the easiest of Peaks of the Balkans. We will still have to walk twenty kilometers to reach Plav from Babino Polje, but we will encounter no difficulties. This track is also very well marked. No exhausting climbs, no challenging passes, no u-turns… This sounds nearly too easy! How disappointing! But nature will keep surprising us. Don't forget this is a land of wonders!


Peaks of the Balkans – Stage 7 : from Babino Polje to Plav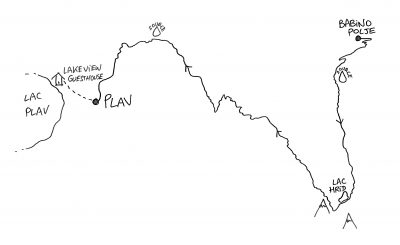 20km, 7h, Ascent 720m, Descent 1250m
The forecast is better this morning. We even catch sight of a few patches of blue sky among the low sad clouds. We say goodbye to the nice  Alija family of the Triangle Woodhouse as if it was our own family. Despite the weather's improvment, our Canadian friend Deborah (who is still traveling with us) bet a beer that we will have to endure a bit of rain during the day. This doesn't sound like a problem anymore. Our bodies feel stronger now, our legs don't need anymore will power to move forward. It is always fascinating to consider how fast our bodies adapt to heavy exercise. They only needed a few walking days to get fit again. Even Quentin's annoying knees have stopped being painful. Only our feet suffer, as they've been enduring permanent humidity for days. We also love our new pace of life. It feels like an amazing luxury to be able to go to bed at 8:30 every night. This happens very rarely in a society where evenings are invaded by TV and Internet. Yet, those few hours before midnight are the most restful and we've never felt any better! Our backpacks feel very light on our shoulders.
As usual, we don't meet many people on the track. Peaks of the Balkans may be more and more popular, it is still very far from beeing a hiking highway! It is perfect for people looking for a quiet place. We arrive at the biggest lake of the whole circuit of Peaks of the Balkans: lake Hdrisko. It is a very peaceful place, and we enjoy its quiet beauty very much. There are hundreds of cute little tritons swimming in the shallow waters. We keep an eye out for the legendary fire salamanders which are supposed to live in the surrounding area but can't see any, to Deborah's great disappointement.
Plav
The way down from the lake to Plav is really easy and the pastoral landscapes are stunning. Since the beginning of our walk on Peaks of the Balkans, we are amazed by the invaluable biodiversity that exists in the area. We never saw anything comparable. This is very unique in Europe. Seven thousand different kind of plants are gathered in this small area of the Balkans of which many are endemic. There is no intensive farming here which means no pesticides at all. Birds and insects are thriving. For example, you can find here 130 different species of butterflies! Which means that walking Peaks of the Balkans, especially at this time of the year, is purely magical. We are surrounded by thousands of bright flowers. Every step we take in the tall golden grass is followed by a cloud of tiny blue butterflies. We feel like in a Walt Disney movie, wanting to jump and sing around happily.
At last we have a view overlooking Plav village, facing the impressive Mt Visitor and large Plav lake. Just before reaching town, a few drops of rain fall lightly on our hats. Enough for us to loose our bet against Deborah! We cross Plav to get to our campsite. We notice that everyone in town has a large organic kitchen garden and orchard, enough to feed each family. This looks like a well-organized Eden garden. As we spend quite a lot of time gardening at home and fighting for local organic farming, we find this place very inspiring!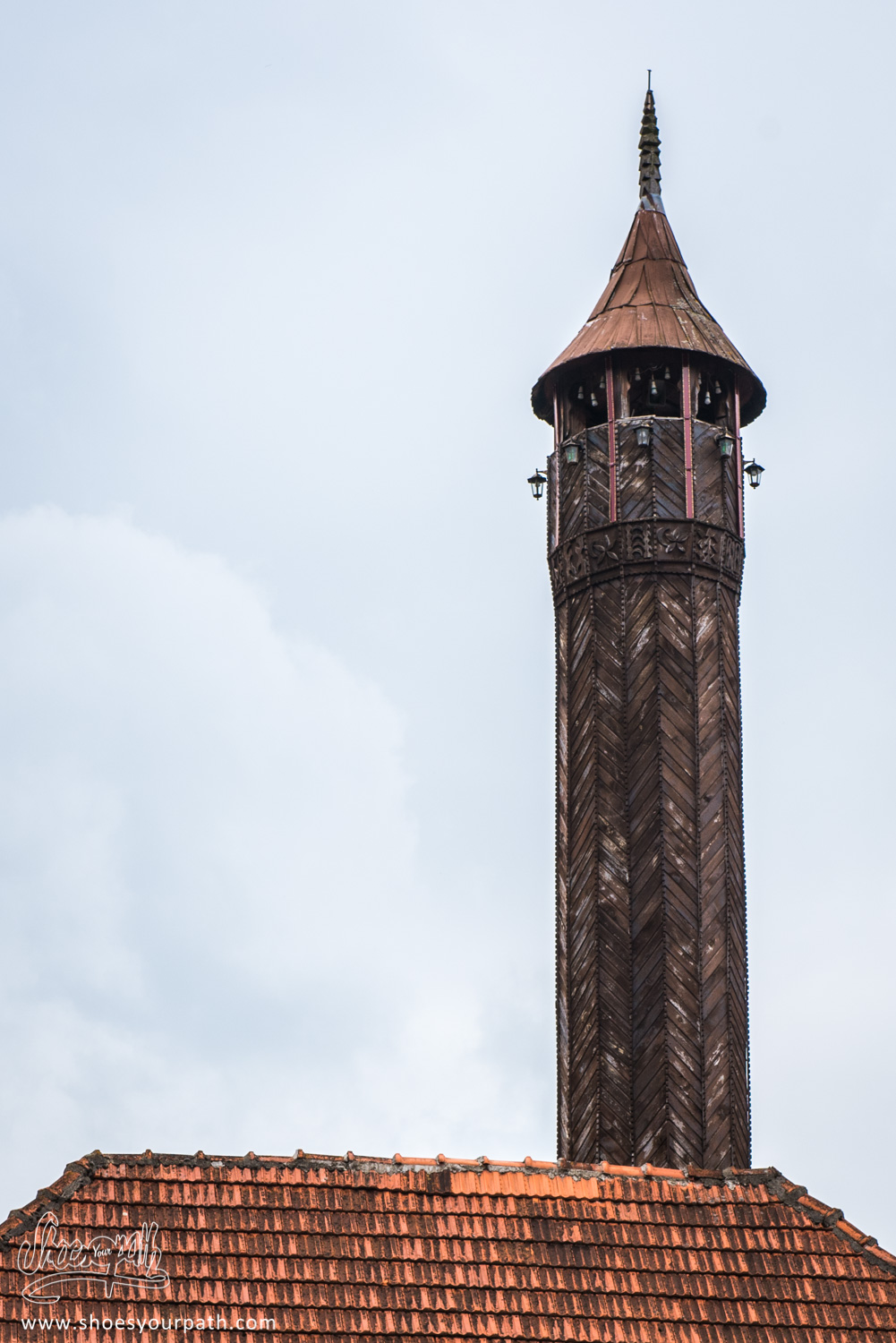 Plav isn't a pretty city. The architecture isn't remarkable in any way except for a few beautiful wooden minarets reminding us of the long gone Ottoman era. A few streets can be called « city-centre » and are lined with a large number of messy shops and cafés. An overwhelming majority of men look at us walk by from the terraces of the cafés, smoking cigars and drinking turkish coffee. A few youngsters show off in their old shining Mercedes. Women are looking after the kids or sometimes working in a few shops, but never in cafés!
We stop for the night at  Lake View campsite & guesthouse. This is a very nice place not far from the lake banks, offering fair prices for camping or renting a room as well as a really nice view over Mt Visitor. They also serve some really good food! We were lucky to try the local speciality, the sarma, a dish made from cabbage leaves stuffed with rice, minced meat and spices. Absolutely delicious !
M. & Mme Shoes