This stage of Peaks of the Balkans, from Te Liqeni to Babino Polje, will lead us over the highest pass of the whole circuit leaving Kosovo and entering Montenegro. The weather is still terrible so we decided to join forces with fellow hiker Deborah. Better hike together when the weather is not good! Here is the tale of a long wet hiking day in the mountain fog, at the end of which we will find the warm welcome of a family at the Triangle Woodhouse in Babino Polje…
Peaks of the Balkans – Stage 6 : from restaurant Te Liqeni to Babino Polje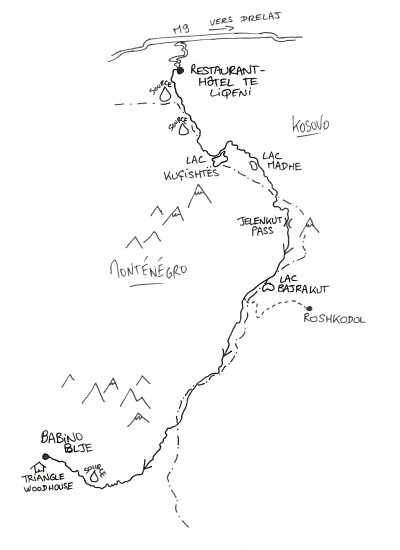 16km, 7h30, Ascent 1150m, Descent 1110m
Ilir, son of Osman and owner of the Squiponja Guesthouse, drops us in front of restaurant Te Liqeni, a few kilometers away from Drelaj where we spent the night. It's recommended to get a transfer in a car from Drelaj to the restaurant, to avoid walking along the dangerous asphalt road. There was an existing walking trail between the two places but it is impassable for now.
This stage will lead us directly to Montenegro and is knowned to be one of the most spectacular of Peaks of the Balkans. Unfortunately, we won't be able to testify it… Once again, the weather is disastrous! Bad luck, really… The end of June is supposed to be the best time of the year to visit the Balkans! We fight all day against strong winds and never-ending rain. Our shoes are drenched once again and they are soon weighting tons! Every step we take echos in the mountains.
« SLOTCH, FLOTCH, SLOTCH, FLOTCH ! », our feet say.
Two lakes and the Jelenkut pass
Fortunately, Deborah keeps the team's spirit up, thanks to her cheerfulness and boiling energy. We talk a lot about nothing and everything which helps us get through this unpleasant time. We've known better moments to hike, for sure. A question keeps coming back in our head: What's the point? Pushing ourselves beyond our comfort zone and forcing our bodies to surpass themselves and endure the harshness of the trek is good enough when you get a reward at the end: the amazing feeling you get when reaching a remote summit, the unforgettable view you have when reaching a pass, this intense feeling of happiness when you are walking alone in natural wonders… But today's view is non-existant, our effort is worth nothing. Why should we continue like that, self-inflicting this terrible weather on us? Are we mad?
We climb up the slope and stumble across two dark emeralds piercing the bleak landscape. The first lake is called Kuçishtës, it is followed by a smaller one named Mahde. They look like two open mouths drinking thirstily water from the sky. The pine trees are mirrored on the dark waters like many pointed teeth. Plic, ploc, plic, sings the rain.We walk carefully on the track to avoid crushing snails!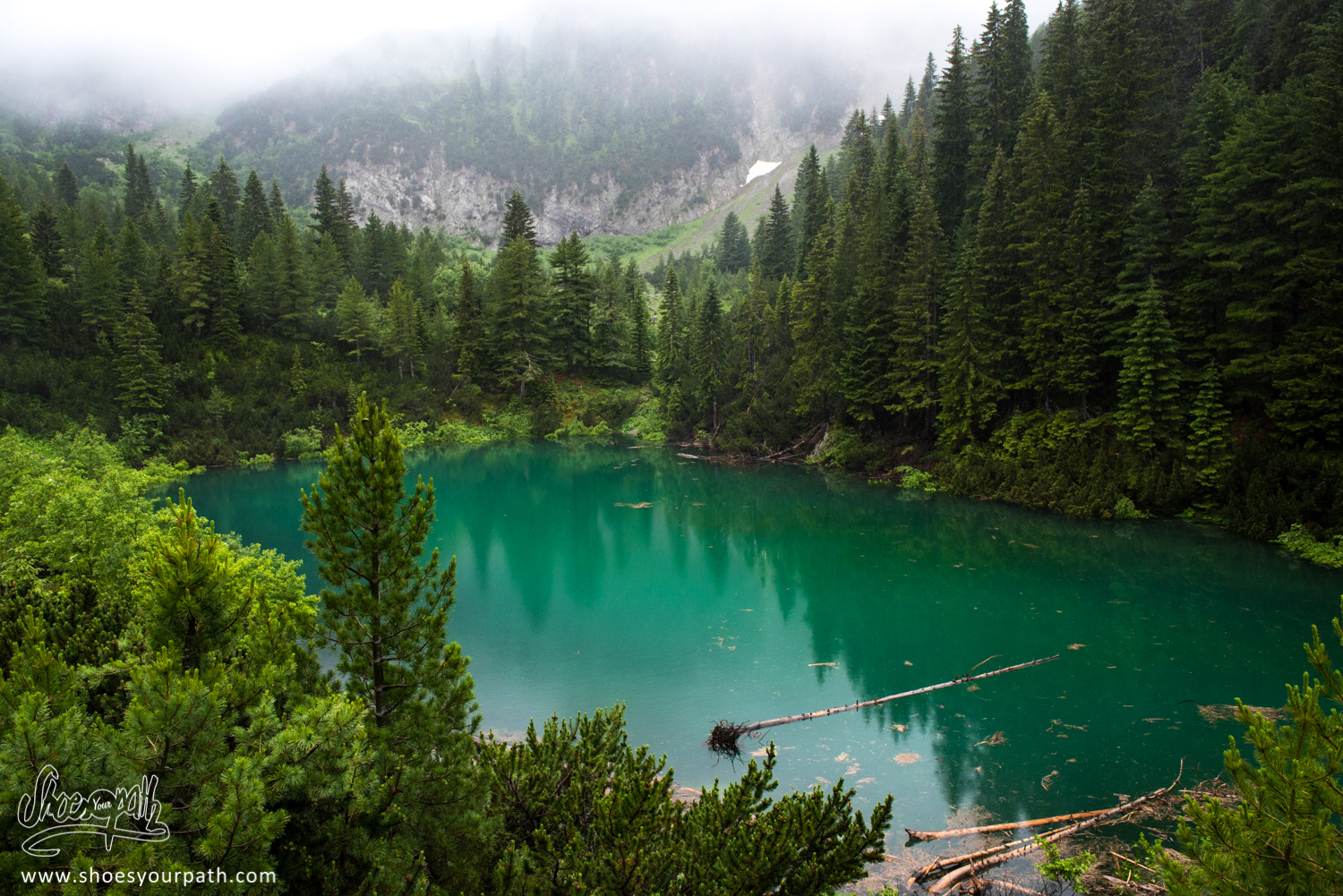 Then we reach the Jelenkut pass to discover one of the most spectacular views on Peak of the Balkans. Spectacular indeed! Spectacularly invisible! Facing a freshly painted white wall would probably offer a similar view. Laughing frankly, we immortalise this stunning « view » with our cameras. Unforgettable memory from the Balkans!
We arrive in Babino Polje on schedule and without getting lost once! This, at least, is a real success. We know we owe this achievment entirely to Deborah, since it is the first time it ever happens to us from the beginning of our trek! It must be said, for our defense, that the lady is a real machine. Ex-international champion of ultra-trail, extreme canyoning enthusiast, it seems that nothing can stop this dynamic sexagenarian. In her opinion, Peaks of the Balkans must be nothing more than an ordinary walk in the park…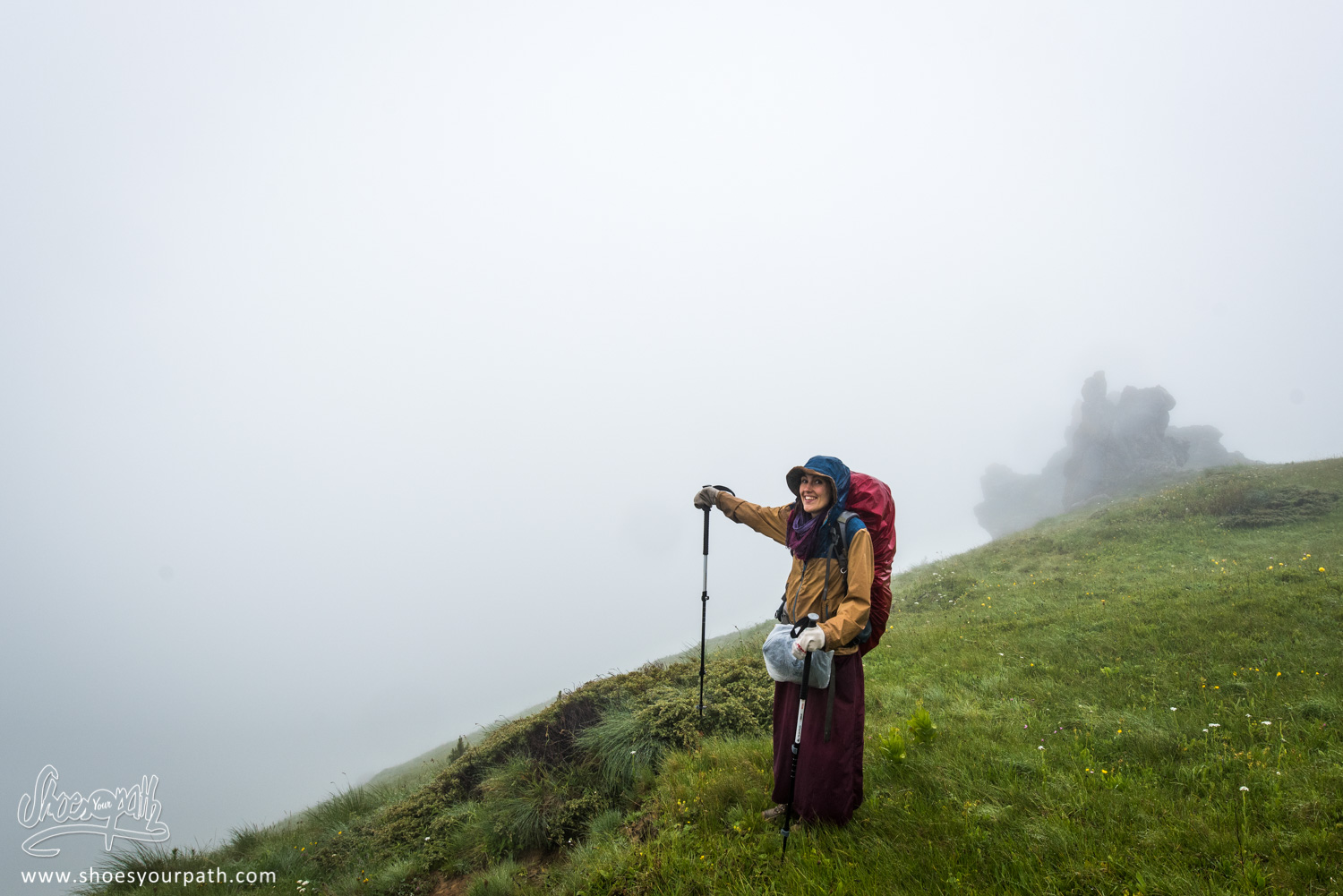 Babino Polje and the Triangle Woodhouse
We rent a bungalow at the Triangle Woodhouse then head for the living room to share the Victory Beer (well, every excuses are good to drink a beer, but this one is a good one!). We are warmly welcomed by Agron and Armend Alija and their families. The guesthouse is quite crowded tonight. We are sharing the place with a sympathetic family of australians and Elion, their albanian guide, a nice young guy and professional climber with whom we make friends.
The two brothers Agron and Armend are very eager to share their culture. They were first there when the Peaks of the Balkans trek was created in 2014 and its purpose is quite clear to them: this trek must be a way to share and pass on traditions and cultures in both ways. On one hand, the locals can proudly share their history, knowledge and cultural heritage with travellers, showing in the same time the value of their amazing heritage to younger generations. On the other hand, foreign hikers can share news from their countries and participate in broadening locals' horizons as well as giving them the opportunity to learn several languages.
« The economic benefits are also very good for the entire community, Agron explains. For example, I buy fresh local food from my neighbors. The vegetables come directly from their kitchen gardens, the cheese is fresh from their sheep or goats. It raises the standard of living of everybody and, on their side, the hikers are more than happy to eat local and organic fresh mountain food. So this just works amazingly!
However, we must keep it under control, and this won't come easy as the different governments of Albania, Kosovo and Montenegro find it difficult to get a common organization. Ecotourism is good for us in many ways, but we must think about all the impacts. For example, we've got more and more hikers coming on Peaks of the Balkans every year and for now we don't have any solution to manage human wastes. We don't have large-scale sewerage systems nor any organized garbage collections. How should we do? I try to do my best to systematically recycle the guesthouse's garbage and I drive down in town every day to throw everything in the right collection points. But how many people here are concious of this problem? We should really try to do all we can to preserve our beloved mountains. They are unique, you know! »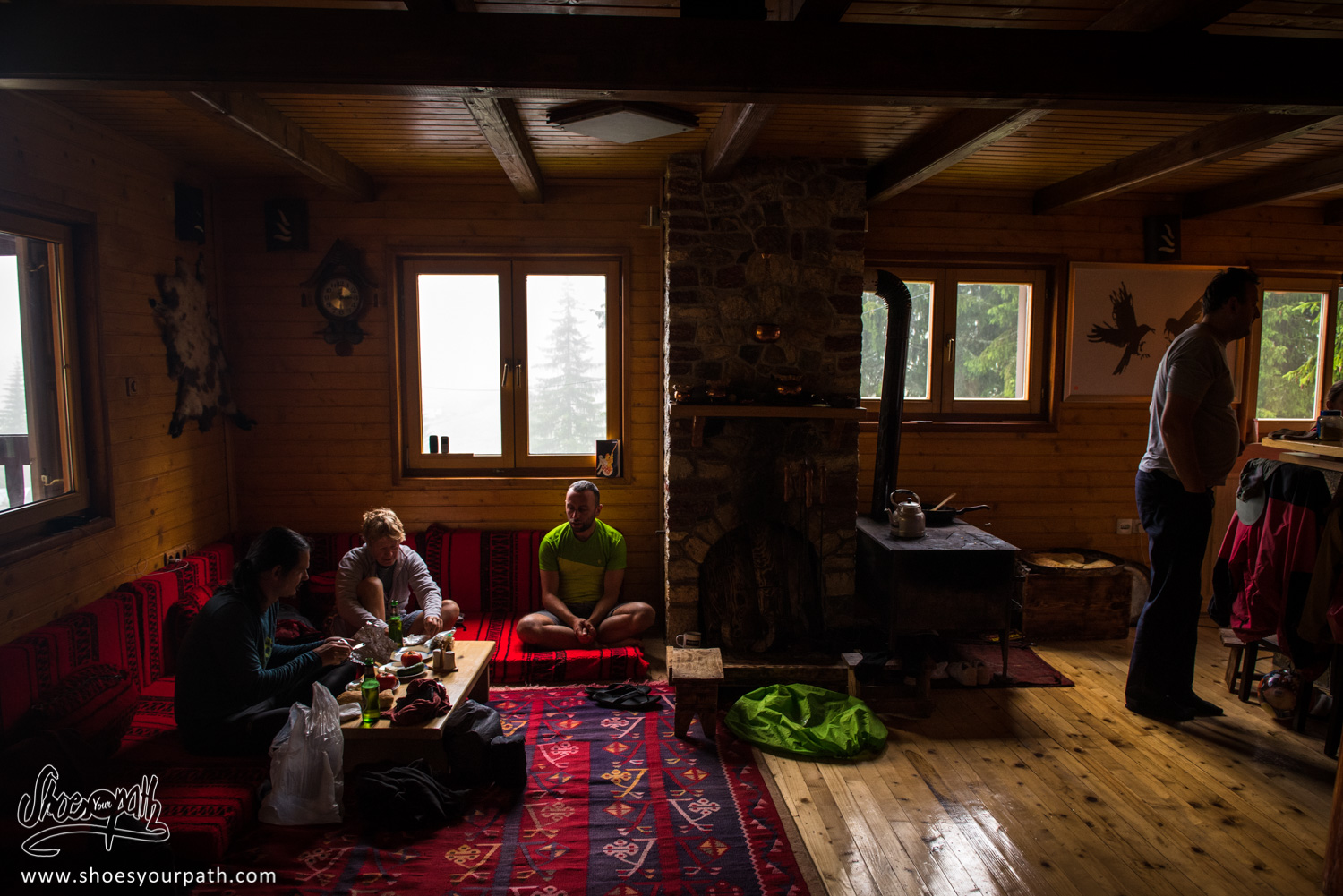 They are unique indeed. It is true that we've rarely seen places as preserved, as wild and as beautiful as we've seen on Peaks of the Balkans. But the world keeps evolving and we don't know in which direction yet! Today, for example, is a special day for the Triangle Guesthouse. It is their first day of Internet connexion!
– « It will change everything!« , Agron says. « We are connected to the rest of the world now! »
– « Change everything? How? »
– « I don't know yet », Agron answers, looking at his young daughters playing beside him. « But I also have to think about their future. »

Looking forward to make us enjoy the total Peaks of the Balkans experience, the Alija family has prepared a wonderful diner for all their guests. The presentation of the different dishes is lovely, each recipe being fully explained by Agron. All the dishes, cooked on wood fire, are simply delicious! We've really had an amazing and very interesting time with this adorable family!
M. & Mme Shoes
Portraits of the Balkans