This is the 5th stage of Peaks of the Balkans. Leaving from Milishevc (Kosovo), this stage is supposed to take us through one of the biggest descents of the entire trek. In the morning, the mountains are surrounded by this thick kind of cold fog that hikers usually hate. We take the decision to carefully continue forward, ready to turn around if the situation gets any worse. We are supposed to reach the tiny village of Rekë e Allages lost behind the deep Rugova Valley tonight, but the mountains will choose otherwise…
Peaks of the Balkans – Stage 5 : from Milishevc to Drelaj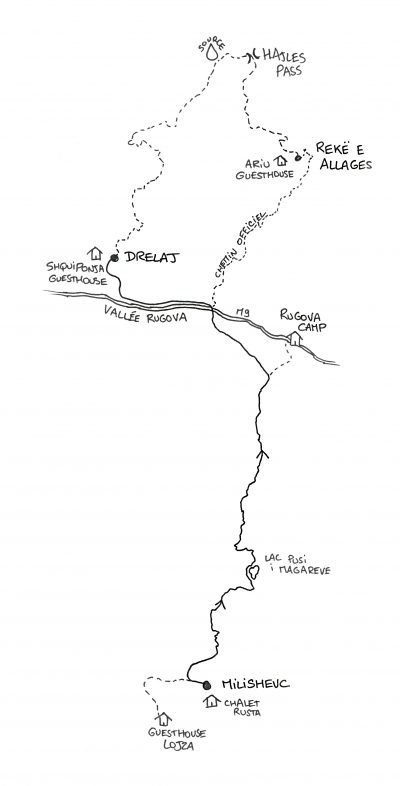 14 km, 5h, Ascent 860m, Descent 1270m
Cold steam is covering the window of our cosy bedroom this morning. We pass a worried hand over it only to discover we can't see much more from outside. The valley is deeply burrowed in the thickest fog ever. Everything is quiet. Only the wind and constant rain remind us that time hasn't stopped. We wait a couple of hours for any improvement in the clouds but nothing changes. What should we do? No need to tell you how teacherous mountains can be in bad weather. Moreover, yesterday's experience told us the markings are not always trustworthy on the track. Should we spend a day-off in Milishevc? What if the weather is worse tomorrow? Would it really be a sensible decision to try our luck in the mountains today?
We ask the owner of the guesthouse about the track. He's very reassuring: « The marks very new! he says in a strong voice, Very good! » He gives us a thumb up and a smile, universal symbols to compensate the lack of common language. We leave the guesthouse, showing more confidence than we really feel. We promise ourselves to walk back to Milishevc as soon as we encounter any danger.
As we can't see anything around, we sternly follow our GPS in a poor attempt not to get lost. It starts by leading us across a steep grassy slope which drench our shoes as soon as we set a foot in.
– « Er…What is this faint track we are following? »
– « Looks like a goat trail to me! »
Indeed, this looks nothing like an official Peaks of the Balkans track! « Bad start…« , we think, as the wind whirl and howl around us. « Relying on technology sure was a mistake! » We stubbornly keep ahead to see if we can find back the righ track on top of this slope. If not, we'll go down immediatly. We already lost a full hour walking blindly up this tricky mountain!
Luckily we stumble on the official Peaks of the Balkans track as soon as we reach the top of the hill. From there, everything looks easier. The track is well marked indeed! We walk slowly from marks to marks, scanning the fog around, trying to keep close together. We are totally alone on the track!
Lost in the Balkans
We are feezing! The wind is even stronger up here, trying to push us dangerously off-track. We are wearing all our layers and a spare pair of socks on our hands. That is not enough to keep us from the biting cold and humidity. We curse ourselves for having forgotten our gloves at home and for having taken this thoughless risk of hiking in this terrible weather. « Honestly, we are f***ing dumb!« , Quentin yells. We are mortified by our own stupidity. We are screwed now. To late to go back. The reassuring part is that we are carrying a tent if we really are in need. We walk over several passes that we hardly see in the fog. Despite all of this we are quite happy it doesn't rain! In this eerie atmosphere, we feel like we are alone in the world…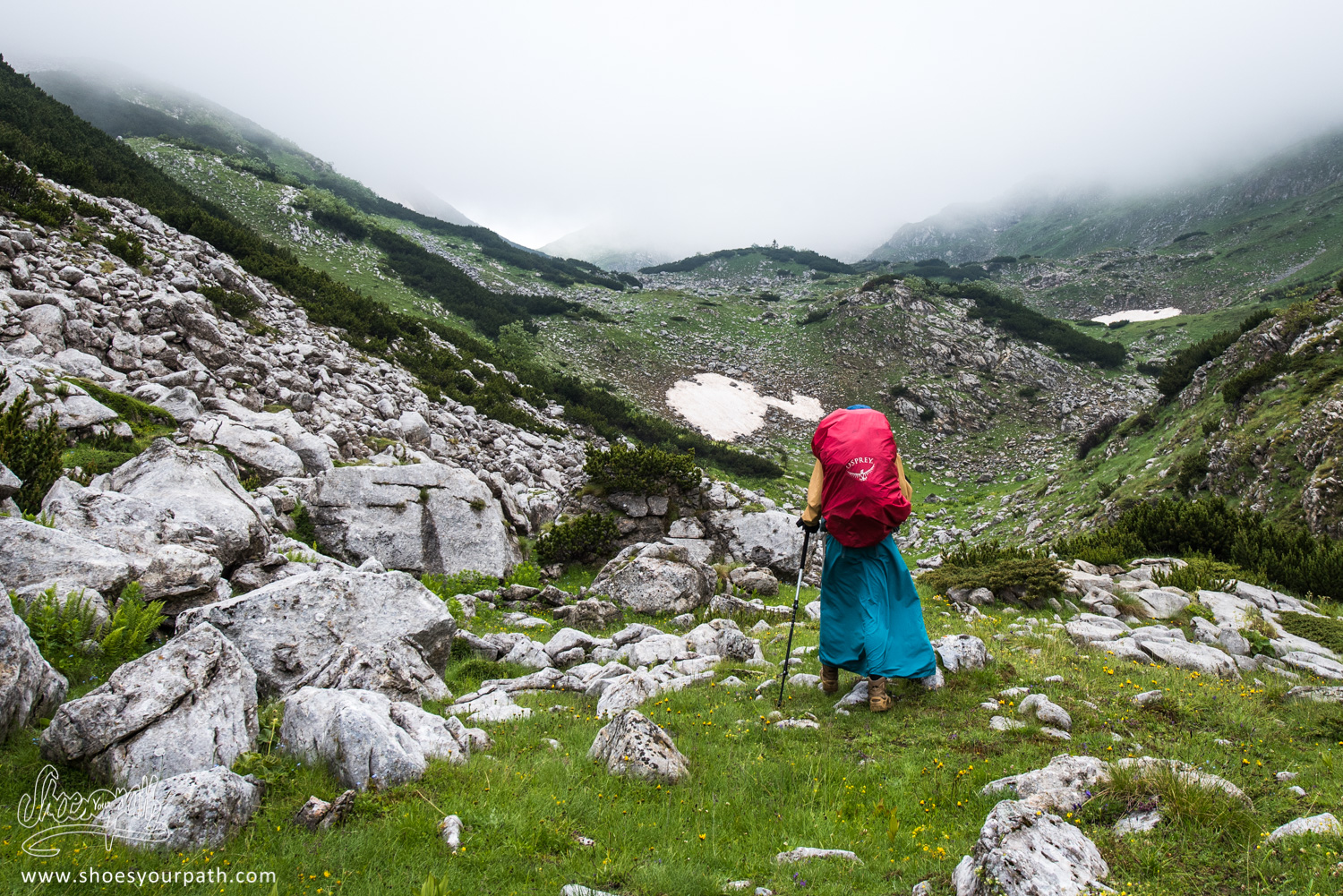 We've been walking for a long time at the bottom of a shallow canyon then around a huge frozen snowfield when we realise something is wrong. We've been following the marks carefully but we've got a weird feeling nonetheless. Are we absolutely sure we are walking in the right direction? We take cover behind a huge boulder to study intently our GPS map. Damn! We did miss a junction! We have been walking away from Peaks of the Balkans for a long time now. We keep swearing under our breath. These confusing marks are the same on every tracks around!! We have to walk back carefully, to find this lost junction. We've lost two more hours on our schedule.
We are very tired already and we still have a long way to go. But we found the junction, which was marked by a single black pole. We simply couldn't see it in the fog! Anyway, we are now walking in the right direction and we are determined to maintain it that way! The fog has finally lifted up -thanks, God!- and Peaks of the Balkans now appears clearly to us!
We follow the track over a pass then around a brownish pond that somewhat reminds us of our trip in Oriental Tibet. We finally get a glimpse of the Rugova Valley far below. We start getting down in that direction, along a dizzying mountain wall. The track is very steep and recent rains has turned it into a dangerous toboggan. It is extremely challenging and seems to go down forever.
A thousand years later we reach a rough 4WD track, where we get burried ankle-deep in sticky mud. It slows us down drastically. We are so tired we feel like two walking zombies yet our bodies keep going mechanically. We don't undersand how it's possible. Today's track has been challenging physically but also mentally, as we had to constantly stay focused on our surroundings for our own safety. The cold wind also seems to have drained what was left of our energy. Yet our legs still push us forward with a willing power we can't explain.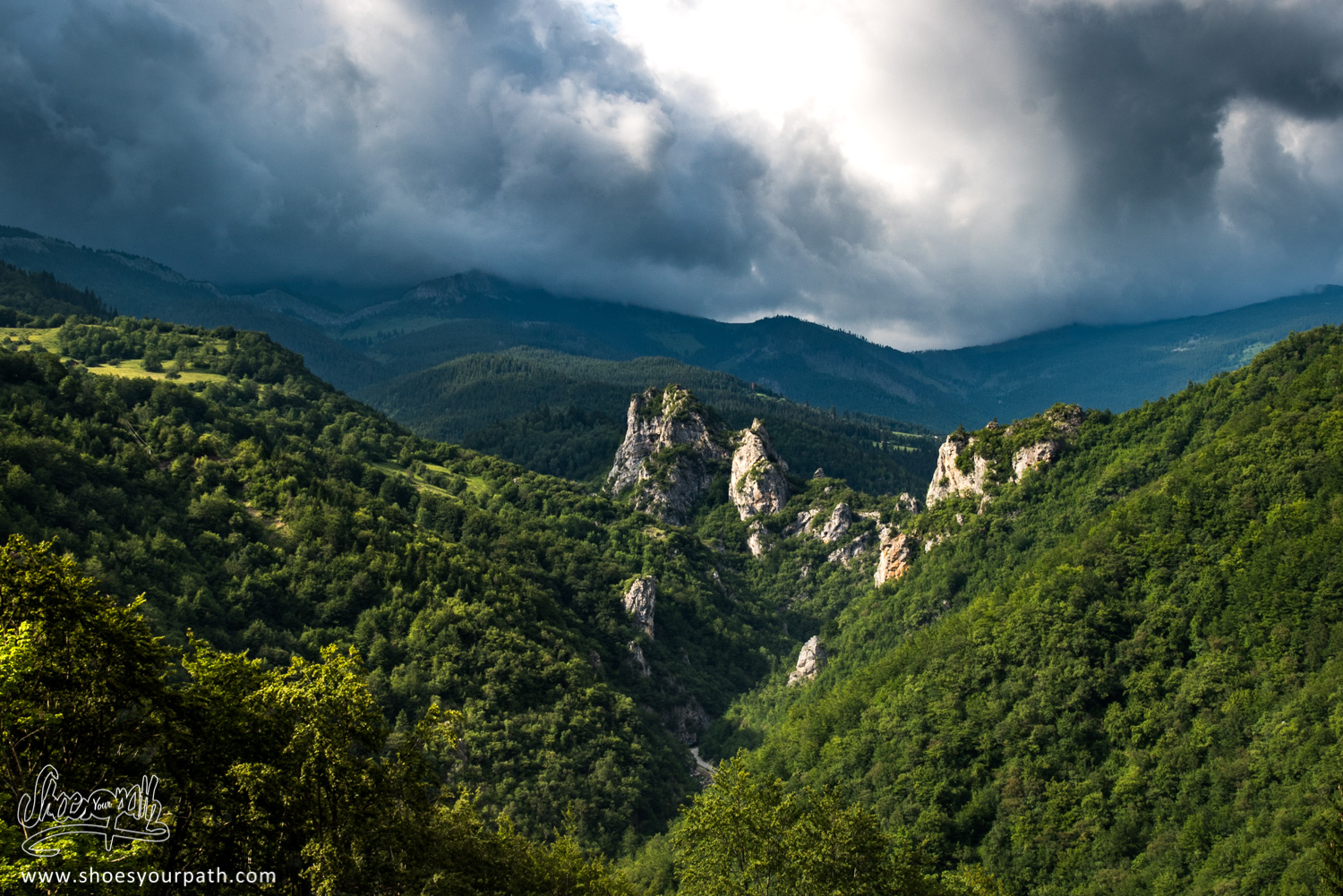 Drelaj: well deserved rest and building of a team
We finally reach the asphalt road we've seen winding down in the valley for two hours already. Now we could stick to the Peaks of the Balkans official circuit and keep going through the forest up to Rekë e Allagës which is supposed to be at the end of this stage. Then the next morning we would have to walk three and a half hours to reach the village of Drelaj. But it just started raining, it is quite late already and we are so tired that we take the decision to follow the asphalt road up to Drelaj which is only 3km away. When we arrive in Drelaj, we pick the Shquiponja Guesthouse to spend the night. We find ourselves alone in a huge dorm room with hot water, a hearty diner, an amazing wood stove to dry our socks and even a waching machine! Luxury! It seems that all the houses in Drelaj got the same modern equipment, which confirm the economic contrast that we've already noticed between the mountain areas of Kosovo and Albania.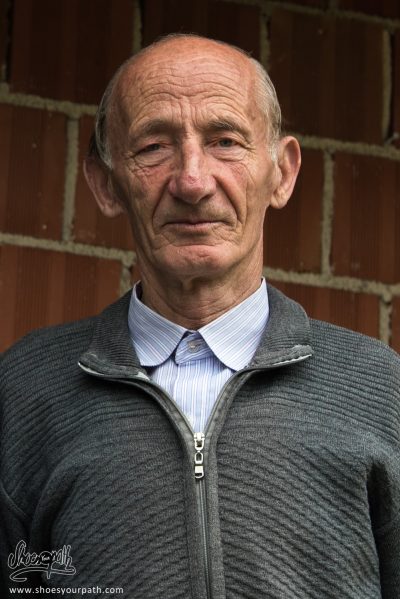 We spend our second day-off in this warm guesthouse. The heavy rain won't stop all day. We sympathize with old Osman who still remembers a few word of french he learned at school when he was a little boy and smile and laughs all the time.
« Ah, Madame, Madame, tu pas froid ? C'est trrrès froid, montagnes ! Ça c'est pas norrrmal, non, non, Monsieur ! C'est trrrès soleil normalement en ce moment ! Pas neige ! Pas pluie ! La tempérrrrature, tout cassé, cette année, tout cassé !* », he says while overloading the stove in our room, raising the temperature to a stuffy 30°C.
(* »Ha, Madam, Madam, you no cold? Verrry cold, mountains! That no norrrmal, no, no, Sir. It verrrry sun normally at this time. No snow! No rain! Temperrrature all broken this year!« )
– « Mal, është shi, është mjegull !! », says Mariette in a bad albanian (Mountain, it is rain, it is fog!)
– « Ah, mjegull, Madame ! Trrrès dangeureux ! »
Climate change seems to have also reached this preserved part of the world. Osman have never seen that in his entire life and, has he says, « I verrry old, sir, yes! » Poor Osman is worried about the future, but he has decided to keep smiling until the end of his days whatever happens.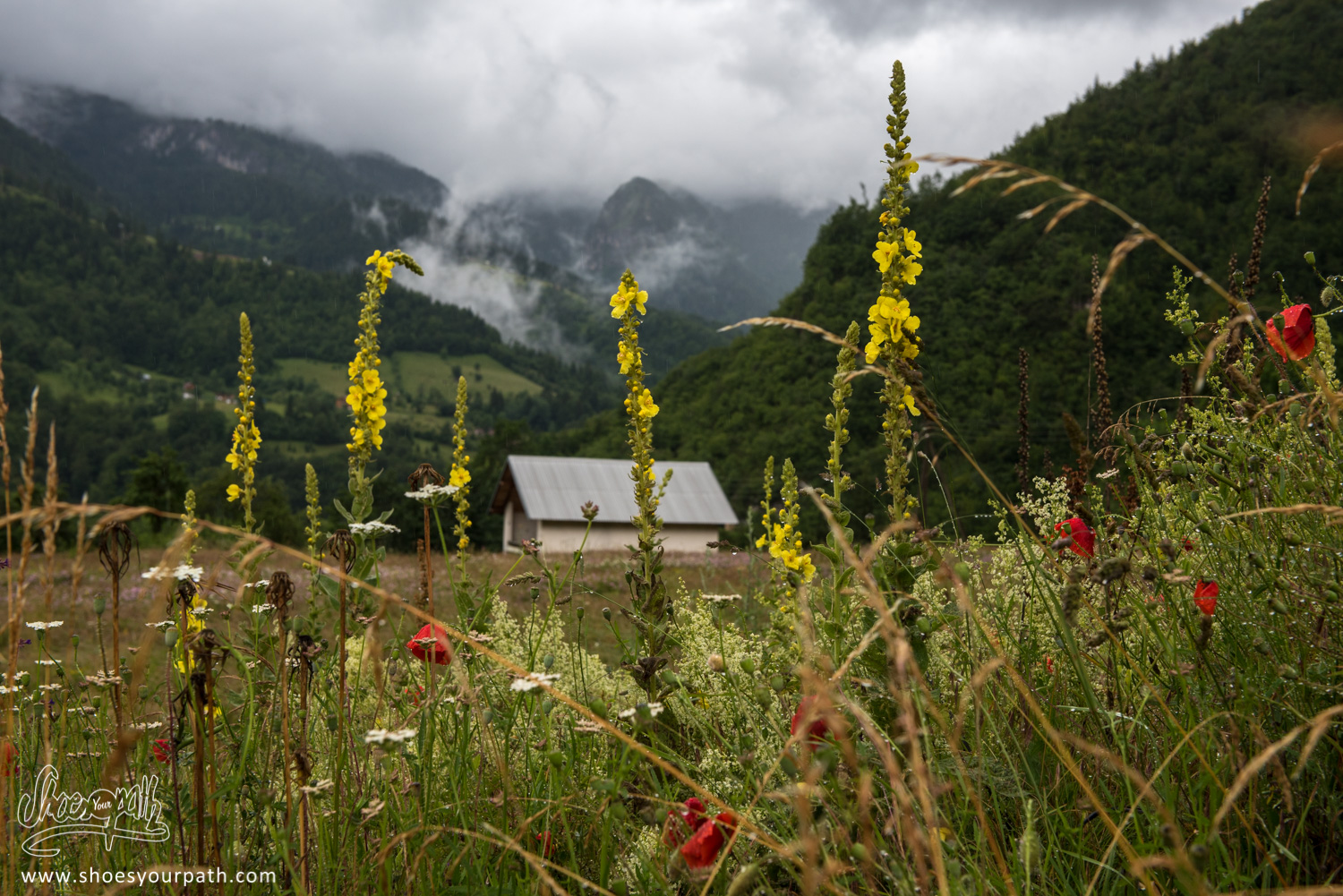 We are joined at the guesthouse by Deborah, the athletic canadian lady we've met in Doberdöl. She is hiking Peaks of the Balkans on her own and just spent her whole day walking in shorts under a heavy rain without a complain! But she admits that at one point she got lost, er, « slightly got off track ». This petite woman is a strong optimistic character as well as a very (very) fit person, as we'll discover the next few days. Indeed we decided to hike together to join forces against this tricky mountain weather!
M. & Mme Shoes