For this second stage of our trek on Peaks of the Balkans, there are two possible ways to reach the little village of Çerem from Valbona. The first one, an easy 11km route, passes along the river on the valley floor, following a fair length of bitumen road. The second way is known as a hard and long 14km route, going over the beautiful Prosllopit Pass and the Montenegro border. This route should not be taken in bad weather as some of his sections are very exposed. But today's forecast is nothing more than perfect so we head to the Prosllopit Pass without much of a hesitation. We are feeling very confident about today. Maybe a bit too confident…

Peaks of the Balkans – Stage 2: From Valbona to Çerem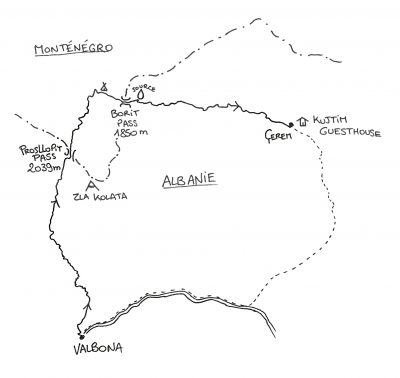 14km, 8h, Ascent : 1200m, Descent : 935m
A little bit too confident indeed ! The track is incredibly beautiful and that's what distracts us. We keep following marks, but without realising that they are not the good ones, as we are completely absorbed in the observation of the amazing wildflowers growing along the path and overjoyed by the jaw-dropping panorama below us over the Valbona valley. We realise our mistake way too late and by the time we make a u-turn and get back on track, we've lost an hour and half on our day's walk.
Moreover, the Prosllopit pass seems to be way higher than what we thought. Every time we think we are finally getting there, we realise we still have a fair bit to go. Quentin is exhausted. « I HATE this pass », he keeps mumbling under his short breath, while sweating all that can possibly be sweated.
Because here is the worrying part, we are climbing up under a furnace… We didn't expect the sun to be so hot up in the mountain! Thanks to this and the time we stupidly lost on the way, our water is now very low and we know that we can only find a source of drinking water after the Prosllopit pass. This explains our anxiety to reach the top quickly! It shouldn't be far now!
Prosllopit pass
We finally reach this damn Prosllopit pass. We feel quite exhausted but also very happy as we find also huge snowfields there, slowly melting under the strong summer sun and dripping a deliciously pure freshwater where we can drink all we need and refill our water bottles. The rocky landscape is absolutely stunning and enhanced by an intense feeling of loneliness. Nobody at all on the track ! We are surrounded by a deep silence cut only by the light breath of the wind.  This is Peaks of the Balkans ! We are at 20139m high and ascended 1200m.
We still have a fair way to go, though, and can't spend much time on the pass. The way down to Çerem is quite arduous, a path of sharp karst formations, very steep and slippery if wet. It is hard to find the right balance with the backpacks. Large snowfields are also covering parts of this rough track, making it even more dangerous. We are quite happy about the wonderful forecast. This would become a very deadly section in case of a sudden storm or thick fog.
Halfway through this tricky descent, we allow us a quick rest. That's when we discover a very rare endemic plant we've been keeping an eye for these last two days : lilium albanicum, the Albanian Lily. How delicate its yellow petals are, catching the bright light of the sun! We feel really privileged to be two of the few who've seen it!
Çerem
Finally we reach a flat grassy plateau, very easy to walk on. The track is quite well marked the whole way (if you follow the right marks, that is…) which is not the case on every stages of the Peaks of the Balkans track.  The grassy plateau leads to another lower pass: the Borit pass.  Then we "only" have to go slowly down  to Çerem, walking through wonderful meadows then through a very steep forest track seemingly endless where mosquitoes try happily to eat us alive.
We arrive at Çerem quite tired but happy and proud. This stage was technical and an intense physical challenge for us but we finally managed it. It was hard but well worth it. This stage is definitely one of the most beautiful and satisfying stages of Peaks of the Balkans and any mountain lover would enjoy walking it.
We find lodging at the Kujtim Guesthouse, where we are very well welcomed by Laura and her husband. They really are an adorable couple. Laura is also an amazing cook! It is so nice to enjoy an hearty meal in front of the beautiful panorama of the Peaks of the Balkans. Sweet dreams tonight!
M. & Mme Shoes