Peaks of the Balkans is a 192km long hiking trail passing on the summits of Albania, Kosovo and Montenegro. Easily walked in 10 to 15 days, it takes the hikers in the heart of remote valleys hidden behind snowy passes. Renowned for the raw beauty of its landscapes, for its preserved nature and for the warmth of its inhabitants, this hiking trail has been in our minds for a few years already. But finally, there we are, on our way to Theth, our starting point to the Peaks of the Balkans !
The old bus that drove us from Tirana in 3 hours dropped us in Shköder, right in front of Legjenda campsite. The driver, a very kind man, waved at us one last time before driving away, smiling as much as he could. He was so happy to practice his english with us that he arranged everything with the young owner of the campsite to be sure that we get a spot in the "best place in Shköder" when we arrive. We are indeed very well welcomed, once again, by Loren. A bright, clever and gorgeous young lady whose energy and always-on-smile enlighten our arrival in Albania. She makes a few calls for us, and in a matter of minutes everything is sorted out. Tomorrow a 4WD will pick us up at the campsite and will take us to Theth, the entrance door to Peaks of the Balkans, starting point of our adventure.
Theth, paradise in the Balkans
After an hour driving on mountain roads from Shköder, the bitumen stops and is replaced by a rough 4WD track. The only way to drive to Theth… With a bottomless cliff diving on our right, only large enough for our 4WD to drive on. No way we can't meet another car coming on the other way. Only one small driving error would take us right down to destination f***ed ! We easily understand that 3 hours at least are needed to drive that small distance. Well, we also have to take into account the numerous stops of our driver who seems to need as much coffee as his Land Rover uses petrol. That's fine with us thought. The landscape is stunning, the turkish coffee is good, and the people we meet in these cafés and little restaurants are simply amazing ! It's also a good way to practice our first words in Albanian. Let us tell you : that's not easy !
The 4WD drops us in the heart of Theth, just a few steps away from the iconic old village's church which is standing there, in front of a background of razor sharp mountains. We'll stay at Bujtina Polia Ghesthouse. For a very fair price, we are allowed to camp in their garden, have a shower and even eat their home-made food specialties. These appear to be in fact some never-ending-super-delicious meals ! One of the best address around or so we've heard. Groups of hikers all seem to stop here apparently.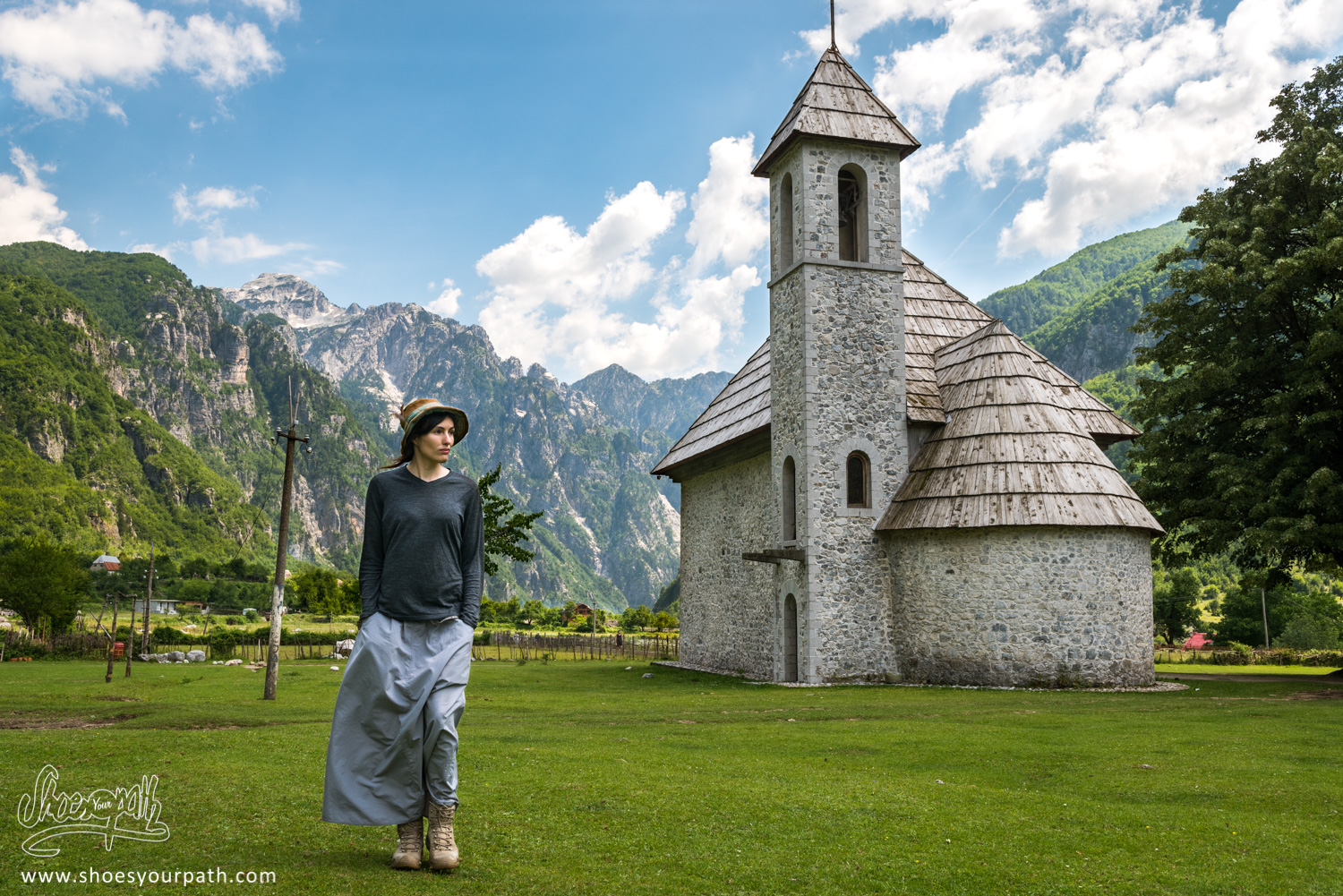 Pavlin, the owner, soon tells us the story behind Peaks of the Balkans : he has been involved in its creation a few years ago.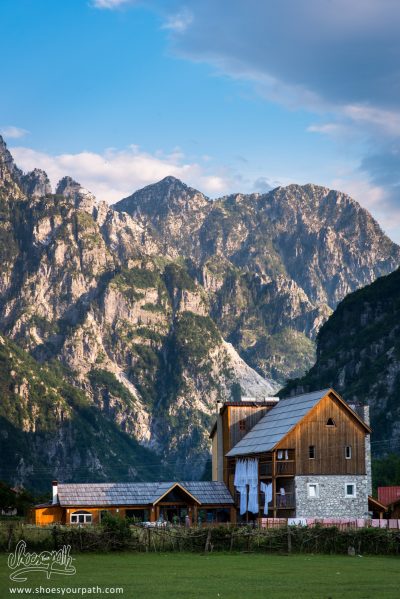 "The goal was to get closer together the population of Albania, Kosovo and Montenegro, who are divided by frontiers and by the Balkans war that happened the last decades. But the idea was also to develop an eco-responsible form of tourism in this mountainous area, to offer an alternative of future to the young generations who tend to leave rural areas for the cities. We needed a clever way to do this. That's why we created a trek. The tourists who come here love nature and the mountains. We try to attract respectful people who are sensible to the environment and local culture. That will also help to preserve the ancient cultures from the Balkans. All of this is vital ! We need to preserve this piece of paradise. Fortunately the road to come here is quite bad, it stopped the estate investors for now, but until when will it last ?"
While we are playing with Pavlin's and his brother's kids, the sun is setting above Theth, painting with a pastel pinkish light the summits around the valley. What an amazing place to grow up indeed ! Children are running all around with their hair in the wind, riding horses and learning multiple languages thanks to the tourists passing by…
Peaks of the Balkans – Stage 1 : From Theth to Valbona
19,5km, 8-9h, D+ 1075m, D- 850m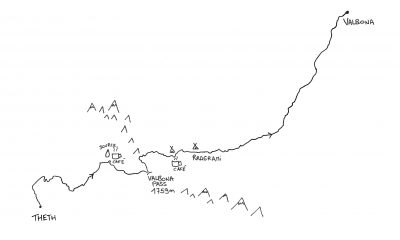 We start our Peaks of the Balkans trek with the most famous stage, going from Theth to Valbona. Nearly entirely dedicated to tourism, a concrete road is linking Valbona to the rest of the world, giving an easy access to visitors. The travelers who want to enjoy a day-walk during their stay in Albania often choose this easy destination. And this is a good choice : this stage is one of the most beautiful of the entire Peaks of the Balkans loop…
The beginning of the track from Theth is a bit difficult. We have to ascend a 1000m over only 7km to reach the Valbona pass. Let us tell you that we sweat a few liters on the way up. Thanks to our last months CBBP diet (Cheese-Beer-Burger-Pizza), our machinery has troubles finding the awaited pace. We first walk through forests and meadows covered with thousands of colorful wild flowers, offering us wonderful views over the Theth valley. We soon discover how popular this part of the Peaks of the Balkans trail is. Here young Albanian guys are guiding groups of horses carrying the luggages of less experienced or older hikers. A honest summer job with good money at the end for the youth of the valley. These guys are doing return trips between the two villages every day, all summer long ! We are walking it only one way… They must be quite fit !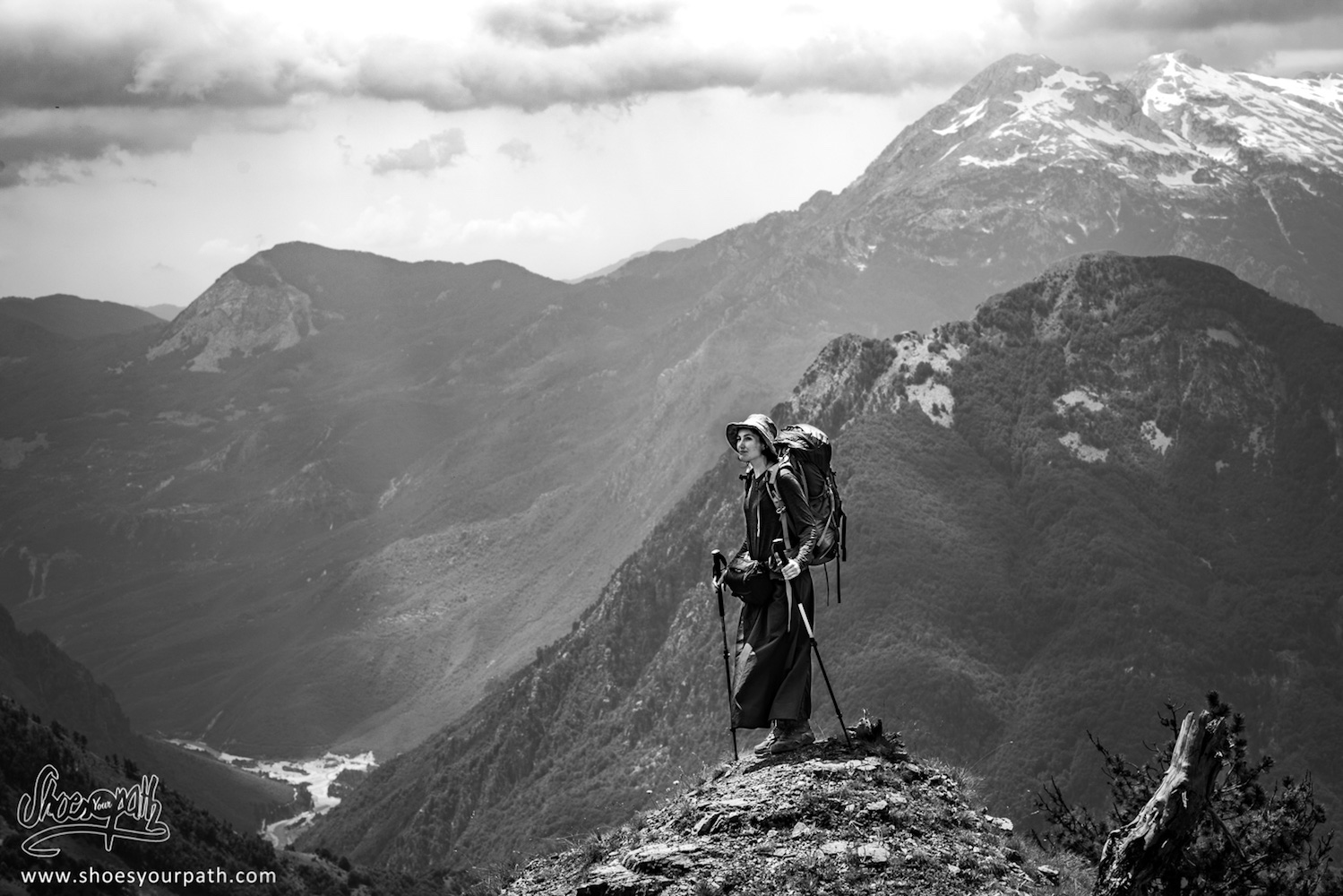 There is also another source of income for locals on this bit of Peak of the Balkans : cafés. With a view please ! Those charming little wooden houses are built on the side of the hiking track, offering a resting place for tired hikers who can stop by to enjoy a coffee, a chaï (tea), a coke or a piece of local food. Luxury ! That's what it is ! So we stopped, of course…
Finally, we arrive on top of Valbona pass and we can now confirm what people have told us : the view is simply jaw dropping ! Stunning ! We stay here, struggling to put our jaws back in place, and trying to figure out a way to enjoy that 360° view properly. We feel so small in this rocky world.
Nature takes us back on earth by suddenly dropping all the water contained in the gray clouds overhead. Radical, but pretty efficient ! A thunderstorm strikes the dark sky with violent lighting. We must hurry down the mountain ! But the light is so beautiful, amazing, contrasted, powerful… We want to stop every 50 meters to take more pictures. Unfortunately we mustn't forget that we're standing on top of a mountain with thunder going on over us. That's never a good place to be in that condition.

We reach Valbona just in time to see the sun piercing through the clouds. We also meet again with concrete roads without any pleasure. Valbona is not what we can call pretty. We're shocked to see piles of trash along the road. How is it possible to let so much garbage in open air in this paradise ? Our first day on Peaks of the Balkans ends up in Jezerca Guesthouse where, like last night, we camp in the garden and enjoy delicious hearty meals prepared at the guesthouse.
M. & Mme Shoes
Portraits from the Balkans