At the extreme west of Cyprus island, there is the small Akamas Peninsula where you can find one of the last pieces of preserved coastline in the Mediterranean sea! Ideed, the biodiversity is simply amazing with large varieties of birds, insects, reptiles and plants. There are even turtles laying eggs on the pristine beaches at the right time of year. We'll pay a respectful visit to the entrance of the peninsula as we don't want to disturb this peaceful land any further.
Paphos Forest
With our little rental car, we wind our way through spectacular Paphos forest, taking small E740 road from Troodos. The views over the forest you can get from this tiny mountain road are breathtaking. We can admire them at leisure since it is impossible to drive fast on this narrow road. Fortunately, we won't get across any car on this late afternoon. On the way, we notice a lot of signs pointing to hiking trails nobody told us about. A pity! The Paphos forest is certainly worth a hike! At the beginning of the road, visitors can also stop at Kykkos monastery, one of the most beautiful and sacred orthodox places in Cyprus.
Paphos Forest is very different from the mountain range of Troodos. It's more hilly than mountainous, for one, and way greener. At the heart of the forest, you can find the forest station Stavros tis Psokas sitting next to a rushing river. There are places to stay there for people looking for a quiet place or wanting to enjoy the wonderful forest or visit the mouflons reserve standing just nearby. Quite tempting, isn't it ?
But this will be for next time, for now we drive forward, turning on an even smaller road in direction of Polis, main town at the entrance of the Akamas Peninsula. Soon we are leaving the Paphos forest behind and drive through nice little white villages with an amazing view over the sunset and the sea. WOW! This coast is a hundred time more pretty than the southern coast of Cyprus!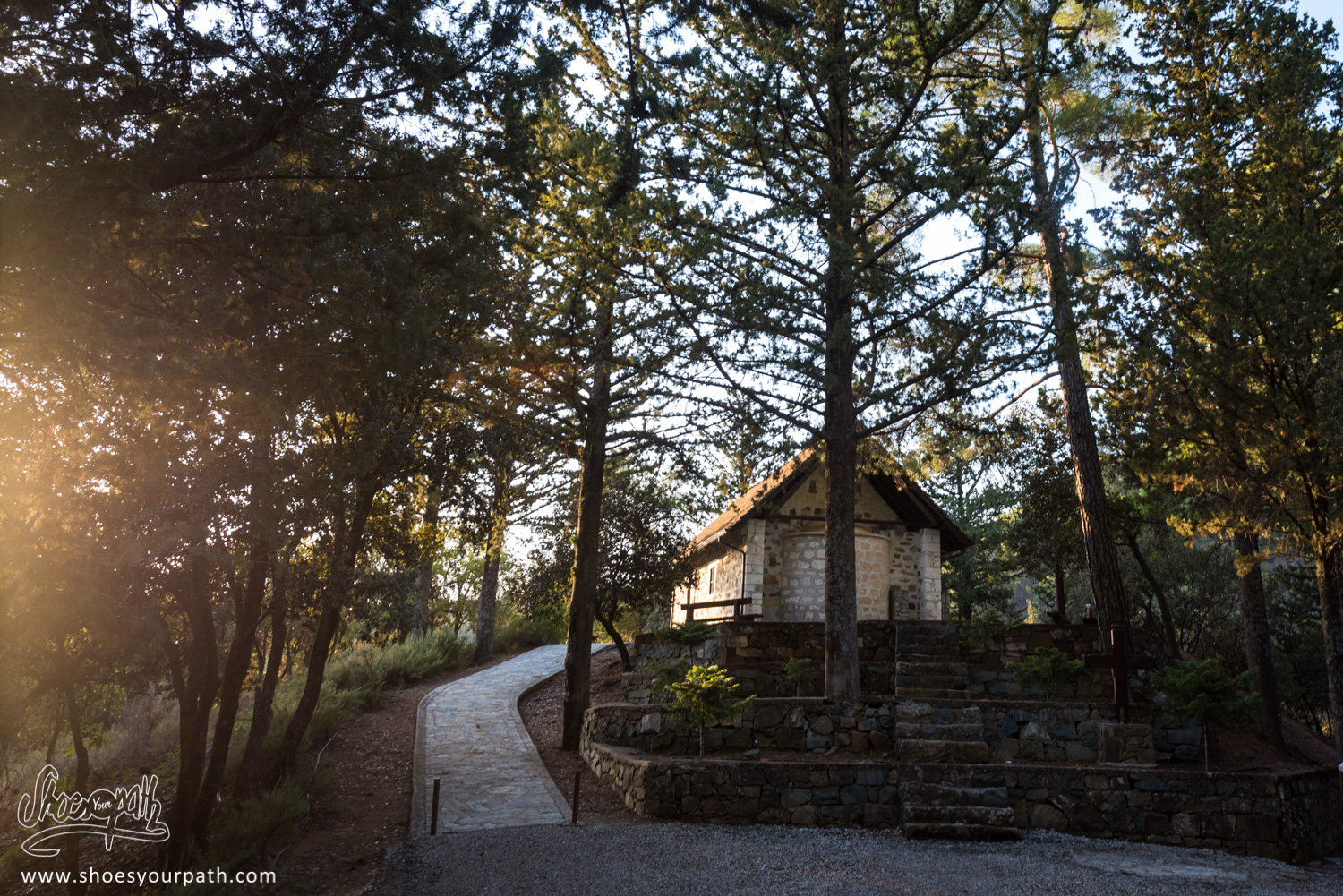 Akamas Peninsula and the Adonis Nature Trail
We spent the night under the eucalyptus trees of Polis Chrisochous campsite, 30m from de the beach. In this amazing campsite, there is a small cabin selling food and drinks next to the sea as well as deck chairs and a wonderful view over the bay and the Akamas Peninsula. That's what we call holidays: drinking a good coffee on the quiet beach before jumping in the 25°C turquoise water. We are mid-October now and we are nearly alone in the campsite which also means we are alone on the beach. During summer, this campsite gets very popular and a lot of young people gather here to party all night. Good place to do so too!
After this amazing breakfast, we drive our tiny rental car to the beginning of the Akamas peninsula where a tourist restaurant overlooks a little beach that is usually crowded with people. The north coast of the peninsula has plenty of little turquoise coves. A few of them are accessible by boat only but we rather admire them from above and decide to walk the Adonis Nature Trail, a 7.5km loop (3-4hrs walk) uphill that offers great view on the sea. Here are our recommandations if you wish to hike there too: take some good shoes, a hat, sunscreen and plenty of water because this is Cyprus and the sun can be pretty nasty! First, we walk past the Bath of Aphrodite, a kind of hole in the ground watered by a tiny waterfall in which the famous goddess supposedly showered. This story is not very convincing. Not with all the pigeons that live there and shit everywhere and all… We certainly don't want to take a bath in there!
For the 2 first kilometers of the Adonis Nature Trail (that are common with the Aphrodite Nature Trail, another loop going on the other way) we clim strait uphill through dry vegetation. Some small cypresses and thorny bushes mingle with a savannah-like grassland. The red ground is dry and cracked. This is so different from the view we get when we turn round and face the wonderful turquoise sea bordered with palm trees and olive trees!
However, this dry track is full of amazing things to observe, like a crazy variety of insects including a rad demon-looking Empusa Pennata mantis that kept us busy with our cameras for 20 minutes. There are also 30cm long red crested lizards jumping and running in every directions as we pass by, delicate flowers and funky looking goats!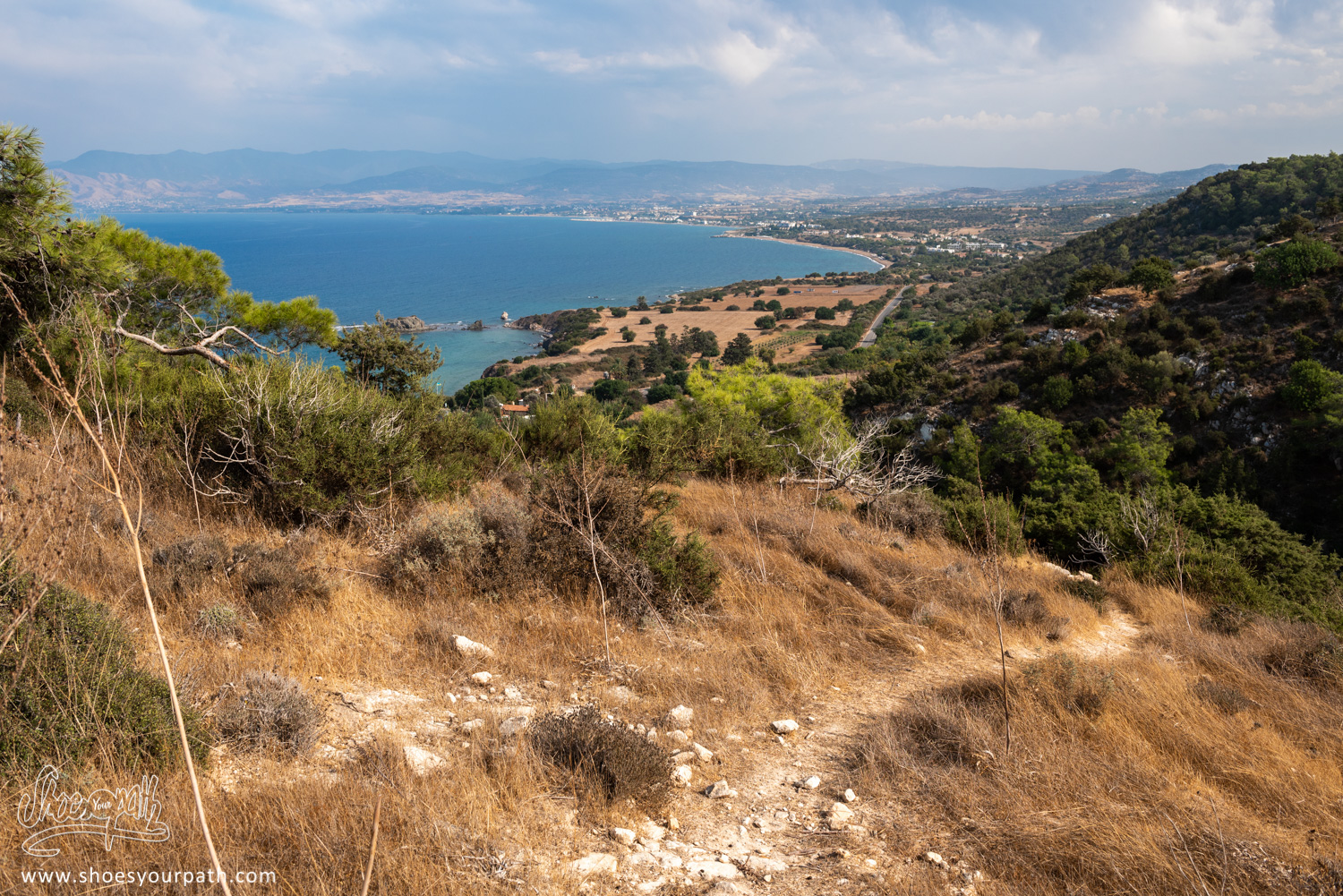 Then we cross a beautiful rocky forest with majestic trees the oldest of which is a 500 years old oak! We really welcome its shadow and also the fresh tap water that we find underneath. It is not drinkable but it still can refresh your face!
The way down on the last part of the Adonis Nature Trail is a bit steep in some parts but the view is well worth the effort! Particularly true when it's near sunset-time and the light pours in every little bays down the hill! When we finally reach the coastine, we find back all the olive trees and lush vegetation and colourful flowers and it really feels like we spent our afternoon in another dimension!
And of course the day end up at the camp site, taking a bath in the sea while looking at the sun going down behind the Akamas Peninsula…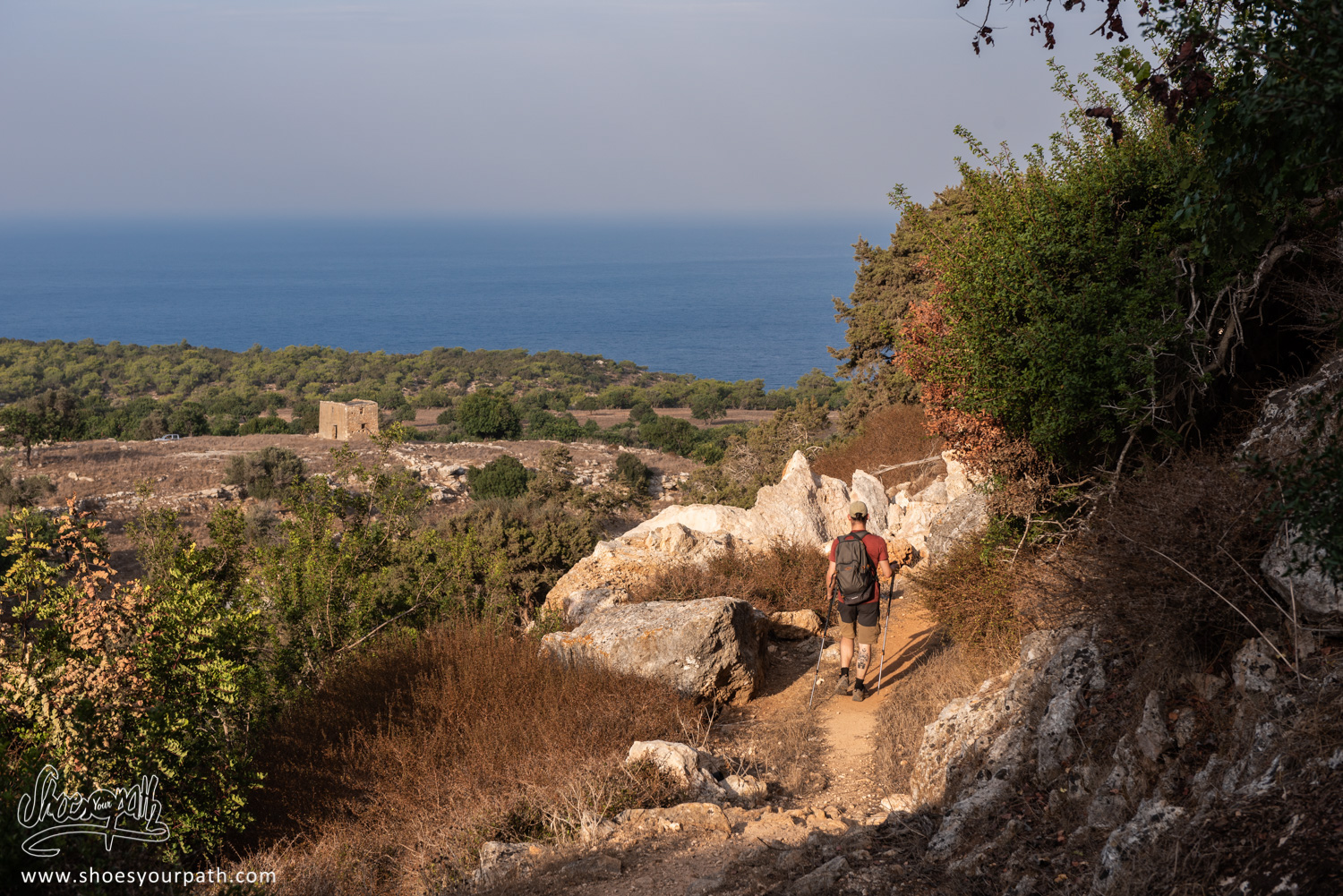 Polis old city and gastronomy
Polis is a small quiet town where you can easily find accomodations and restaurants. It has something that others cities in Cyprus don't have : a quiet atmosphere and it kept its old buildings ! There is a place we can particularly recommend: the Finikas Restaurant! It's an amazing gastronomic restaurant, quite classy, and our french palates are soooo happy of the cuisine. All the classics specialities from Cyprus have been upgraded with a tiny touch of creativity and savoir-faire. Yum! They've also got some very nice local wines. Here was our menu: the best stuffed vine leaves we've ever had, salted deep fried goat cheese in a crust of roasted almonds and fresh raspberry coulis, a tender grilled chicken marinated in orange juice and some amazing Kelfitko lamb cooked in a clay pot for hours… And the desserts where as good as the rest! Moreover, the bill was only a little bit more expensive than in other average restaurants on the island. Best choice ever!
Tomorrow morning, we'll travel to the southern part of Akamas Peninsula to discover another aspect of its natural wonders and hike in the deep Avakas Gorges!
M. & Mme Shoes