After spending a full day roaming about Karpas Peninsula in North Cyprus yesterday, we decide to cross the border again from the south to visit the famous fishing village of Kyrenia and the medieval castle of Saint Hilarion, standing on a mountain just above town and overlooking the bay.
Saint Hilarion castle
To get to North Cyprus, we have to drive through one of the seven checkpoints located all along the border. This time we choose Agios Dometios – Metehan which is the car checkpoint standing closer to the capital Nicosia. We soon realise that, as it is one of the main checkpoints in the country, it is also super popular and we have to queue for a looong time before getting through. Moreover, we also had to drive through parts of Nicosia which are always full of trafic jam. All in all, not the best idea we had to choose this particular checkpoint, even if it is the closest from Kyrenia geographically. To get through the border with a rental car is easy: you'll obviously need your passport and you'll also need to extend your car insurance (that doesn't get you covered in the North) by paying around 10-15€.
Any way, after this little struggle, we finally get north. First, let's catch up with History by visiting the medieval castle of Saint-Hilarion, which displays ruins as well preserved as in the castle of Kantara we visited yesterday. Saint-Hilarion has been ideally built on the northern ridge, where you get a bird's eye view above fishing village of Kyrenia and potential enemies coming from the sea  as well as a really stunning view!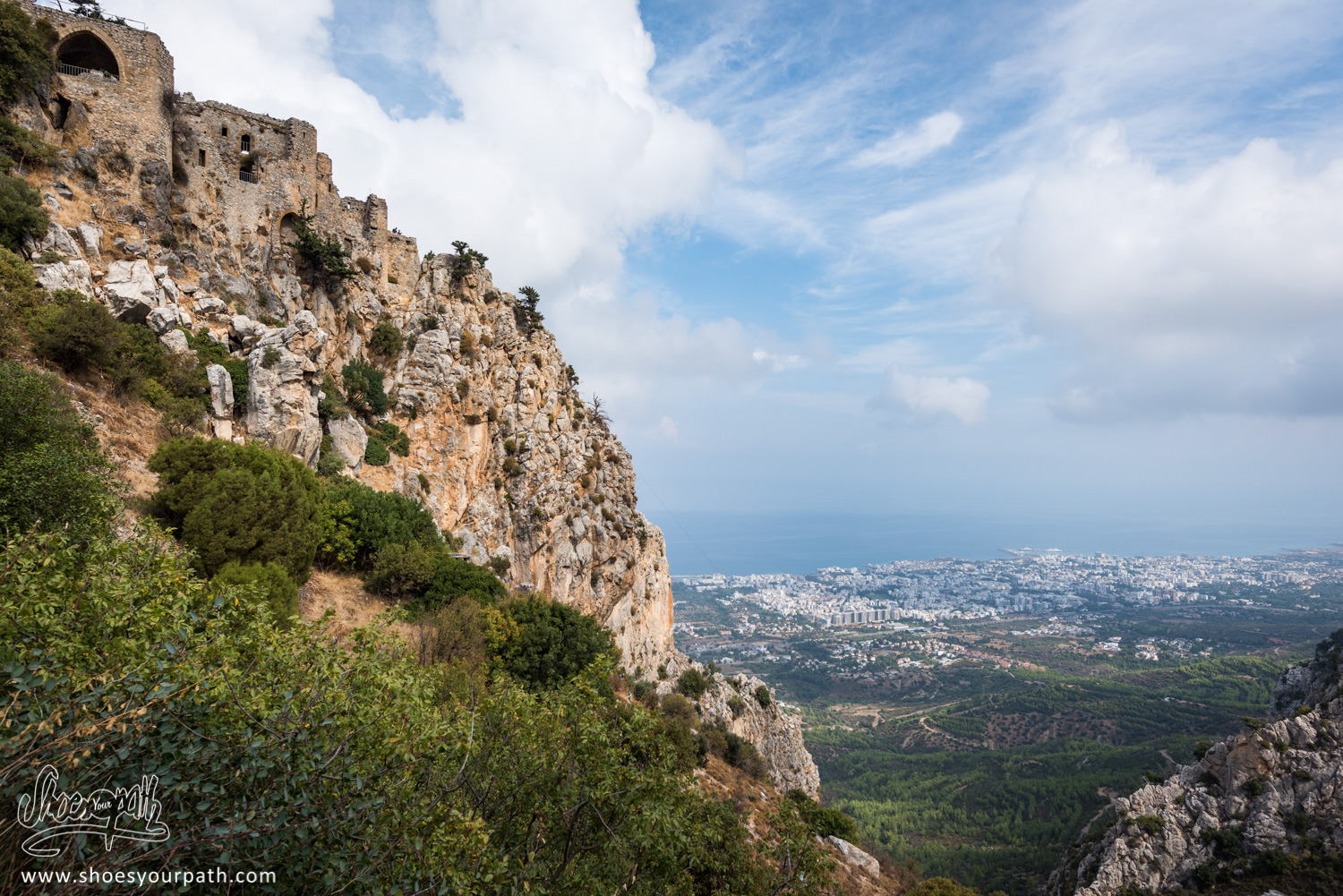 Built by byzantines a thousand years ago, this castle has been enlarged and fortified into a gigantic fortress by the House of Lusignan, ruling Cyprus during parts of middle age. The castle remains still look good and we take our time to explore the vast complex. There are lots of stairways to climb so better take a hat and water bottle when visiting around! But, pretty please, don't act like some tourists who throw their empty plastic bottles down the cliff from the top of the stairs, defiling this highly precious place of History with unwanted trash that nobody can then fetch. How stupid and ugly is that? What would Prince Jean d'Ibelin, the local lord of that time, think of that?
The little fishing harbord of Kyrenia
After visiting Saint Hilarion castle, we drive down the ridge in the direction of fishing town Kyrenia. Its turkish name is Girne and it's also a very important place in a Historical point of view. It's probably one of the oldest mediterranean town and people of all this area had marked the place with their own cultural and architectural values through the millenia. From Phoenicians to Romans, then from Byzantines to Venitians and the powerful french House of Lusignan, then came the Ottoman empire then later on came the English and then the Turks. History about Kyrenia is definitely fascinating and rich! But the town is far fom the quiet museum-city that one would expect to find with such an historical background. Kyrenia is very lively and offers a lot of activities and festivals, an energetic student life…etc. Of course, it is also very touristic but the traditional local activity -fishing- is very happy with that because the numerous restaurants around the harbour all need fresh fish to feed the ever growing number of visitors.
However, even if Kyrenia may seem like quite a busy place, the atmosphere is in fact very relaxed. It is so nice to walk along the harbour, watching rows of tiny colourful boats bobbing about in the oily water just under the massive figure of Kyrenia medieval castle. And what about sitting at a restaurant terrace right by the water, enjoying a fresh grilled fish and all kinds of seafood mezze?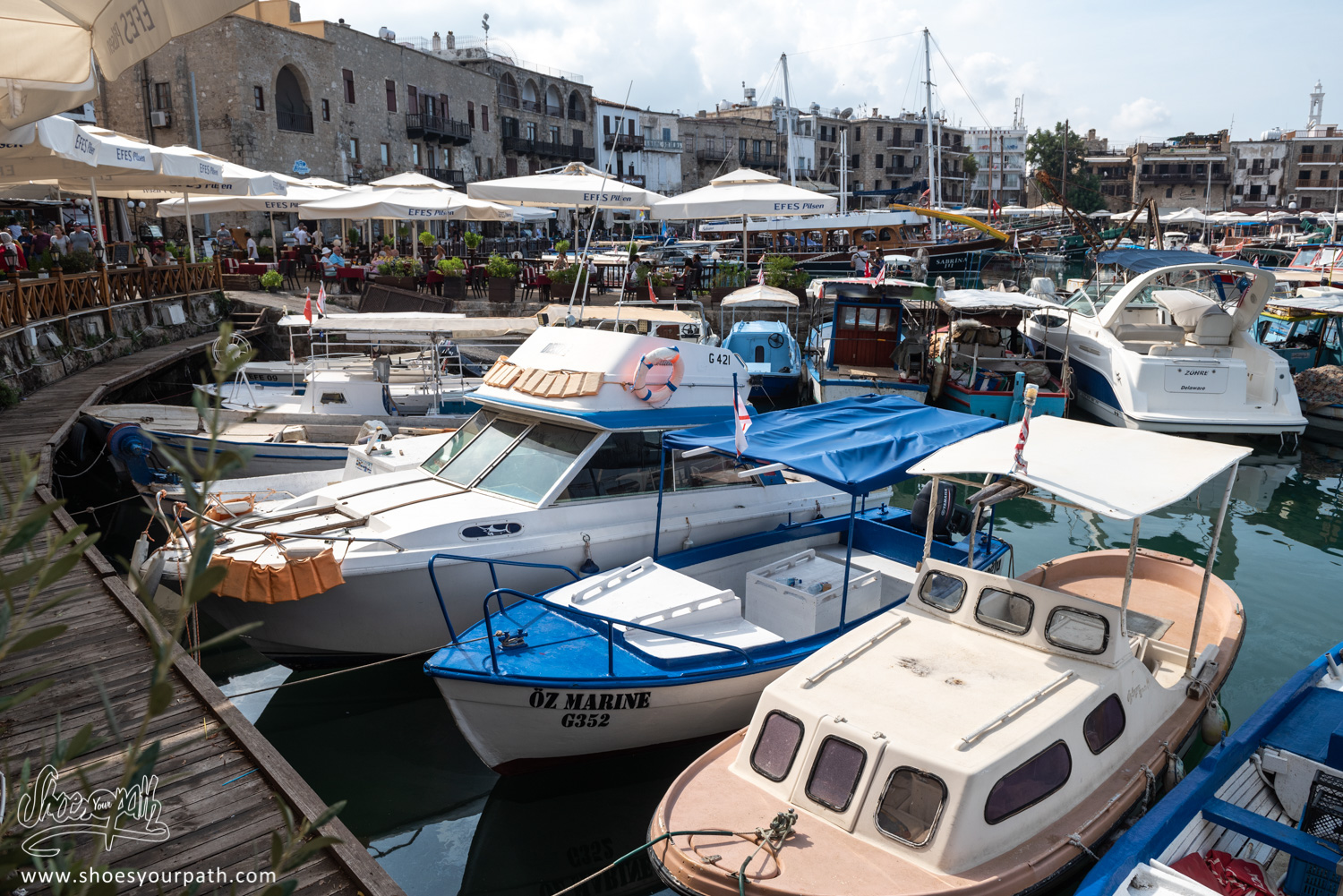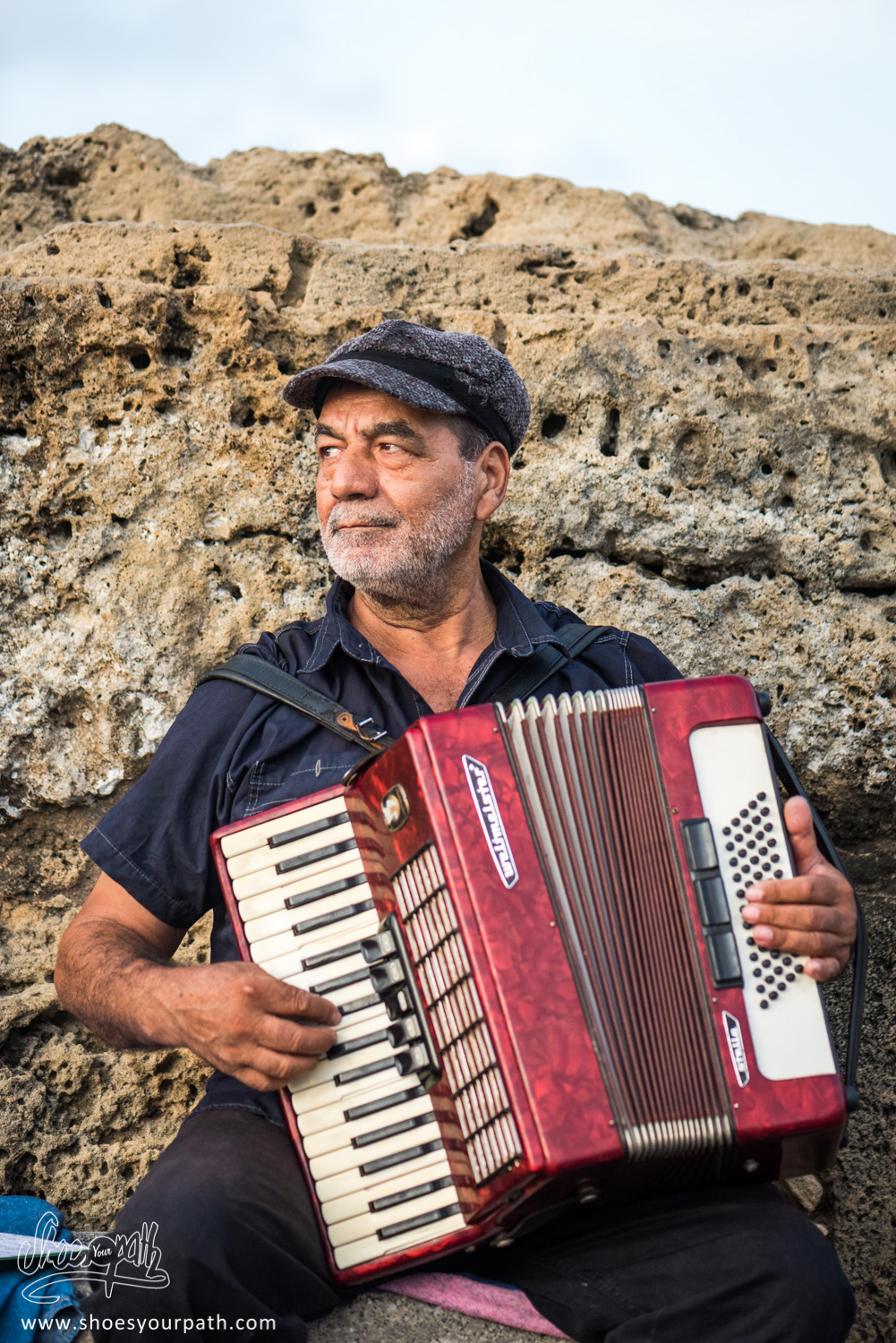 Young cypriots also seem to enjoy this place and many are wandering around with their friends or family. People take selfies, drink soda, drive bicycles, play music…  Ship companies take those you want to on small boat cruises on the Mediterranean and the voices of the commentators echo back and forth from the ships entering and leaving the harbour. From the end of the embankment, the cityscape mixes with the sharp silouhette of the mountains behind. We stay there for a while. Quentin continues to practice his watercolors skills, Mariette observes.
An open boat repair workshop allows the fishermen to repair their material damage while some others are busy mending their nets undre the watchful gaze of stray cats who know very well where their food comes from. We try to continue a series of photos of the reflexion of our world in the moving water we began in Venice and we dare say we are quite happy with the result!
If we must conclude, Kyrenia is a very nice place to visit, and we really do recommend it even if it means spending time in the traffic jams of Nicosia to get there. Kyrenia is really pretty, relaxing, interesting in many ways and moreover the food there is excellent and fresh. What esle should we ask for?
For now, it's time to get back to Larnaca. Tomorrow morning, we'll dive on the famous Zenobia shipwreck, which sunk at the bottom of the Mediterranean loaded with 104 lorries! We are so excited to see her!
M. & Mme Shoes