Larcana is a large city on the coastline of Cyprus, and as any city it's made of concrete and many people lives there. So it is less beautiful than the mountain range of Troodos or the quiet turquoise bays of the Akamas Peninsula. But can you compare a city with the wonders of nature? Sure not ! Yet Larnaca is a very good and relaxing base to discover Cyprus, as it is close to everything on the island, have a bath in the mediteranean sea, or enjoy the food specialities in a lot of local reastaurants. And there are some very good spots to visit in the city centre and amazing people to meet!

Larnaca – Between History and seaside resort
Even if the waterfront of Larnaca has been designed as an inspiration of the famous Nice waterfront in south France with its palmtrees and very large walkway, it hardly hides from view the ugly buildings that are lining the sea. Hotels and colourful bars and fastfoods are facing the Finikoudes beach and its extensive number of deck chairs on which tourists are trying to catch a roasted lobster tan. You can also find marinas on each side of the bay, from where you can embark on a sailing, snorkelling or diving tour. So tourism truly is the main economical activity of Larnaca and many cypriot make a leaving here during the summer season.
We must say that the waterfront isn't our cup of tea, but we must admit that the historical centre is really pretty. It is still quite crowded and very touristic but in a very relaxing kind of way and it's the ideal place to drink a fresh juice while having a mussaka or a gigantic baklava (or both!). The plaza of the orthodox church Saint Lazarus is particularly worth the sight. We even tried to draw this wonderful piece of religious architecture but all the tiny details carved on the facade don't make it easy. Still, we are quite happy with the results (epecially Quentin who just start drawing. This is his 8th draw ever). What do you think ?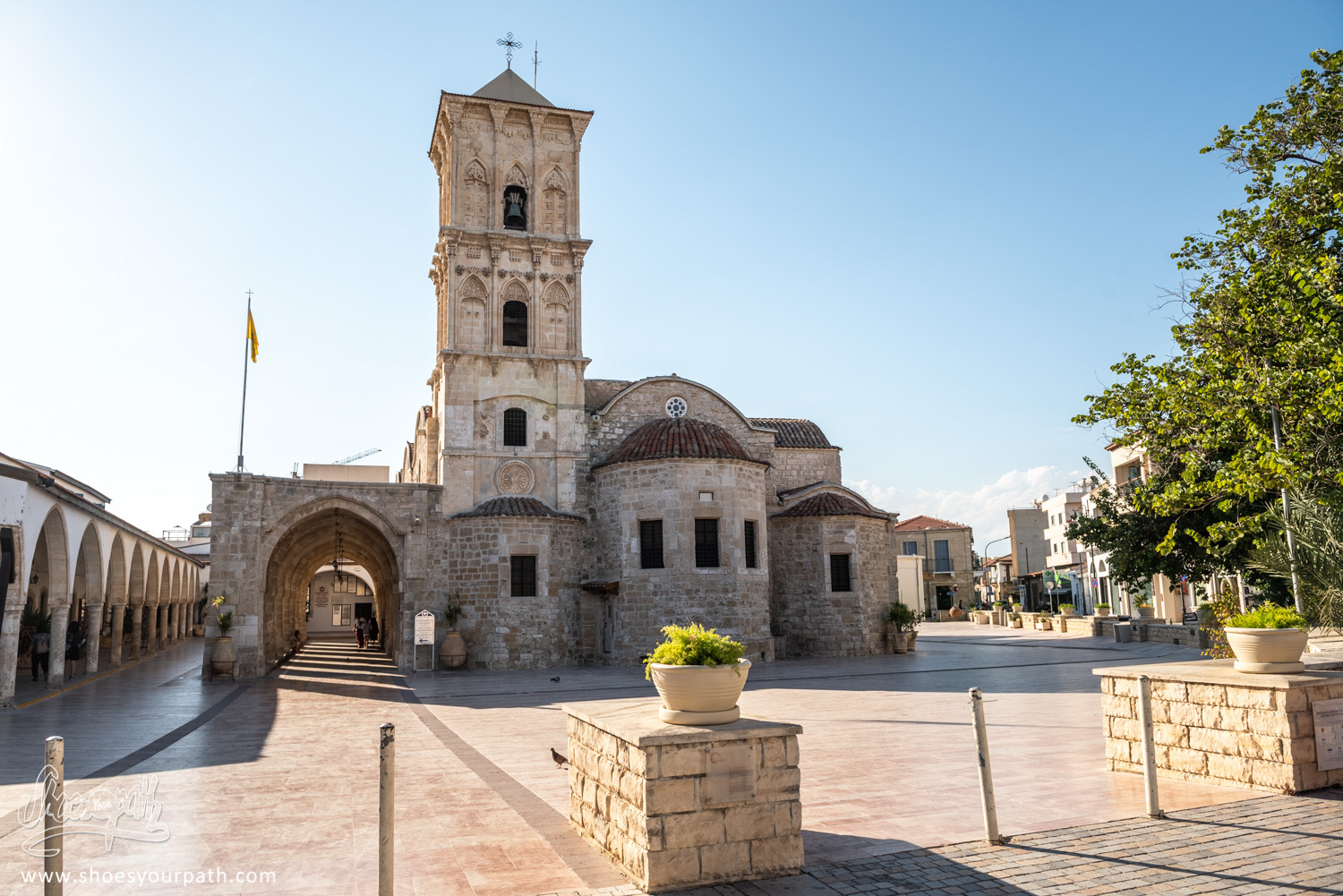 All the paved back-streets and little alleys are also very nice to walk through, with a lot of tiny restaurants and cafés to stop to on a hot day. In some picturesque streets, you can also find working craftmen in their workshops, hidden behind large blue wooden doors. We stoped at a tiny cafe in one of those streets and started talking to two old cypriots. We are not good enough in turkish to understand the story of their lives but we spent a very good time with them and laughed a lot and took awesome pictures.
Walking around the medieval castle is also a nice thing to do while staying in Larnaca as it had been built just next to the sea. Even if it has been standing at the end of Finikoudes beach for way longer than any building around, this gorgeous castle looks a bit out of place amongst the modern bars and towers… Inside the castle, you can find a small medieval museum.
If you keep walking past the castle along the turquoise mediterranean sea, you'll arrive on Piale Pasa waterfront. There you'll find white traditionnal houses with blue shutters and not much shadow. Which means you might get thirsty after a while! But don't worry, on this waterfront you'll also find colourful Refuel Icecream where you'll be able to grab a delicious fresh fruit juice or an ice treat. The owner Chris is as colourful a character as his cafe. He's a small brown funny man in his 70's with a flashy white smile, sparkling eyes and a pretty mustache. Between two laughters, he started telling us about his life while squeezing fresh pomegranates for us.
"I was living in the North where I was the owner of a huge restaurant, but the Turkish invasion took everything from me. Now I've been making fresh juices for more than 45 years in Larnaca. I opened this cafe after having spent one year in a refugees camp. I didn't speak one word of English at the time! Today I own some land with 700 fruit trees growing on it! By the way, I picked the fruits I am squeezing now only this morning! Very fresh, I tell you! And see those ones? Those are white pomegranates. And because they are white, nobody want to buy them! Which is absolutely stupid as they are a lot more juicy than the red ones! See? Well, anyway, I should have retired a long time ago but I love spending my days here. The truth is, I hate going to the bars and when I go home, my wife is chattering all the time!"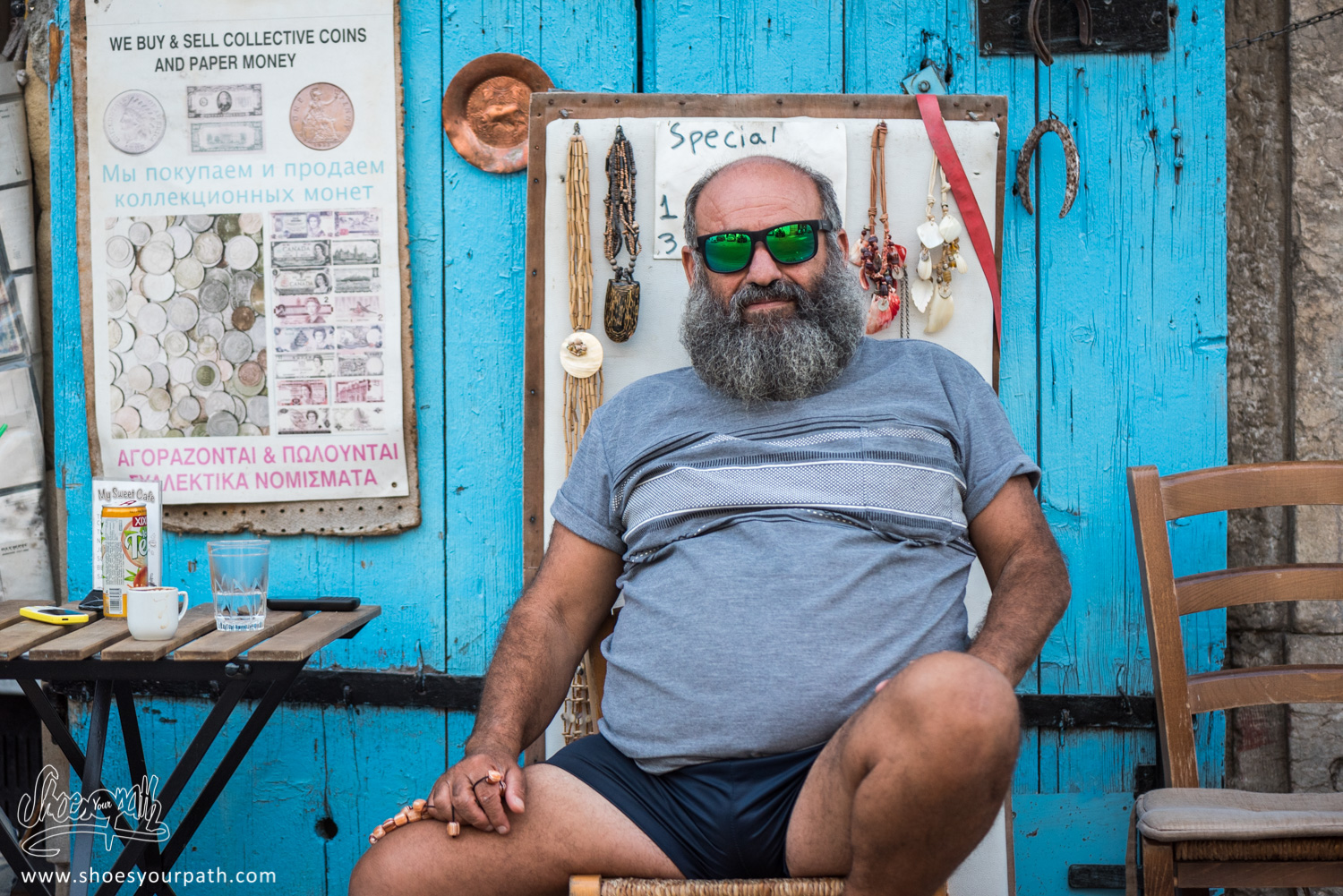 Diving on the Zenobia shipwreck
At the end of Piale Pasa waterfront is a marina from where leave a lot of the diving tours going to the Zenobia, mythic shipwreck of Cyprus. That's also where you'll find the Dive-In Center that we chose to go bubbling underwater.
The Zenobia is a 172m long freighter which was wrecked along the coast of Cyprus in 1980 after a really stupid story, so long that we won't tell it here (sorry!). It's actually lying on the flank between around 15m (easy access) and around 40m deep (more advanced). The Zenobia is also well-known to tech-divers as there are so many dark rooms to explore in the innards of the ship. Moreover, the ship sank with all of the 104 lorries it was carrying, creating a totally surrealistic underwater landscape!
We booked two dives on the Zenobia but before jumping for the big thing, we took the time to refresh our skills in one of the pretty hidden bays of Cape Greco. Our nice cypriot divemaster Phil took us for two shallow easy dives amongst the rocks and holes of this swiss cheese-like coastline. Not the prettiest dives we've done but pretty enough and perfect for a refresh!
The following sunday, we were ready for the real experience! If we had known before hand how the Zenobia would fascinate us, we would have booked ten dives instead of two. Our dive master of the day is named Chris, a very nice english guy who was serving in the navy before getting to recreationnal diving. There were quite a lot of people on the boat taking us over the Zenobia shipwreck and Chris told us that, when the tourist season is over, diving is a very popular activity for cypriots on sundays. Added to a few tourists like us, it might be a bit busy underwater, at least for the first dive. Dive-In accepted to lend us a small underwater camera with a case to take a few pictures on the wreck. We're sorry about the quality of the pictures, the camera was just a simple one, we're not underwater photographers, and anyway it wasn't the reason we dived here.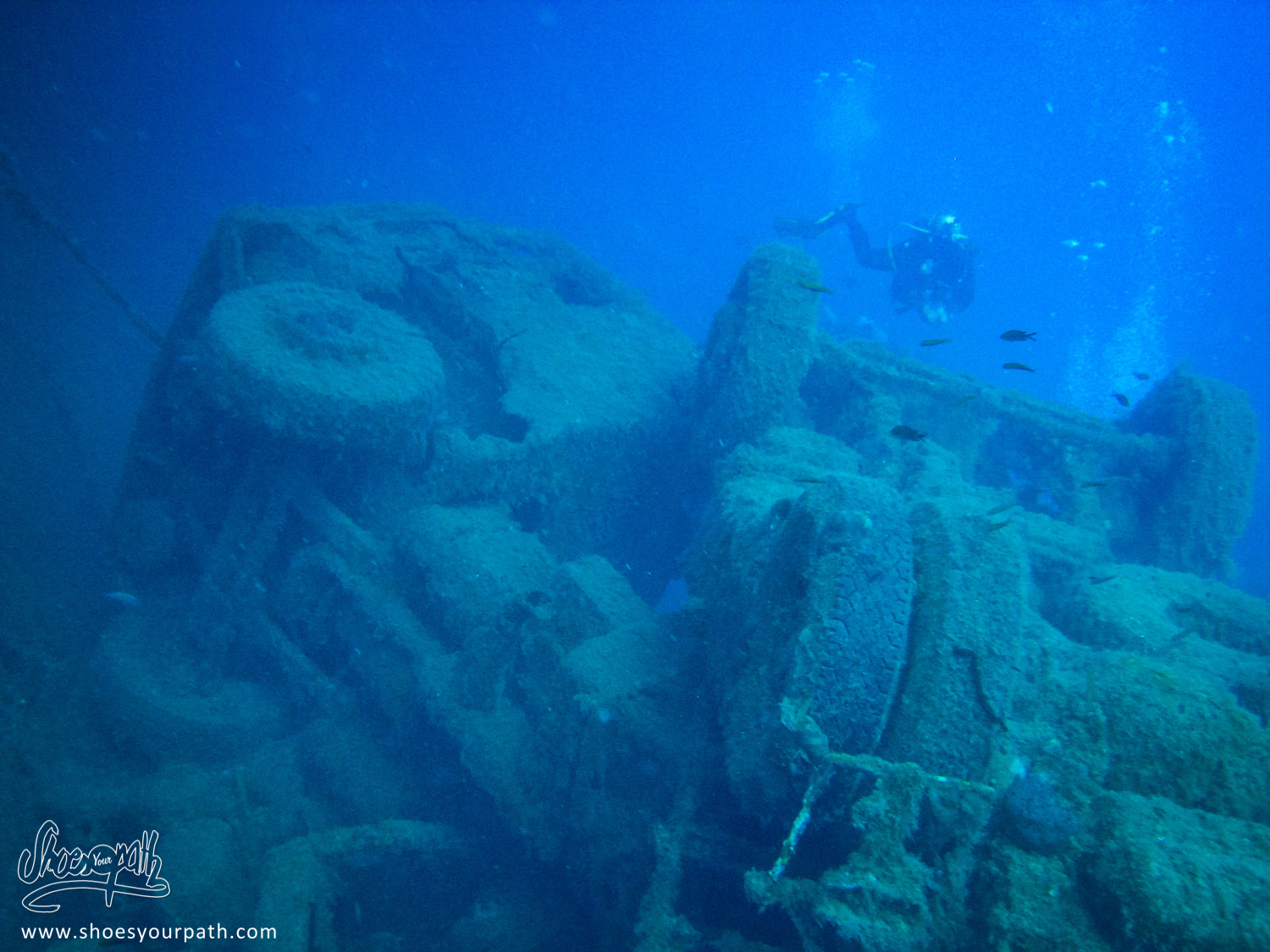 We started our way down over the propellers at around 30m deep then swam along the side of the upper deck. From there, we went in the opening of the first underdeck, where we could see a few of the heavy lorries that sank with the Zenobia. What an impressive sight! Then we went over the cabins and lifeboats. Wonderful dive but a bit crowded to our taste. Plus we witnessed annoying behaviours like some inattentive divers rushing into other diving groups and separating them from their dive buddies or stupid divers carriying food (even a whole ham!) to attract fish -_- …
A few hours later, we jumped for our second dive on the Zenobia and that was a lot more quiet! Moreover the visibility was excellent and the temperature at 30m deep is 25°C. Paradise! We made our way down at the bow this time where we were lucky to catch a glimpse of an octopus, then entered the restaurant by an open window. It was so dark and still in there! Can you picture the vastness of this room in this stricken vessel lying on its side? Facing us are the ancient carpeted floor, very well preserved. Above us are the boat hatches, sending us a bit of blue light from the faraway surface. And below…is only darkness! Then we follow Chris in a corridor where were the cabins of the truck drivers. The funny thing is that the toilets are now on the ceiling! Meanwhile, we try to avoid being stung by all the poisonous scorpion fish that are hiding in every corners… We get outside again at the end of the corridor, swim back to the prow and get a look inside the bridge. Unfortunately, we are nearly running out of air. It's time to get back on the surface!
The mosque Hala Sultan Tekke
Just out of Larnaca's airport, when we arrived in Cyprus we've noticed a huge round building mirrored in a large pink salted lake and decided to have a closer look at it now. During migration period, this lake is full of flamingos but it wasn't the season yet when we visited the place and only three or four of these impressive birds were standing there in the distance. This beautiful bulding is the Hala Sultan Tekke mosque, and were on our way to capture a photo of it with its reflexion in the water. For that we park our rented car on a little road and walk along Larnaca's ring road until we are satisfied by the point of view. Not really charming, but eh, what would we do for photo ?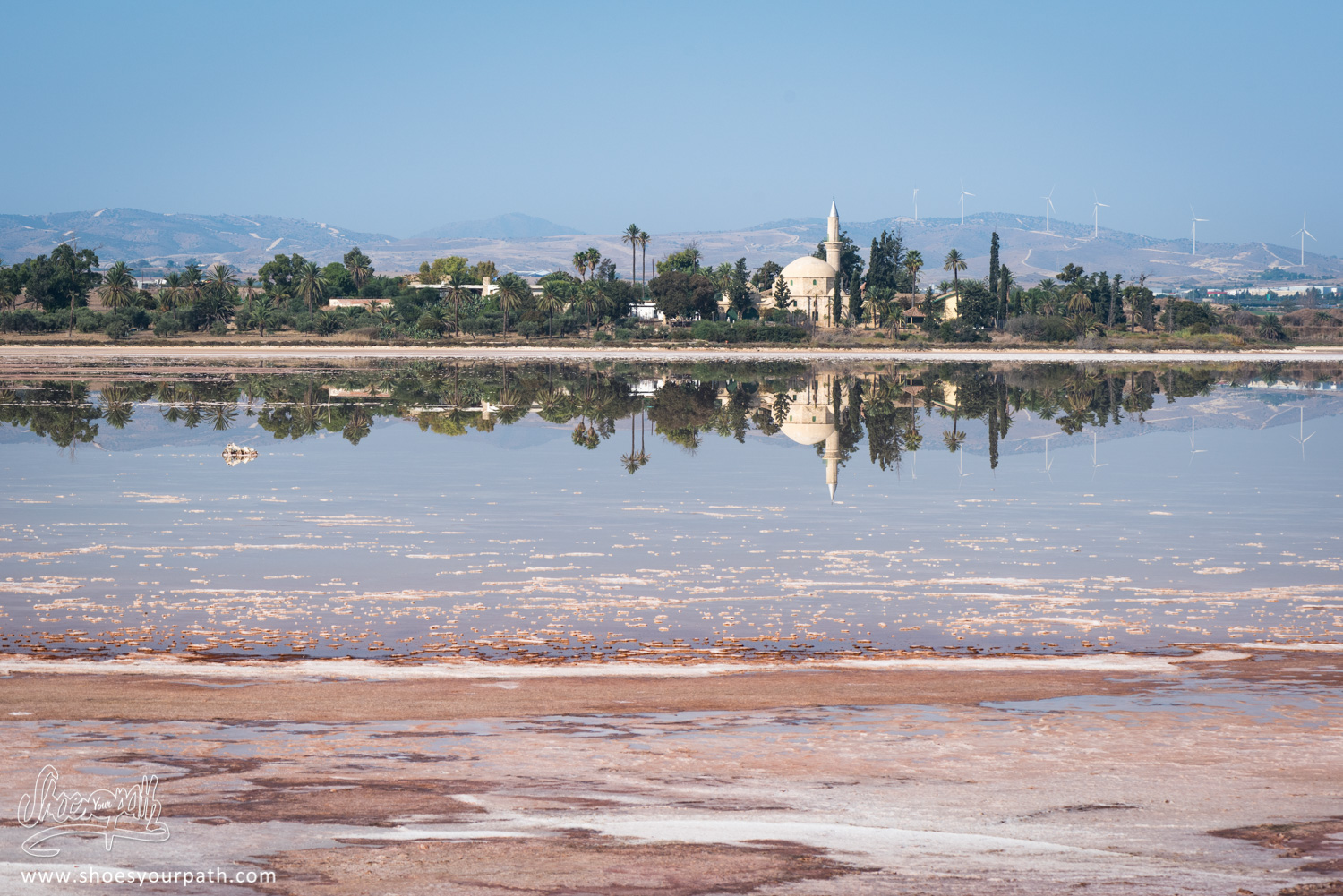 Finally we're driving a little bit more to approach the mosque, too curious to see more of it. First impression when getting out of the car at the mosque's carpark: this is a cat kigdom! They are litterally everywhere!
As we were not wearing humble enough clothes (as we were both wearing our most endearing tourist panoply), we put on some regulatory clothes: some kind of oversized dressing gowns that we probably could have used as tents. We loved our attitude in them!
This beautiful mosque is also called Umm Harâm which was the name of Mohammed's wet-nurse. The architecture displays the mosque, a minaret, a mausoleum and a monastery. It is a very sacred place and is highly important for the muslim cypriots.
Talking about that, we'll be travelling in North Cyrpus soon, visiting the Karpaz peninsula as well as the wonderful fishing town Kyrenia and even medieval castles! But first, we'll head to the old mountain village of Lefkara to know more about its famous arts and crafts!
M. & Mme Shoes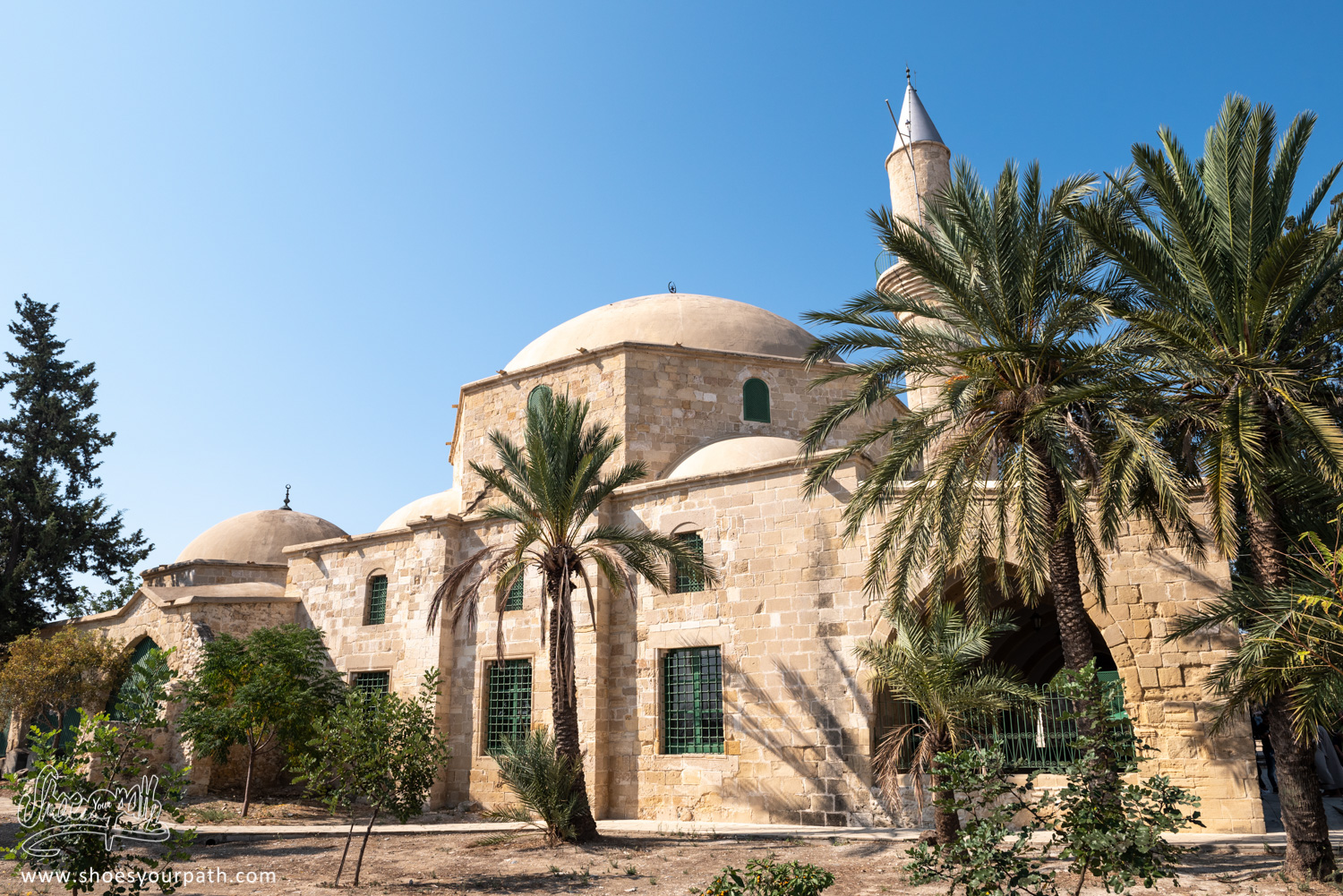 Portraits from Larnaca
Information
Arriving in Larnaca from the airport :
Take the bus 425 outside the airport on the left on the upper level".
Ticket price : 2,5€ (in 2019)
Pour retourner à l'aéroport nous avons pris leTo go back to the airport from Larnaca we took the bus at the "Bus Stop Finikoudes Larnaka / Intercity Bustop" on the sea front. At this bus stop you can also get a bus to all the major cities around Cyprus for a few euros.
More information about bus lines from Larnaca.
Tourist information center in Larnaca :
Address : Vasileos Pavlou Square, Larnaca, Cyprus
Opening hours :
Monday, Tuesday, Thursday, Friday: 08:00 – 17:00
Wednesday: 08:00 – 14:30
Saturday: 08:00 – 13:30
Useful links :