The village of Lefkara is part of the essential places to visit in Cyprus. Sitting inland up the hills between Limassol and Larnaca it is very famous for its artistic needlecraft, lace embroidery and sliversmithing. If you are looking for something a little different to do on your beach holiday, Lefkara offers a good alternative to the crowded south coast of Cyprus.
First approach of Lefkara
We take our little rental car off the coastline and uphill. We are early October and the weather is still unusually hot and dry. Cypriots told us that this summer has been one of the hottest ever and nearly no rain fell on Cyprus since last spring. The hills between the sea and the mountains of Troodos are dry and covered with yellow grass.
From Larnaca, you will need around half an hour by car to get to Lefkara. Actually, the village is cut in two parts: Kato Lefkara is the lowest little village and Pano Lefkara is a bit bigger and sitting uphill. That's where we found most of the activity and shops. It must be quite crowded during the summer months but as we are off-season now, we are nearly alone in the streets. A cypriot friend of us living in France explained us later that cypriots think that 5 days is too long to wait for the weekend. So they take half a day off on wednesday afternoon to rest a little. And guess what day it is today ? Yep you get it : wednesday. So note it somewhere : off the touristic season wednesdays afternoon are off in Cyprus! Well, in fact even during the morning we didn't meet much people…
We start by visiting the pretty alleyways of Kato Lefkara, admiring the nice white/yellowish houses with beautiful tones of blue on the doors or on the walls. To bad the shutters are all closed! The tour is quickly done and we soon leave for Pano Lefkara, sitting two minutes away by car.
We meet with a few russian tourists around the beautiful othodox church of the Holy Cross, from the forecourt of which we got an awesome view over the dry hills and up to the sea. Around the church, everything is closed!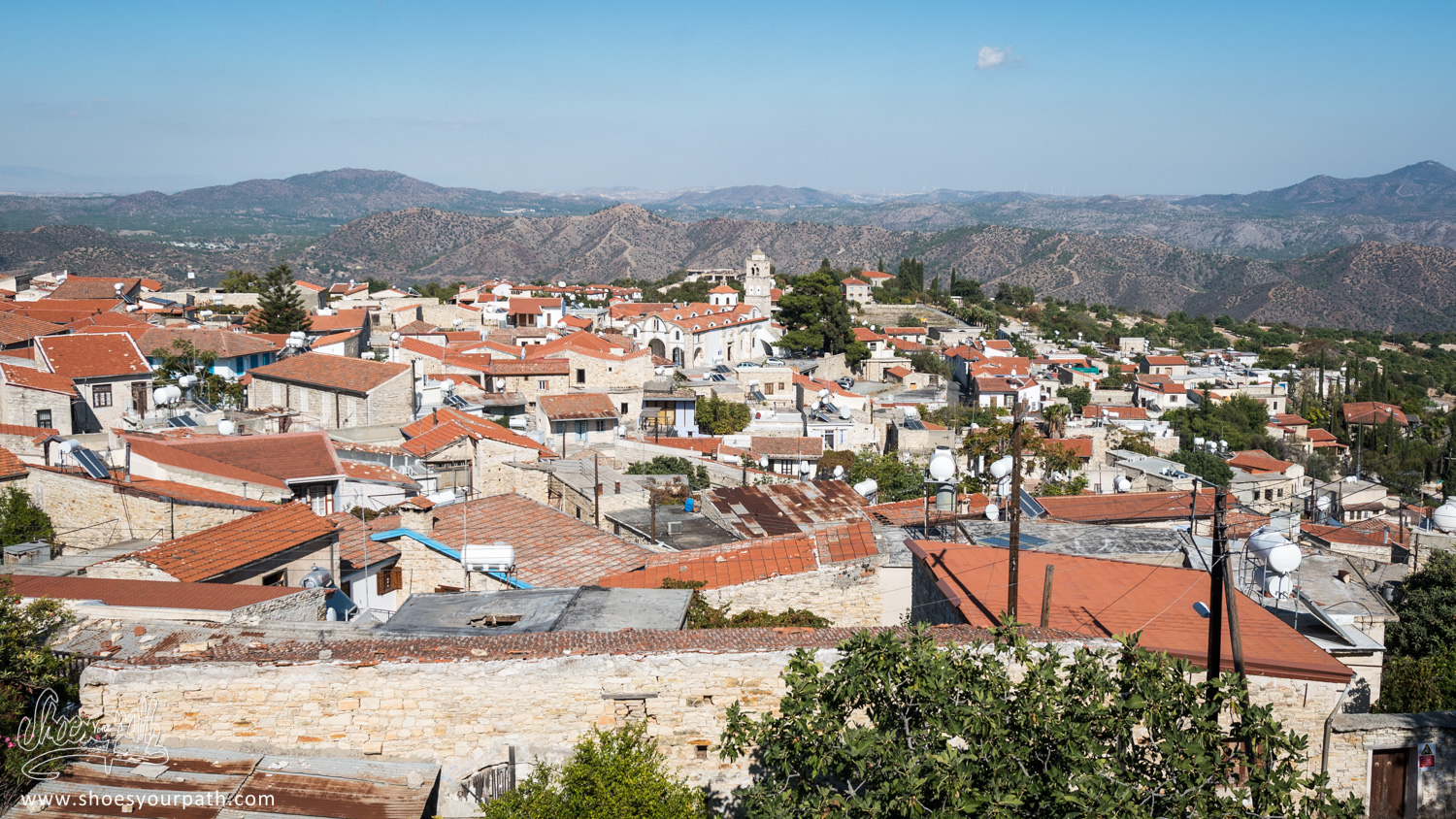 Lefkara crafts: needlecraft, lace embroidery and silversmithing
We start walking around the little paved alleys of Lefkara. At the first corner, we meet with a woman sitting in front of the only shop seemingly open. She's carefully needlecrafting a large piece of white cloth. Hand lace embroidery from Lefkara is very famous worldwide, even if this art is less developped than during the old times. It is even part of the Unesco Heritage List! A legendtells that Leonardo da Vinci himself was travelling in Cyprus and went through Lefkara and was so impressed with the fineness of the lace embroidery that he brought a large piece back to Italy to cover the altar of the cathedral of Milan!
This embroiderer we just met is very nice. Her name is Maria. She showed us all her art, talking about her techniques and explained us how this knolegde is passed over generations from mother to daughter, while men works on silver. We bought a few of her small creations as a souvenir, thinking her shop was the only one open in town…
Yet a few empty alleys later, we reach the main street of Lefkara which is actually way more active if not as pretty as the rest of the town. There are many more lace embroidery shops there, but also a turkish-delights maker, various souvernir shops, cafes, restaurants, and you can find a lot of silversmiths, as it is the other famous craft of Lefkara. Some of the embroideresses that we meet are keen virtuosos with their needles and sell some amazing quality embroideries! But be careful as some of them also seems to be selling chinese machine-made stuff.
There we met Nina Christou. She totally charmed us with her work. The extreme high quality of her work is totally impressive, and she showed us her work with proudness while her son translated it in english for us. Mariette, who's crazy about lace embroidery, needlecraft and fabrics in general couldn't resist to buy some of it, whitin the limits of our wallet…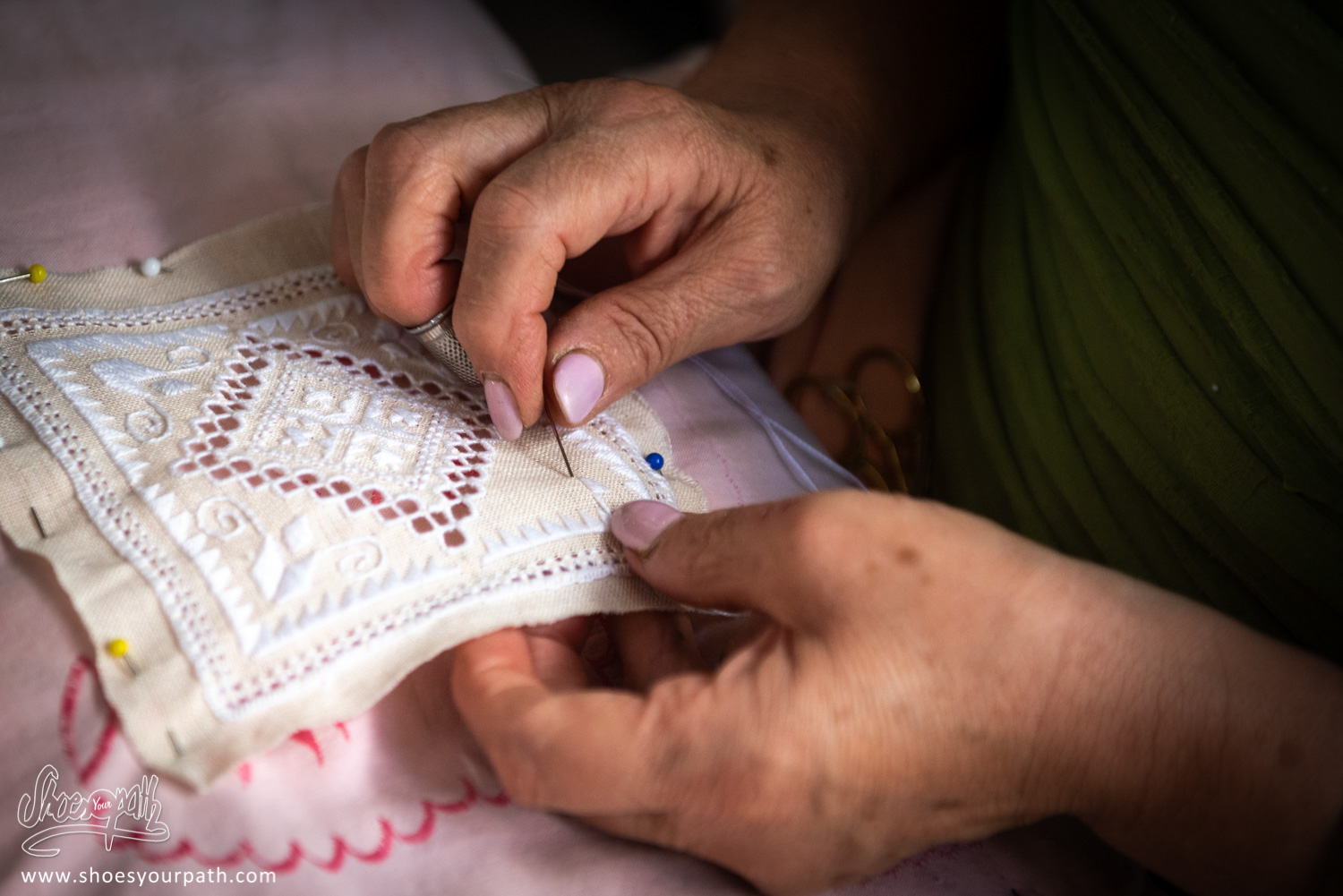 We also meet with Michalakis Christou, Nina's husband, who is an incredibly talented silversmith. His wokshop is open on the street, which gives us the opportunity to watch his craftsmanship at leisure. His old hands certainly know how to handle silver and gold! We are mesmerized by his dexterity! Mariette who is an ex jeweller can confirm ! He won a few prices making him a little bit famous. Nowadays he is teaching his precious and ancient knowledge of sliversmithing to his son, also in charge of managing all the communication and online social networks of the company. As for the mother, she is one of the best embroiderer in town! What a talented family!
For lunch, we stop at the yammy Da Vinci Pizzeria, where we sympathize with talented cook Tarek, a tunisian cypriot with a large smile and a great sense of humor. Then we spend the hottest hours of the day in the shadow, trying to draw Lefkara's mosque, with its tiny courtyard and orange tree. Quentin has decided to learn how to paint with watercolors and this mosque offers a perfect training subject!
Kato Drys and other villages
From Lefkara, it is possible to drive your car around to visit some more tiny villages on hills and a few orthodox monasteries. That's how we end up visiting villages of Kato Drys, Vavla and Gourri. The architecture is quite charming, but there again, there are nobody in the streets and we do feel a bit lonely in those empty villages. Even though inside the pretty Agios Minas monastery we came across two monks, but they didn't say a word. Not a cat in the streets! Well, how unusual in Cyprus, which could also be called Cat Kingdom! Maybe that's because we are off-season and wednesday… If you wish to visit around at this time of year we surely do recommend to try to get there on the week-end when the activity might be a bit more lively!
M. & Mme Shoes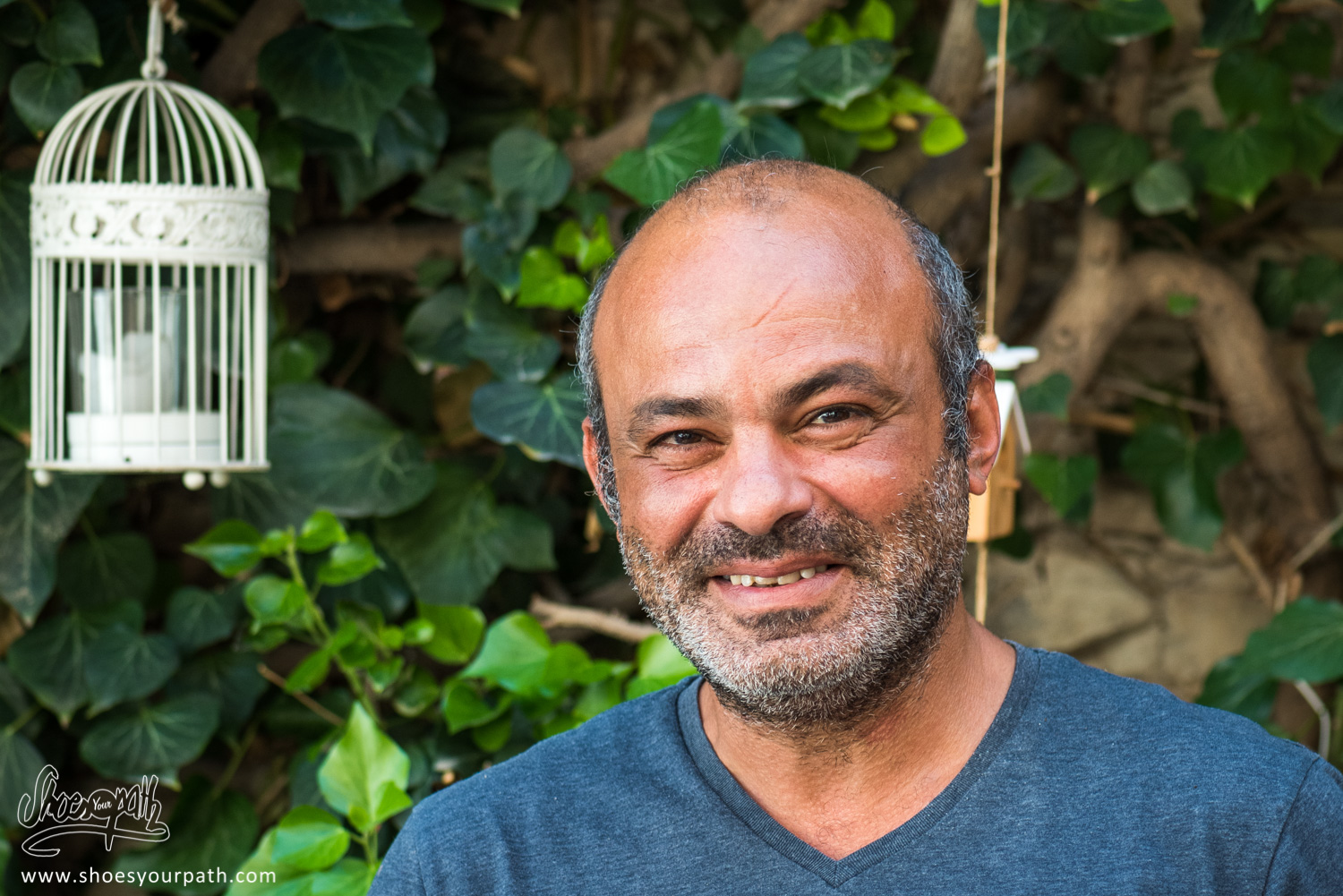 Portraits from Lefkara
Informations :
Museum of Traditional Embroidery and Silversmith-work of Lefkara
Opening hours:
Mid-september à mid-april : every day from 8:30 to 16:00
Mid-avpil à mid-september : every day from 9:30 to 17:00
Admission : 2,5€
Closed on public holidays
Not accessible on a wheelchair
Useful links :