We've been in Cyprus for a few days and, as most tourists, we have been wanting to experience a nice sunset over turquoise water. That's how we decided to spend an afternoon in Konnos Beach, a lovely bay on the south coast of the island, and then explore a few curiosities in Cape Greco Peninsula.
Konos Beach
If you travelled in Cyprus already, you are well aware of the awful construction management along most of the coast. But there are a few well-preserved beaches and bays that still get that postcard look we are all looking for. Konnos Beach is one of them. Less than an hour away from Larnaca by car, it is easy to access to and it is surrounded by nice points of interests as well (more beaches, caves and holes etc…).
Beware, though. Konnos Beach truly is beautiful, and that's why you might have to share it with a large number of people who are also on holiday and looking to get a swim and a tan in a paradise place! If you are not afraid of the crowd, that's your place then! Well even if we're not the kind of guys who like to stay hours on the sand and end up red like a lobster, we coudn't resist to enjoy a quick bath in that turquoise warm water :)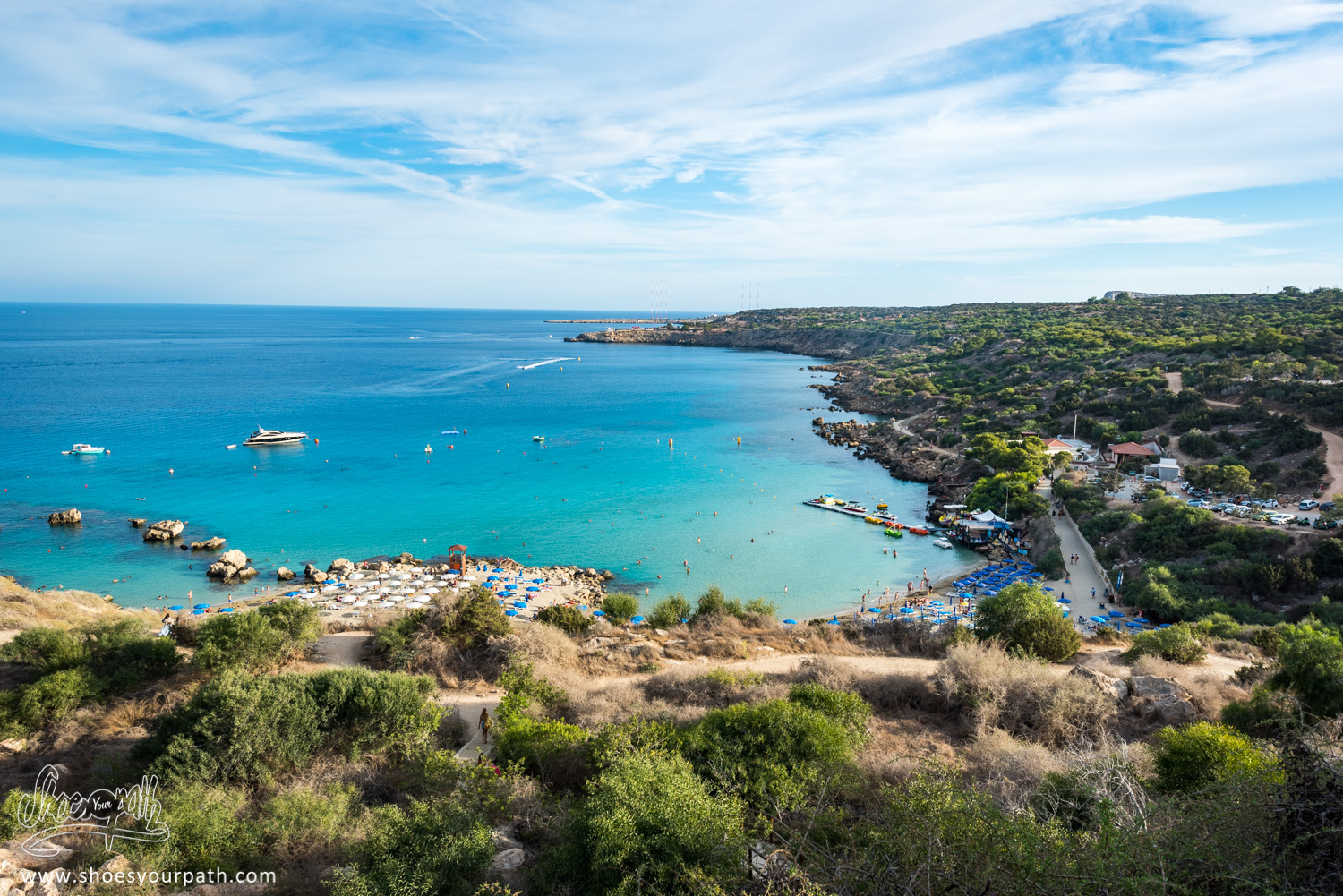 Sea caves
As the sun is getting low on the horizon, we leave Konnos Beach and drive through Cape Greco Peninsula to get a chance to admire the sunset on the Sea Caves, some weird geological holes carved in the rocks of the bay. The natural wonders of the peninsula look interesting too, but we don't have time to explore them now as we are running after the sun. We will come back later though, when we will do some scuba diving in its Blue Lagoon to refresh our skills before diving on the famous Zenobia shipwreck.
The Sea Caves are as interesting as they are beautiful but they are not at all relaxing at this time of day! Young people are driving quads around or enjoying themselves over the Sea Caves with loud electronic music and taking billions of selfies from the top of the cliffs. Not really our cup of tea so we decide to take another chance at the Love Bridge…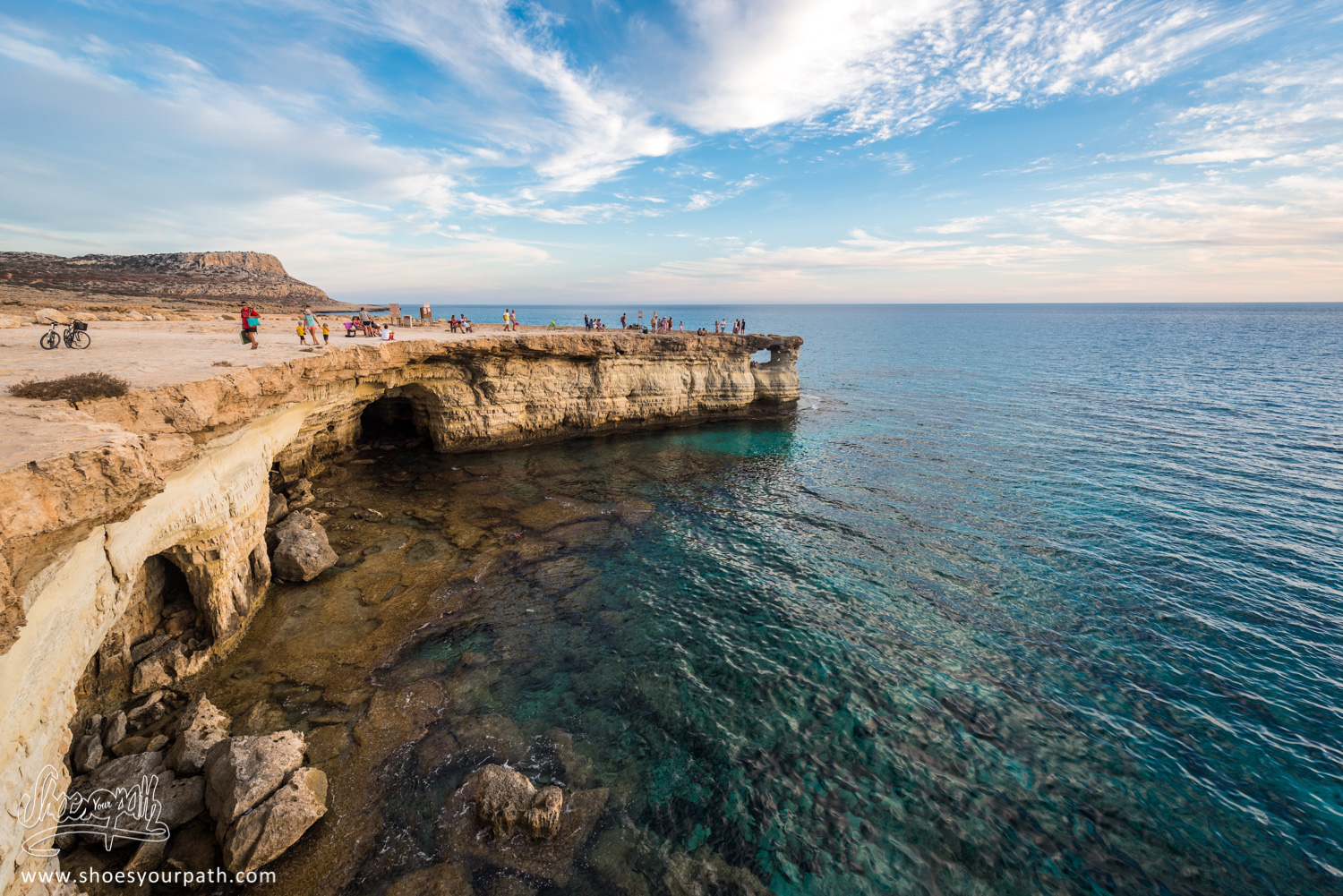 Love Bridge
The Love Bridge is sitting not far from the Sea Caves near the town of Ayia Napa and it is quite an impressive sight. It is one of the most famous sight of Cyprus. Imagine a big stone arch jumping from the cliff and into the sea! It is smaller but a bit similar from what can be found along our cliffs in our beloved Normandy. A sad thing that they had to build hotels just next to this natural wonder! It's still a bit crowded but way more quiet than at the Sea Caves. Yet, we still have some entertainment as a couple jumped from the cliff in the sea without shoes and are now struggling to climb back on the sharp rocks of the Love Bridge. And the sea is quite rough. And night is falling. All the spectators are holding their breath!
Anyway, the sunset was very nice! :-) And don't worry, the two lovebirds were OK at the end. Tomorrow, we'll visit another part of Cyprus, way wilder: the mountains of Troodos!
M. & Mme Shoes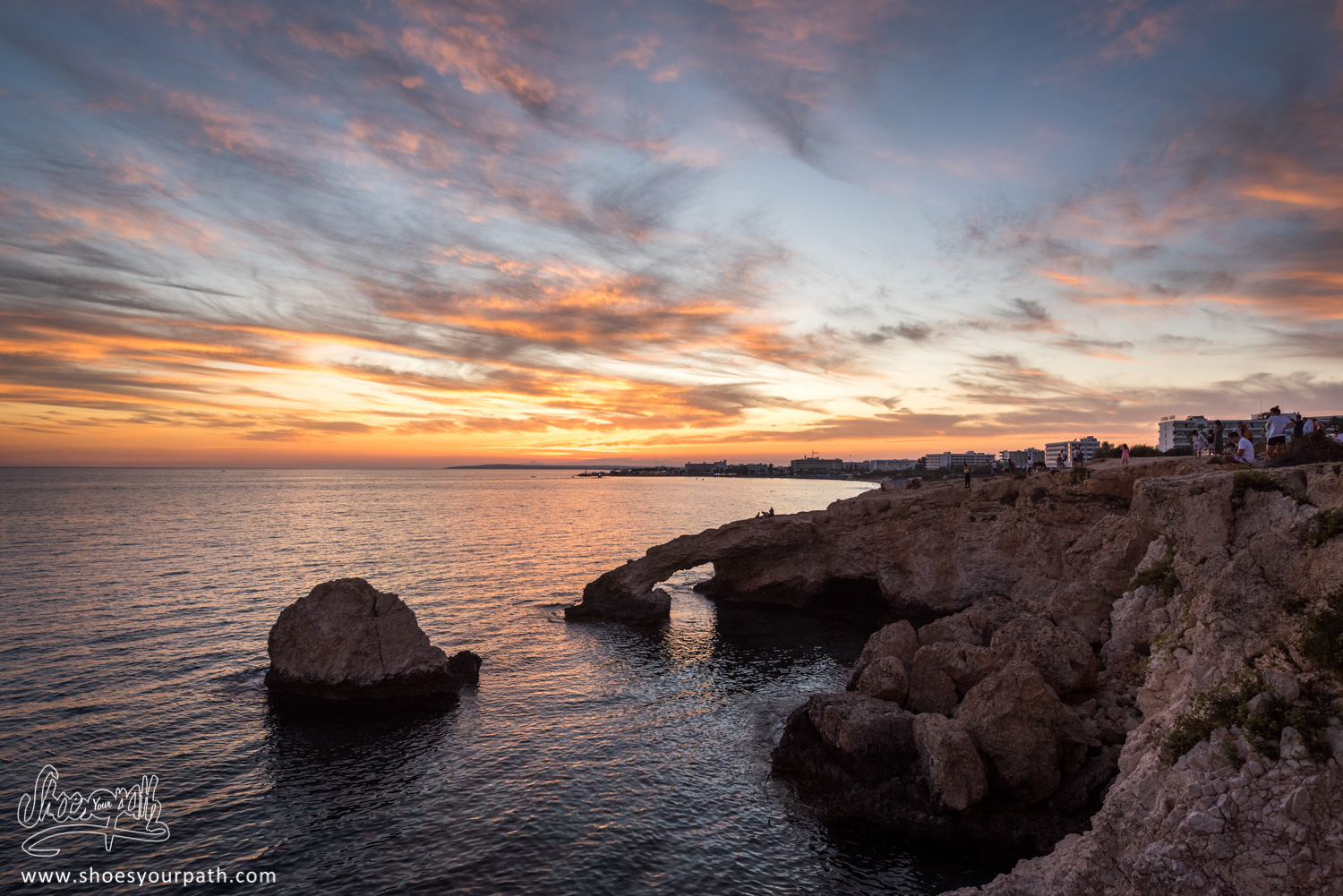 Information
Useful links :