We are now wandering in the mountains of Cyprus, where you are sure to find fresher air than on the coast and where nature is still mostly untouched. Troodos mountain range is a perfect place for outdoor lovers. There you can find mountain bike trails, some skiing during winter, waterfalls, centuries old venetian bridges, unique plants and flowers and most of all, a lot of hiking trails!
The Kalidonia Waterfalls walk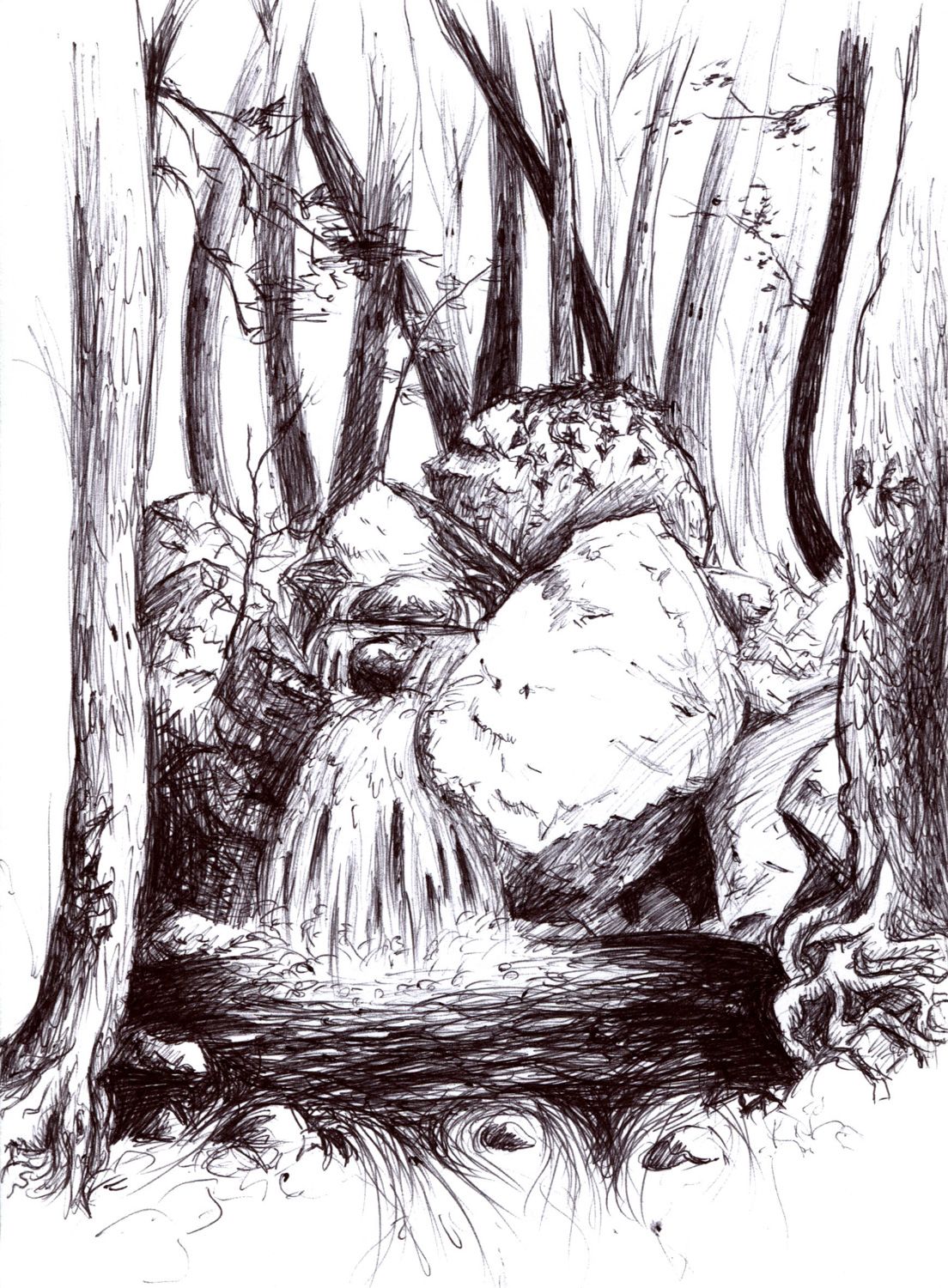 We may be wrong, bu it seems that people from Cyprus don't really like walking long distances and rather take their cars around to go fetch the bread, etc… (and we can understand why : the sun is bloody hot there !). However, every one of them recommended us the Kalenodia Nature Trail, a nice forest walk starting from the forest between the village of Troodos and the village of Pano Platres. Nicely shady for most of the way and following a crystal clear stream of cold water, we soon understand why it is so popular during the summer months. "Moreover, our cypriots friends told us, the track leave from a trout farm where you can also find a restaurant! Isn't that amazing?"
This was indeed quite convincing. Since it is an essential part of the Kalidonia Waterfalls (also called Caledonia) experience, we start by trying a delicious barbercued trout accompanied by a fresh beer before setting off on the track. For those who are foodies like us and would like to enjoy a fresh fish, the restaurant is called Psilo Dendro. Then it takes 20 min to get to the Kalidonia Waterfalls. That's where most people turn back, but if you feel adventurous you can continue for two more kilometers following the stream. Then you can either turn back or connect with another track. Everything is very well marked and explained, as it is all around Cyprus!
It is true that this walk is very relaxing. The forest is beautiful and we really enjoy the sound of rushing water jumping happily from rock to rock. We even stop to draw on the way. As for the Kalidonia Waterfalls themselves, they may be the highest in Cyprus with 12m high and quite pretty but we are not that impressed. Maybe because it is the end of a dry summer season and the water flow is not great. It's probably way more beautiful in spring or early summer!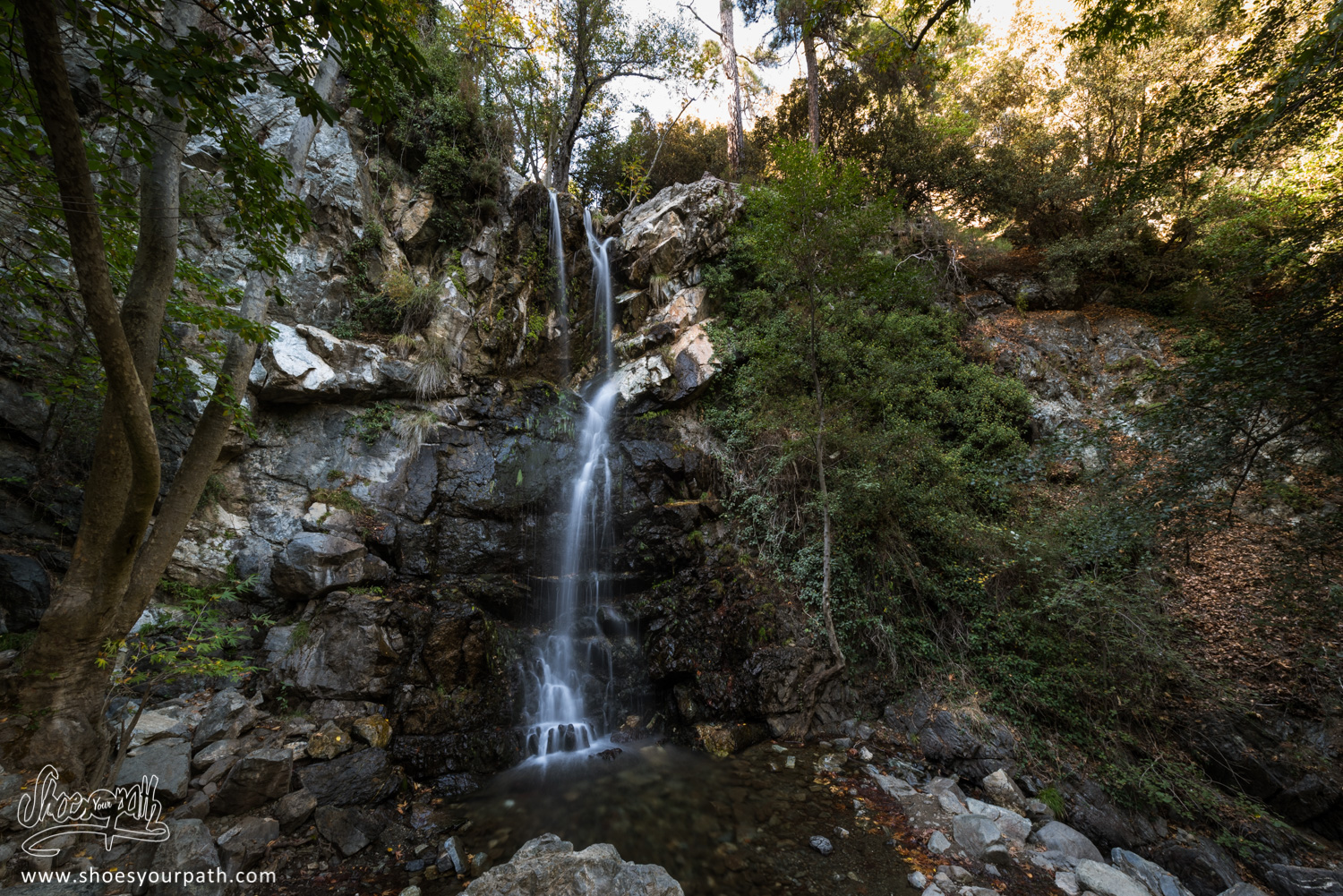 Troodos village
Troodos village, as Pano Platres, is an excellent base to visit all the area or to ski during the winter season. On the other hand, don't expect to find a charming little mountain village with alpine wooden chalets, or old stones houses like in Lefkara or in Kakopetria. You clearly come here for the beautiful nature, not for the village! The waiters in cafes and restaurant look also a bit busy and jaded by all the tourists. Nonetheless, we meet a nice local character at the village square: Andreas, an old smilling grandpa selling fruits and vegetables from the back of his truck and from whom we buy some ingredients for tonight's picnic.
Indeed, you can stay in an hotel room but we felt in love with Troodos fresh air and can't wait to pitch the tent in Troodos campsite, hidden under the pine forest. Unfortunately, we discover that the campsite is only shortly open during the summer months. It is now closed. Too bad… So we decide to free camp in the bush instead (Which is forbiden. You cannot do any wild camping in Cyprus).
But before that, we make a short visit to peaceful Trooditissa monastery where we meet Constantine, a very nice orthodox monk who takes advantage of his fifteen minutes day break to talk with us. What an honor! He tells us about his austere life but also of his happiness to welcome people looking for spiritual answers or desperate couples asking for the miracle of procreation. There are many monasteries scattered in Troodos mountains that are open to visitors, like the famous Kykkos monastery or beautiful St John Lampadistis monastery all made in stone.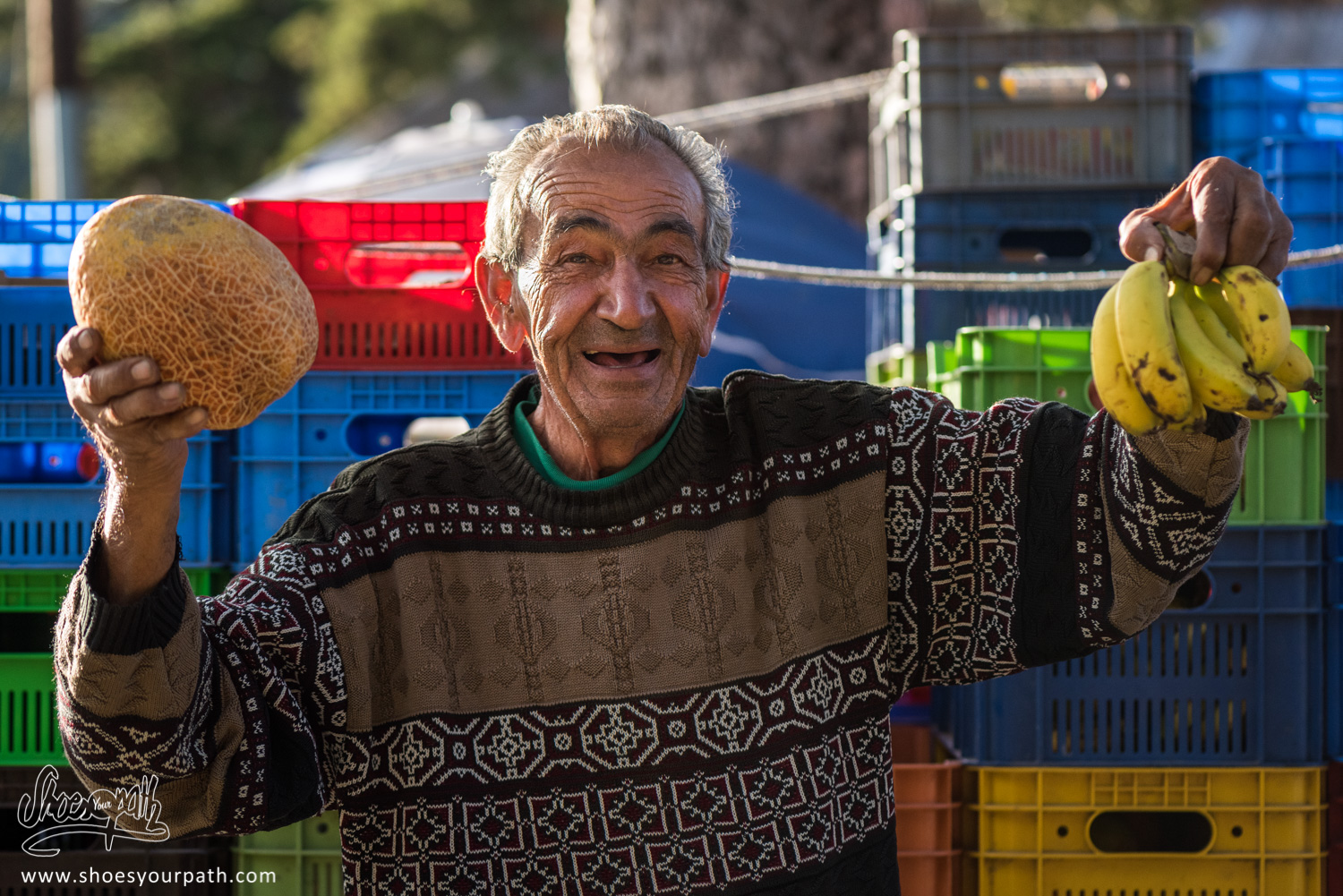 Hinking in Troodos : the Pouziaris Nature Trail
The following morning, we leave for a 9km walk around the mountains: the Pouziaris Nature Trail. There are so many tracks in Troodos it was hard to make a choice! This trail is known to offer great views around the area and indeed the panorama on Cyprus island and the sea is quite breathtaking. Unfortunately, it is quite hard to take pictures as the heat haze is very strong today.
If the view is nice, the mediterranean mountain vegetation is also very interesting and we admire a few oak varieties that we didn't know about. The track is not all about what we see, it is also about what we smell. Indeed, the nice scent of the sunroasted pine trees mixed with bushes and flowers is quite intoxicating! After 4 or 5 kilometers walking on the Pouziaris Nature Trail under the trees, we leave the forest and start our way around a summit.
The view is certainly great, but it's nearly midday and wow it's so hot! We should have started the trek way earlier!  We will think about it for our next trek on the Atalanti Nature Trail!
We are a bit hungry after this morning hike. Let's drive to charming village Kyperounta where there is apparently a local apple festival going on…
M. & Mme Shoes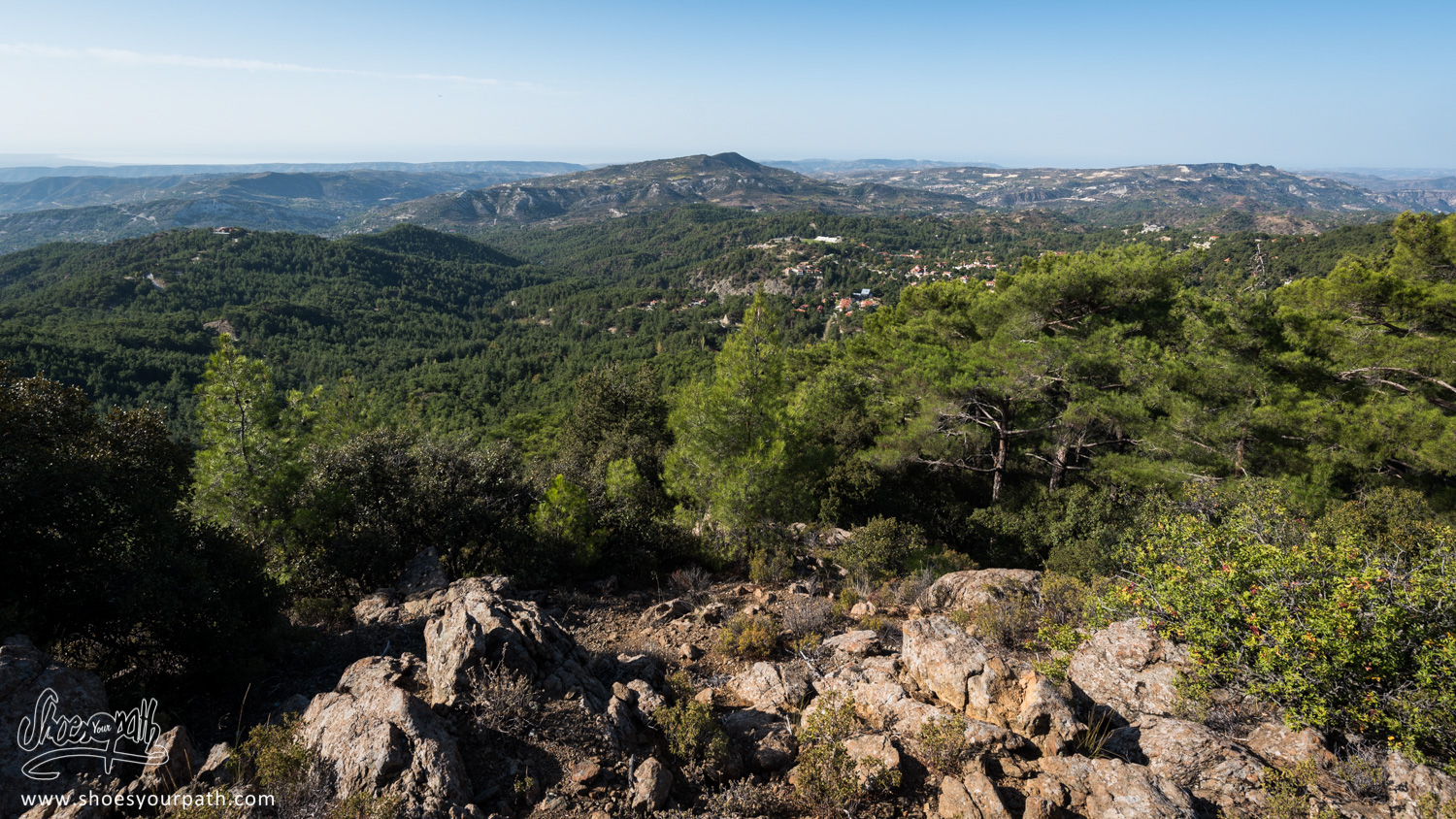 Information
Pouziaris Nature Trail
Starting point : 3km outside of Troodos, on the road to Platres. Put the adress of Psilo Dendro restaurant in your GPS.
Length : 9km in a loop
Time : 3-4h
Ascent : 535m
Descent: 535m
Difficulty : moyenne (the heavy heat can make it difficult even if the elevation is not much).
Kalidonia Nature Trail :
Starting point : 3km outside of Troodos, on the road to Platres. Put the adress of Psilo Dendro restaurant in your GPS.
Length :

To the waterfall : 1,5km (so 3km return)
All : 3km en ligne (so 6km return)

Time : 2-3h
Ascent for the 6km option : 428m
Descent for the 6km option : 428m
Difficulty : easy
Useful links :