The Atalanti Nature Trail is one of the most famous hiking loops on Cyprus island. And it deserves it! Touring the summit of Cyprus highest mountain Mt Olympus (1952m) sitting at the top of Troodos mountain range, the Atalanti Nature Trail offers unforgettable views on the island and the mediterranean sea. It takes around 5 hours to achieve this 14km long trail but it is quite an easy walk for average hikers. It's fairly flat all the way and you'll find fresh drinking water and relaxing benches with a view on the way. So. What are you waiting for? 
Atalanti Nature Trail
In Cyprus, as we learnt when hiking on the Pouziaris Nature Trail, it is better to start walking a trail as early as possible. Therefore, we are standing at the beginning of the track in Troodos village's main square at 5am in the morning. We are in October and it's still pitch black. Mariette starts walking followed by Quentin and his headtorch. Now, one could imagine that walking by night under a thousand stars awaiting dawn may awaken something fragile and poetic from the deepest part of our soul. If this is the case for Mariette who is cautiously moving on the dimly starlit track, intoxicated by the delightful scents of night, it is absolutely not true for Quentin whose attitude's more like a grumpy bear who didn't get the chance to drink his coffee.
– Now, come on. You should turn your headlamp on! You'll break an ankle and then you'll look like an idiot and I'm warning you: I won't carry you!
– Look, it's gonna be find okay? I am an owl of some kind you see?
– I do, I have my headlamp on! You don't, stupid owl you!
– OK, then I am like a cat then. I can see in the dark.
– An owl, a cat… All I know is you're stubborn as a mule!
After walking 4 kilometers on the Atalanti Nature Trail, passing by a bench and a drinking water tap, we get the first view over the sea as well as the first lights of dawn. Perfect timing! The pinky-blue light on the horizon is absolutely wonderful and the birds starts singing to each other. It's gonna be a beautiful day. The large bays on each side of Limassol quickly turn pink then gold. Then this glorious golden glow spreads to the mountain slopes like honey on a toast. It's so soft and quiet. We feel alone in the world! We try to take pictures of this wonderful moment but we know it will never look as beautiful.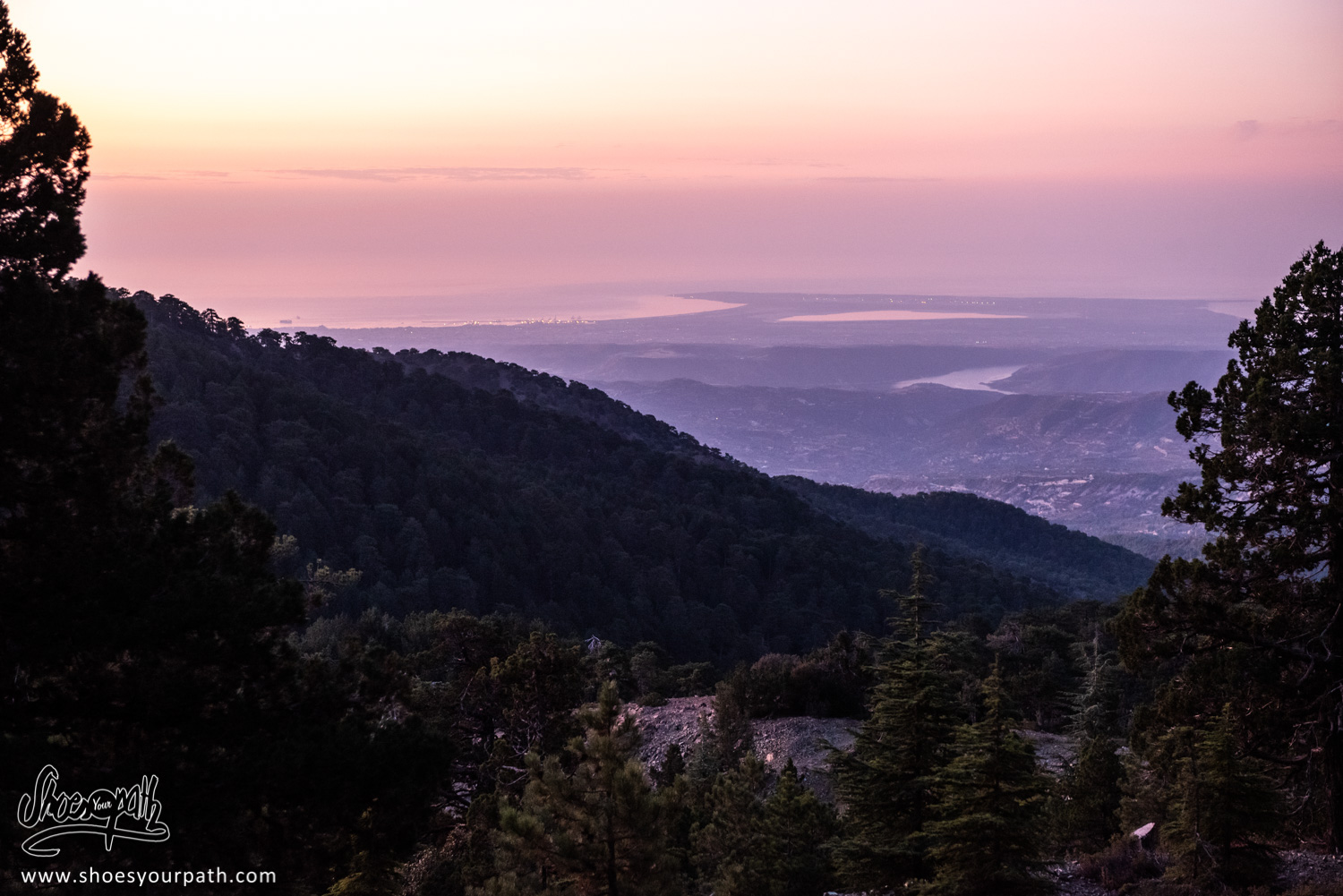 The atmosphere is all golden now, casting proud silhouettes of the pines, cypresses, cedars and rocks against the bright sky. Autumn colours are radiating: reds, oranges, yellows and pinks  are mingling in front of our eyes.
The view is amazing but the heat haze is already starting to rise from the sea. A little bit further up the Atalanti Nature Trail, we come across an old abandonned chromite mine, a historical curiosity on the loop. For the moment, the hike is really easy even if it's makking us dizzy at some parts (the downslope on the side of the track may be very steep from time to time). Sometimes, we stop on a bench to relax and admire the view. It's starting to get very hot now! Fortunately, there is some fresh wind at this altitude.
As the Atalanti Nature Trail is very flat, it gives us the opportunity to stop watching our feet and let our eyes wander freely on the breathtaking panoramic view that unrolls itself as we go. After Limassol's bays, we now have a wonderful vantage point over the huge Paphos forest that we will cross by car later on this afternoon to get to the Akamas Peninsula.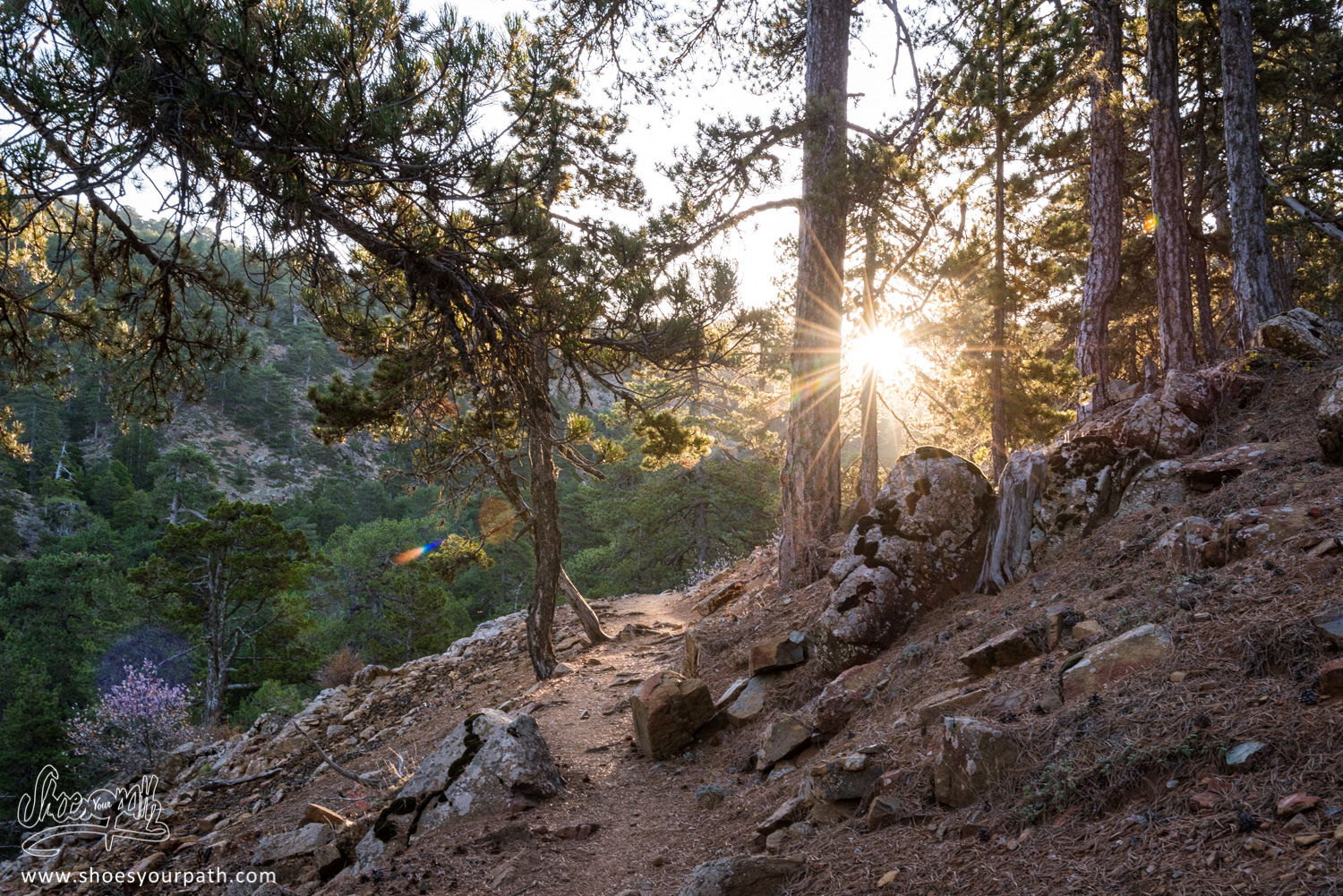 Then we enter a forest as well as the last part of our hike which has a little bit more ups and downs (but nothing dramatic). The pine trees, cedars and oaks provides a pleasant shade from the sun and also a beautiful filtered light that glows on the unique vegetation of Cyprus mountains. By the way, if you want to learn more about it, there are clever little signs on the way to point all the local plants and geoligical wonders. You may not know it (we sure didn't) but Cyprus is THE dream place for any respected geologist. Indeed, a long time ago (like, long), Troodos area was sitting at the very bottom of a sea on a mid-ocean ridge which is the kind of place you usually can't really access to. Therefore the mountain range of Troodos provides invaluable information on seacrust formation mecanisms and plate tectonics! How cool is that?
So. The hike is so pretty we've really taken our time! We are back at Troodos square just in time for lunch! We are really happy about our experience on the Atalanti Nature Trail and we really recommend you to take the time to do this walk if you are travelling around (and enjoy walking of course!). Don't forget your hat, sunscreen and waterbottles, it can get very hot up there! However, if you are looking for a similar but shorter track, you can choose the Artemis Nature Trail which is also touring the summit of Mount Olympus but higher (and as you know a mountain is cone-shaped so this trail is only 7km long). The vegetation is slightly different but the views are as beautiful as on the Atalanti Nature Trail! You can get all the informations and map you need about this track at the Information Center in Troodos and there are detailed signs about local tracks in Troodos square as well.
Now, time to travel to another amazing place of Cyprus: the Akamas Peninsula!
M. & Mme Shoes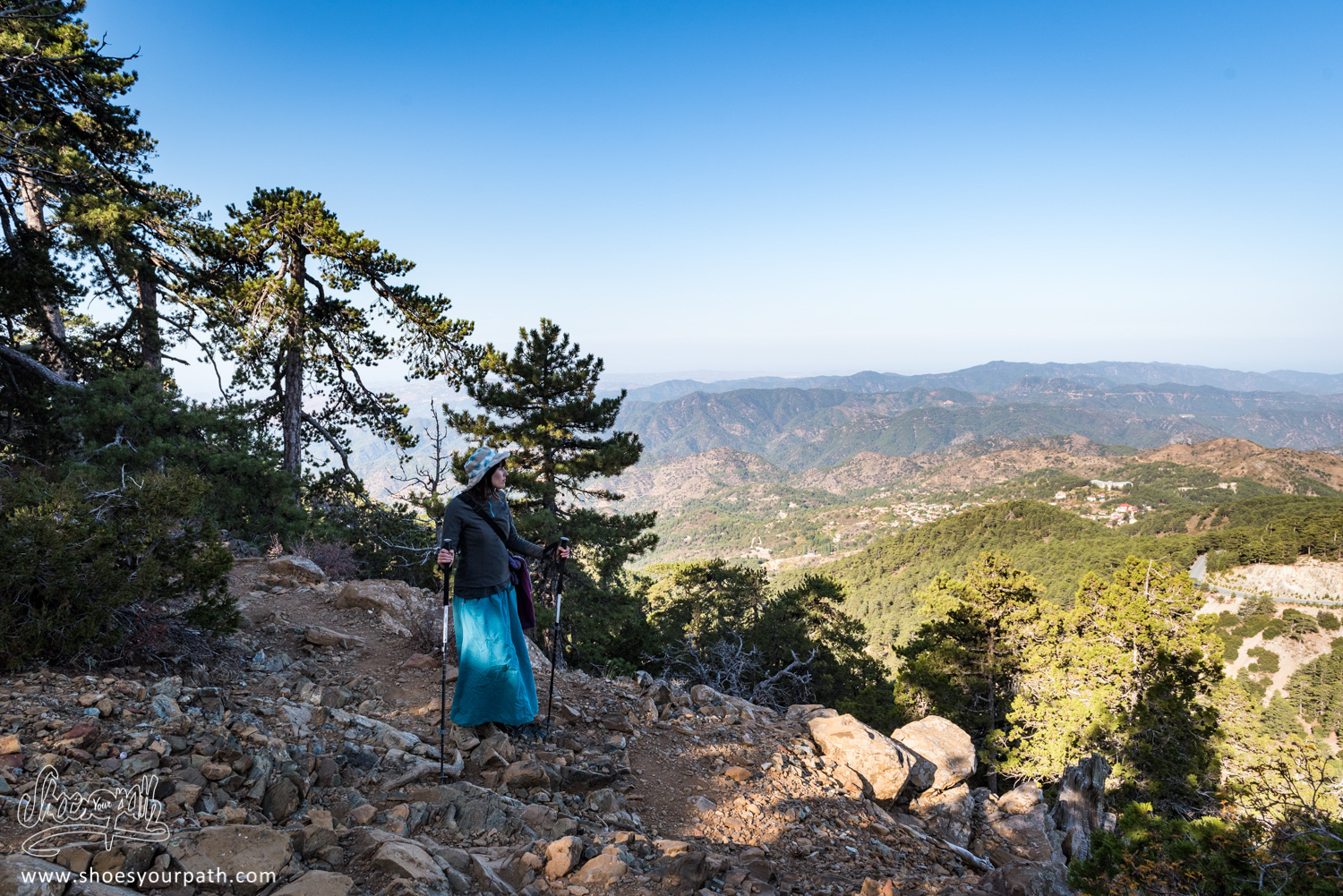 Details from Cyprus